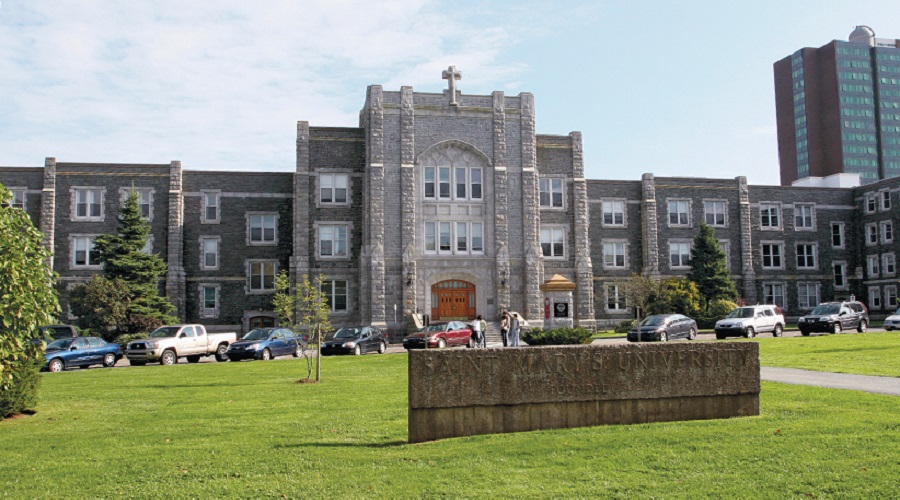 Nestled in the heart of Halifax, Nova Scotia, Saint Mary's University is marked by iconic buildings, green spaces and fresh ocean air. A vibrant and culturally diverse community, Saint Mary's lets students experience the world, all in one city block.
Top 5 Reasons to Choose Saint Mary's University
1. A rich supportive community
Campus is located on a single, beautiful city block. You will quickly form meaningful connections with other students, and feel warmly comfortable in your new home. When you feel cared for, you can accomplish more.
2. Professors that know you
With average introductory class sizes of just 40, you will not only feel connected to other students, but you'll be able to get to know your professors. With access to professors who care about your academic performance and your future, you have the kind of personal support that makes a difference.
3. Learning by doing
At Saint Mary's, we believe students learn better and faster when they put theory to work in the real world. To that end, we offer experiential learning opportunities, labs, co-op, travel abroad, and real research possibilities.
4. A wealth of research opportunities
If you're further along in your academic career, browse the many graduate program opportunities we offer (many of which are unique in the region).
5. Tradition of academic excellence
About 98% of our full-time professors have their PhD, which is more than any other university in the province. These accomplished professors bring their depth of experience to the classroom, for your benefit, and our rich community of alumni brings the real world to you. If you ever need a helping hand along the way, academic support, health, career, and admissions assitance are at your service.
STUDY PROGRAMS
Undergraduate Programs
Accounting
Anthropology
Asian Studies
Astrophysics
Atlantic Canada Studies
Biology
Chemistry
Chinese Studies
Classics
Computing and Information Systems
Computing Science
Computing Science and Business Administration
Criminology
Economics
English
Engineering
Entrepreneurship
Environmental Science
Environmental Studies
Film Studies
Finance
French
Forensic Science
General Business Studies
Geography
Geology
German
Global Business Management
History
Human Resource Management
International Development Studies
Irish Studies
Japanese Studies
Linguistics
Management
Marketing
Mathematics
Philosophy
Physics
Political Science
Psychology
Religious Studies
Sociology
Spanish & Latin American Studies
Graduate Programs
Graduate Arts Programs
M.A. in Atlantic Canada Studies
M.A. in Criminology
M.A. in Geography
M.A. in History
M.A. in International Development Studies
M.A. in Philosophy
M.A. in Theology and Religious Studies
M.A. in Women and Gender Studies
Ph.D. in International Development Studies
Graduate Business Programs
Master of Business Administration
Executive Master of Business Administration
Master of Finance
Master of Applied Economics
Master of Technology Entrepreneurship & Innovation
Master of Management – Co-operatives and Credit Unions
MBA (CPA Stream)
Ph.D. in Management
Graduate Science Programs
M.Sc. in Applied Science
M.Sc. in Astronomy
M.Sc. in Applied Psychology
M.Sc. in Computing & Data Analytics
Ph.D. Applied Science
Ph.D. in Astronomy
Ph.D. Industrial/Organizational Psychology
Certificates & Diplomas
Arts
Atlantic Canada Studies
Chinese Studies
German Language and Culture
Japanese Studies
Spanish Language and Hispanic Culture
Business
Financial Instrument Analysis
Human Resource Management
Graduate Diploma in Co-operative Management
Science
Diploma in Engineering
Diploma in Forensic Sciences
Education
Linguistics
Mathematical Sciences for Education
Continuing Education
University Preparation
E-Learning
Flexible Learning
Scholarships EXPO – Study Abroad 2019
Event date: 26/10/2019
Event venue: Hotel Holiday Inn – 09:00AM – 17:00PM
Registration for this event is obligatory. To avoid waiting in lines at the entrance of the event please register here and receive your free visitor badge.