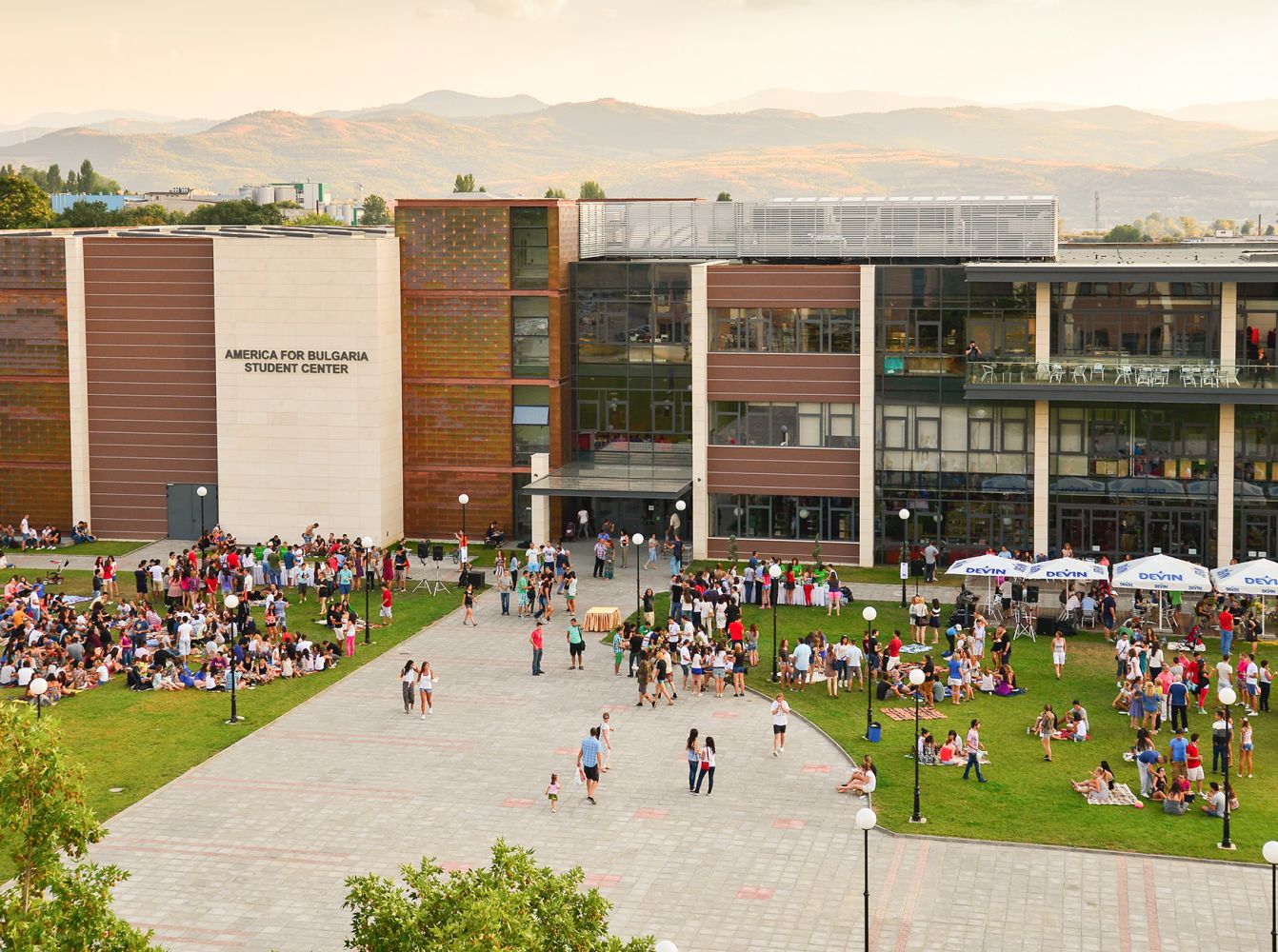 You have a big wish to study in the U.S., but… there are a few buts before you make such a bold decision. The U.S. is far from home, and you are worried you'll miss your dears. Life in the U.S. is not that affordable, although you might be eligible for a scholarship. And finally, you feel that you'll miss the mentality you live with.
Don't worry if you are not ready to move to the U.S. to study; luckily, you can get a high-quality education recognized in the U.S. and the EU and still live close to your home. American University in Bulgaria (AUBG) is the solution for you.
AUBG is located in Blagoevgrad, close to your home, and offers the American Liberal Arts and Sciences educational model. This system teaches you the discipline that is your major interest. At the same time, you can expand your knowledge and skills with other minor disciplines. As such, you'll be ready to have a broad understanding of real-world challenges, have an idea of a multi-disciplinary approach, and work on finding sustainable solutions.
Does it sound attractive? Yes, it is. Keep on reading and find out more about this concept. We believe you'll find a combination just for you.
American & EU Bachelor's Diploma
AUBG differs from other universities for a reason. Firstly, it offers dual diplomas in most disciplines, European and American. Only a few are accredited in the U.S., but this fact probably doesn't worry you.
Secondly, AUBG offers a Liberal Arts and Sciences educational model. It means that you can choose and combine two majors and two minors within the standard tuition fee as per the table below:
| | |
| --- | --- |
| Major | Minor |
| Economics | Economics |
| European Studies | European Studies |
| History and Civilizations | History and Civilizations |
| Information Systems | Information Systems |
| Journalism and Mass Communication | Journalism and Mass Communication |
| Literature | Literature |
| Mathematics | Mathematics |
| Psychology | Psychology |
| Physics | Physics |
| Computer Science | Computer Science |
| Political Science & International Relations | Political Science & International Relations |
| Modern Languages and Cultures | Modern Languages and Cultures |
| Business Administration | Film and Theater Studies |
| Self-Designed Major | Fine Arts |
| | Creative Writing |
| | Philosophy |
| | Integrated Marketing Communications |
| | Public Policy |
| | Southeast European Studies |
| | Finance |
| | Entrepreneurship |
There are numerous programs, and you can get an outstanding education by combining your preferences. This concept is created to build up professionals capable of solving problems that require a multidiscipline approach. As knowledgeable in major and minor disciplines, you will become capable of quickly adapting to different professions and contributing to multidisciplinary teams.
Combine Disciplines as per Your Interest
So, how does it work? You choose two major disciplines that are your focus of interest and wish to begin your professional career in that area. At the same time, you choose two minor areas where you get a general education from the courses you attend. In the end, you will build your preferred expertise but be open and adaptable for future collaborations with other professionals.
Here, we provide in more detail some of the disciplines that are of high interest among new generations of students:
Business Administration is the major discipline to be chosen as AUBG only, ranked No.1 by the National University Rankings. This program gives students tools and knowledge for a successful career in international business or one's own business. Depending on your preferences, you can combine it with other minor programs that fit, such as Finance or Entrepreneurship.
However, business administration can be combined with technology disciplines (Computer Science, Information Systems, etc.), so you will build a broader expertise in the tech industry.
Computer Science at AUBG provides theoretical knowledge and practical skills developed following the latest industry needs. This is one of the best-ranked programs in the country that prepares students to become one of the most needed IT professionals. The collaboration that AUBG has with the computing industry and other universities will enrich your curriculum and make it attractive to future employers.
You can combine it with complementary disciplines such as Mathematics or Economics if chosen as a minor. In this case, you will learn some computer science knowledge and skills to a level to be able to understand how to apply them in solving modern problems of today.
Journalism and Mass Communication will educate you theoretically and practically for broad professional opportunities such as graphic design, news reporting, content creation, digital storytelling, advertising, photography, video and documentary production, or podcasting. During the major classes, you will learn from international professionals and work in exhibitions, film festivals, or pop-up events.
As a minor discipline, you will get an introduction to fundamentals and theoretical frameworks. You will be skilled in information gathering, critical thinking and analysis, writing, editing, and reporting. This knowledge and skills are applicable in many professions and will make you a great communicator, whatever you do.
Choosing Journalism and Mass Communication as a double major is a good idea. For example, in combination with Business Administration, you will be ready for a career in marketing and PR. If it is combined with Political Science, then you will build capabilities for success in the political pathway.
Psychology has become a highly demanding profession that employees value increasingly. Those who want to learn about human behavior and mental processes can choose psychology as a major discipline. You will get insights into how people think, act, and feel and earn applicable knowledge and skills.
As a minor discipline, you will be introduced to the basics of human behavior and mental processes. You will get a solid foundation and understanding of specific psychology-related topics in other professionals' interests.
While most of the disciplines are major and minor, some can be added to your curriculum only as minors, as listed in the table above.
Creative writing has become essential in today's massive information flow. If you keep the reader's attention after the third sentence of your article, you have a high chance to satisfy the reader's needs and not go on to the next similar article. Effective press releases, educational articles, and blogs are other content types that today are tools to communicate with the audience. If you want to be creative in writing, AUBG will teach you about fiction or non-fiction writing, poetry, and screenwriting and develop critical thinking, imagination, and creativity.
Entrepreneurship is a minor MUST if you want to be your boss, despite the discipline you want to build your career. With this program, you will learn the basics of accounting, strategies for continuous innovation, marketing strategies, business plan development, and the EU fund application process. Moreover, as a founder, you must know how to manage conflicts, find solutions to existing problems, and run the company through changes and uncertainty. These and other skills you will learn at AUBG will make you self-confident for your start-up.
Last but not least, the Liberal Arts and Sciences educational model teaches students how to think and not what to think. Interesting, ha? Go through the majors and minors listed in the table above and begin to mix them. If you find it difficult, ask for advice at Educational Advising Center (EAC). You can schedule free advising sessions and ask for help from experienced professionals to choose the combination you like.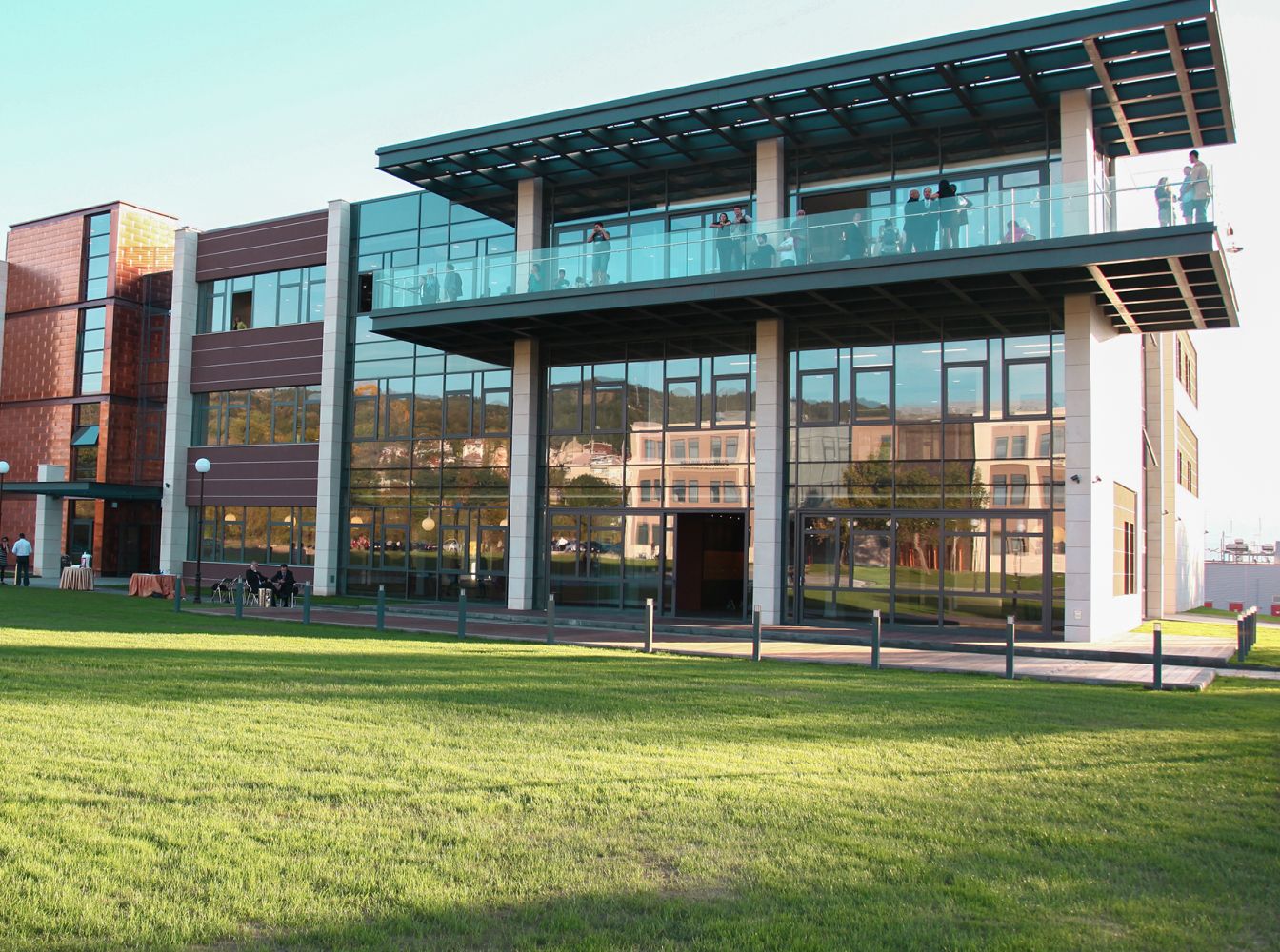 Tuition Fee and Other Costs
If you find the program inspiring, the next question is how much it will cost. The annual tuition fee is €12,900, divided per semester. In addition, each student should pay €315 for student activity and €50 for textbooks per semester.
The good news is that AUBG students can apply for scholarships, and more than 70% of students get any financial support. You can apply and compete for one of nine full-tuition scholarships. Other possibilities are loans, financial aid, and awards scholarships based either on academic merit or based on both academic merit and financial need.
Instead of digging deeper, call EAC and schedule a free advising session. They will tell you precisely what is applicable in your case.
The cost of living depends on your preferences. Consider up to €1,450 for housing and a meal plan deposit for your starting budget calculation. The price depends on whether you are accommodated in a single or double room or apartment.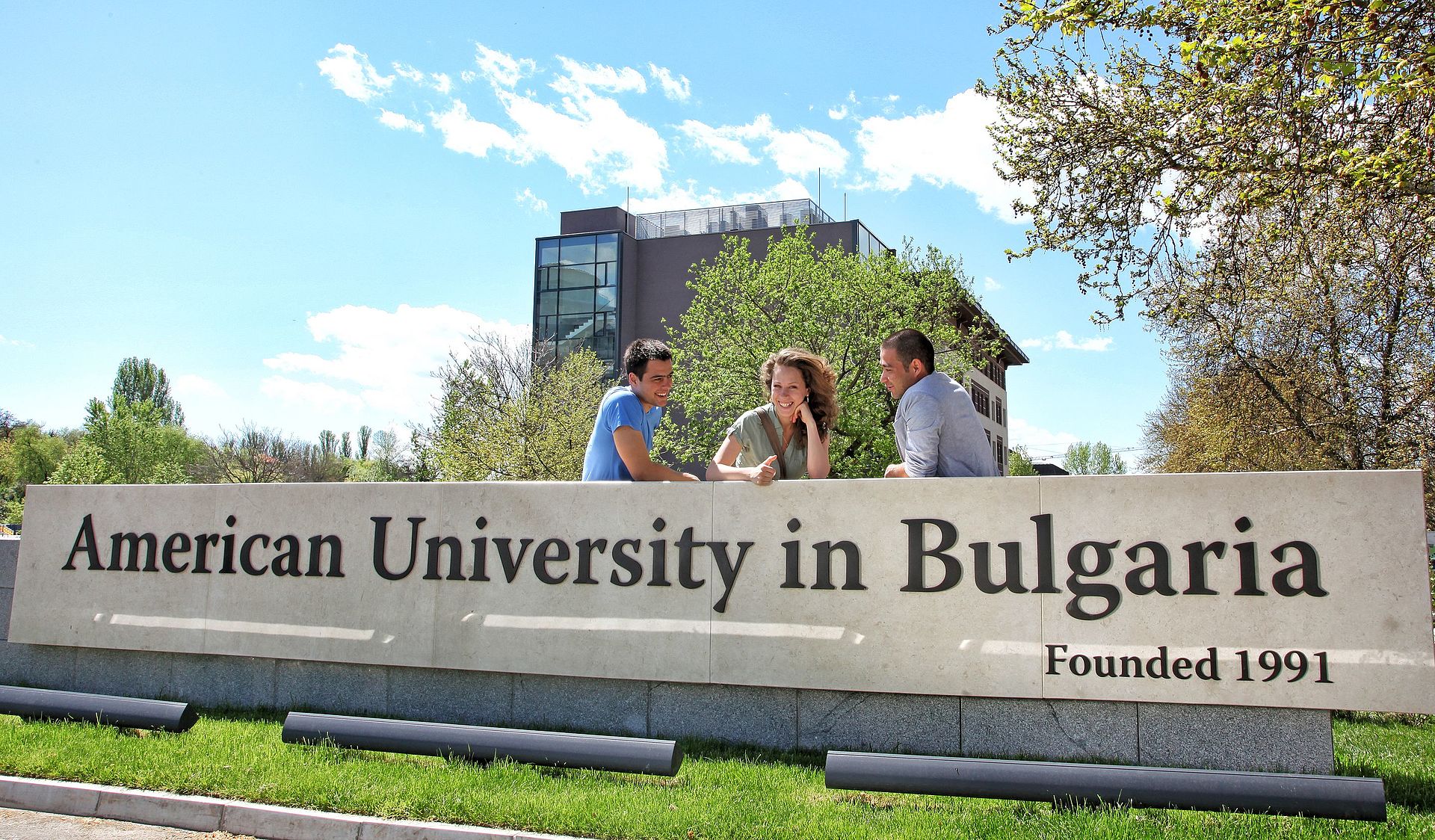 Not That Far from Home, Still Enough for Student Life Experience
Bulgaria is closer to your home than any other European country. Yet, it is far enough to experience student life and all the beauties it brings. AUBG has organized all in one place, the Skaptopara campus, the lectures, living, and all student activities.
Three residence halls are connected and surrounded by a green park near the river Bistrica. There are single and double rooms; think about a double room and living with a roommate. Surprisingly, on the campus, you can meet students from over 40 countries. The advantage of being accommodated on the campus is that you will meet a lot of new people and build with some friendships that can last for a long.
The campus provides a Wi-Fi network, computer labs, and other technical support. During your stay, you have an available health and well-being center in case you need service or support for your physical or mental health.
Live at the campus is well organized in different clubs: Dance Crew, Broadway Performance Club, Business, Debate Club, and many others. Don't be shy; join the club that will make you happy and have fun.
Staying at AUBG is more than study and accommodation. People from the career center will counsel you to identify your talent and interests for career choice. AUBG organizes job fairs where dozens of companies and non-governmental organizations present their internship program every year. You are more than aware that this is the first step for employment.
Bulgaria from Other Perspective
Bulgaria is not an unknown destination for most of us. Whether for skiing or shopping, we have a clue for Bulgarian hospitality. Yet, Bulgaria has more to offer.
Blagoevgrad is a small town located southwest of Bulgaria, one hour away from Sofia. Surprisingly, you can find historical museums and a beautiful park alley. If you are afraid that you'll be bored, you are wrong. Aside from restaurants, there are bars and cafes in the old town and nightclubs for those with extra energy.
If you are ski fun, then you're in paradise. You will be an hour away from Borovets or an hour and a half from Bansko. It's up to you where you'll go for skiing. And for weekends without snow, spa town Sandanski will wait for you.
There is much more to visit in Bulgaria, so we'll leave it to you. Yet, remember that you should balance social life and travel with the priority goal of completing the Bachelor's degree.
Conclusion
Still have doubts and are not sure what is the best to decide? Time passes, and other students are ready to apply. Don't waste time and call EAC. This center is dedicated to advising future students and creating the perfect match between the University and your professional orientation, needs, and budget.
Use the opportunity for a free advising session and ask all the questions you have. Be sure that your thoughts will be crystal clear once you get out of their offices.
Call EAC and take the best for your future career.
SCHEDULE AN APPOINTMENT BELOW