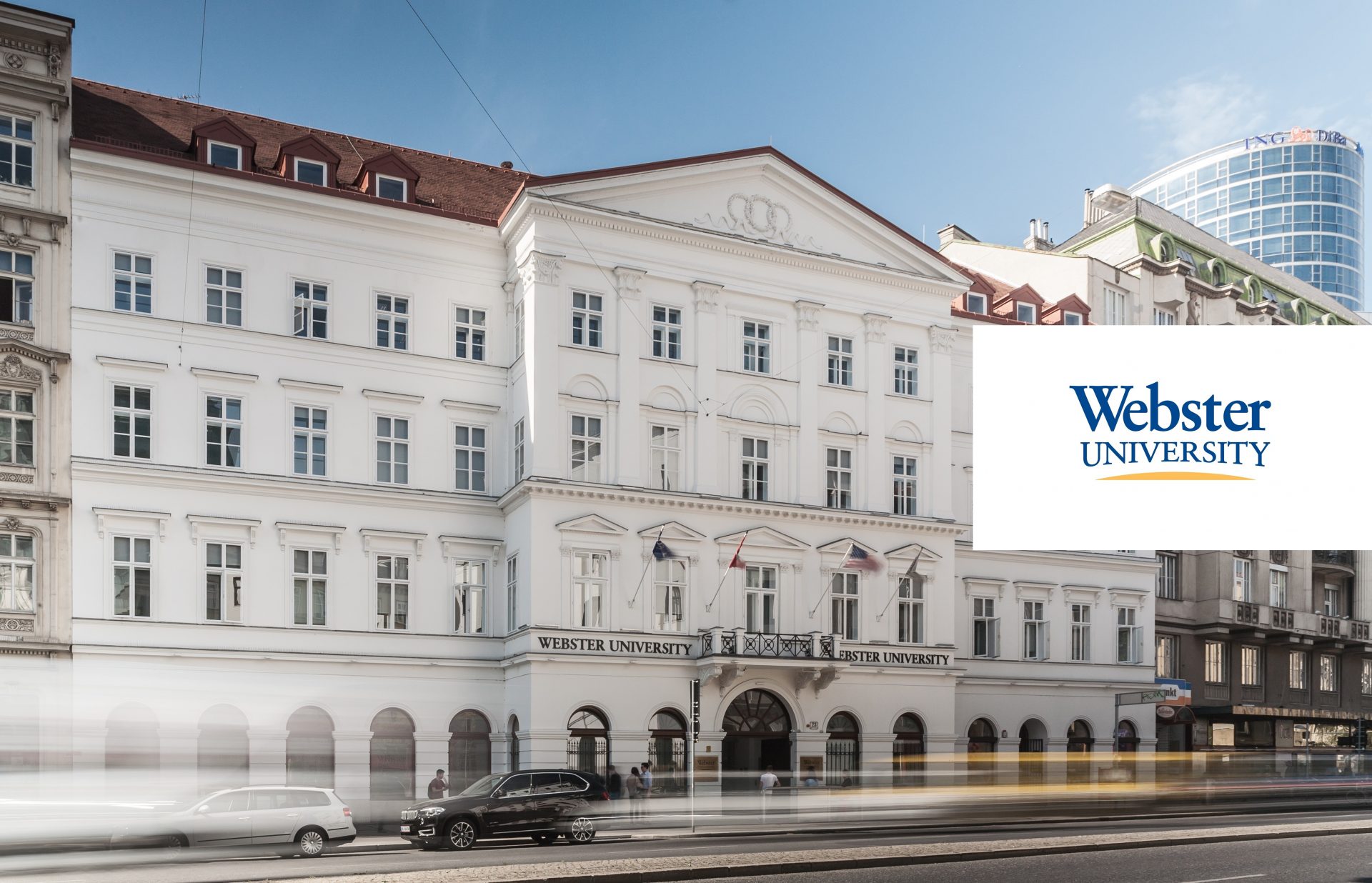 The last year of high school is ending, and the pressure on what to study after increases. Business administration, international relations, or psychology? Are any of these your field of interest?
If you want to learn about the role of the European Union, the United States, China, and Russia on a global level, or you want to have a deep dive into the human brain and get access to the non-conscious mind, then don't struggle with additional search. This article about Webster University Vienna is what you were looking for.
With tradition since 1915, Webster University today is a world-recognized and respected university. This university prepares students to become lifelong independent learners and leaders. At Webster University, you will build the leadership skills, critical thinking, and decision-making capabilities required by today's employers.
Studying abroad brings a unique life experience for students. Meeting students from different cultures, traditions, and beliefs makes you respect diversity and other values, becoming a global citizen. Getting that experience in the most liveable city in the world, Vienna, is a win-win situation.
Want to find more? Then keep reading this article and learn the opportunities that Webster Vienna offers.

Why Webster University?
Webster University is committed to preparing students for global careers and citizenship with individual excellence by providing a high-quality learning experience. It is the first university in Austria to offer English-taught programs and one of the first private universities that received full accreditation in 2001. Having accreditation from the Higher Learning Commission (the highest-level accrediting agency for universities based in the U.S.), you will earn the same degree as American peers in the U.S.
At Webster University, the student is at the center of education, and the diversity of cultures and values are highly respected. Lecturers organize education in small classes that help students to access a personal mentor and learn directly from industry experts. Moreover, it encourages students to be creative and build self-confidence.
At Webster University, you have more than one option to choose where to study:
Europe – Vienna (Austria), Leiden (Netherlands), Tbilisi (Georgia), Athens (Greece), and Geneva (Switzerland) are the campuses located in Europe;
North America – the main campus is in Webster Groves, in St. Louis, Missouri, while other campuses are located in 50 cities in 22 states.
Africa – Accra is in the heart of East Legon in Ghana.
Asia – Astana (Kazakhstan) and Tashkent (Uzbekistan). The campus of Webster University in Tashkent is the first open American University in this country.
Webster University is ranked on the U.S. News & World Report's Best Colleges report as 22nd in Midwest Regional Universities for 2022-23.
Bachelor Program for You at Webster Vienna
If you are ready to continue your education abroad, Webster Vienna is here for you. The challenging and in-demand programs at this university give you the flexibility and convenience to be successful in your career of tomorrow.
English thought programs in Art and science are globally recognized and provide tools, knowledge, and skills to thrive in a globalized world.
Bachelor of Arts in International Relations
For those who want to learn about the political, economic, historical, legal, and societal implications of global, regional, and national levels, this program is made for them. By choosing this program, you'll be able to understand the role of the leading international actors, the European Union, the United States, China, and Russia.
This program teaches students to understand and explain a comprehensive range of international relations issues, perform rigorous and structured research, develop analysis, and learn how to apply this knowledge in the real world.
After graduating from the International Relations program, you will gain in-depth theoretical and practical knowledge of international relations. This will make you competent to perform tasks highly professionally with critical, independent thinking. Graduates are collaborative and capable leaders, able to face challenges in changing contexts, take on and manage projects, and be responsible decision-makers.
After completing this program, you will have open doors to work in a governmental or nongovernmental organization, academia, or global corporation. You will also be ready to do original research and continue to the academic pathway.
Bachelor of Arts in Management
If you are interested in International Business or Marketing, read about the BA in Management program opportunities. This program covers all management aspects, focusing on resource management and leading people internationally.
During the studies, you will learn about global dynamics, strategic and organizational planning, coordination and control of subsidiaries, cross-cultural people management, and expatriate employees.
BA in Management covers all basics of marketing management. It educates students on planning, organization, and marketing strategy implementation. You will learn market research, marketing channels and how to manage them, advertising, pricing, and sales management. In addition, the program puts high importance on communication and customer behavior.
Completing this program is a starting point for diverse opportunities in your career. You may find a job in food, travel, logistics, fashion, health, or any other industry; you name it. Your employer will more than appreciate the leadership skills, critical thinking, and decision-making capabilities you built.
Bachelor of Arts in Strategic Communication
if communication interests you, you are reading the right article. Webster University offers a program that prepares future leaders in communication, competent to conceive and implement effective communication strategies.
The Bachelor of Arts in Strategic Communication program combines public relations, promotions, communication campaigns, problem-solving, leadership, negotiation, media literacy, communication theory, and corporate and crisis communication. In addition, you will learn how to apply current communication and media technologies to address clients' problems related to advocacy and/or reputation management.
The skills and knowledge you'll get will prepare you for leadership positions in advertising, public relations, promotions, campaigns, corporate communication, and more, either in the private or public sector. In addition, you will be able to apply the knowledge of the fundamental theories and ethical best practices of strategic communication in workforce situations.
Bachelor of Arts in Psychology
Are you curious about the human mind and generated behaviors? If so, choose psychology and enjoy learning to access the non-conscious mind by implementing all fundamental psychology sub-disciplines.
Webster university offers its students the opportunity to study specific issues, theories, and science of the discipline. As a result, you will understand the complexity and diversity of human behavior. In addition, you will have access to the cutting-edge laboratory that the university has with the latest technologies.
During the studies, you will develop analytical skills and become able to implement your theoretical knowledge in practice. Moreover, you will learn effective writing and presentation skills and how to interact effectively with others.
On top of the different psychology perspectives you will learn, you'll also develop problem-solving skills. As such, your analytical thinking will improve so you can communicate clearly and persuasively in your career and life.
Bachelor of Science in Business Administration
The Bachelor of Science in Business Administration program makes future bachelors capable of driving their businesses and supporting operations in existing operations, such as commercial or industrial in the private sector, NGOs, or governmental agencies.
BS in Business Administration offers a solid and comprehensive Business foundation. It covers accounting, economics, finance, international business law, management, international business, and information systems. While studying, you'll apply your knowledge in a market simulation in different aspects of the business.
As with other programs, you will develop and strengthen critical-thinking skills, strong leadership, and decision-making capabilities. Then, by using information and analytical tools and considering ethical information, you can create a strategy for the enterprise you work for.
Finally, you'll be ready for the challenges that you'll face in your professional life.
If you still need to clear yet on the program opportunities, check the curriculum available on the university website, or contact Educational Advising Center (EAC) in Skopje. As a local partner of Webster Vienna, EAC has a lot to tell about the program. Furthermore, the EAC advisor will perfectly match your preferences with the specific program during the free advising session.
Make your decision-making process easy and get professional advice from EAC.

Master's Degree Programs
To upgrade your knowledge, skills, and competencies required in today's increasingly interconnected world, Webster University in Vienna offers the following Master's English-taught degree programs:
Master of Business Administration;
Master of Arts in International Relations;
Master of Arts in Psychology with an Emphasis in Counseling Psychology;
Master of Science in Marketing.
Duration of the Master's program can last one or two years, tailoring to the student's professional engagement.
For more details on Master's and MBA programs, your best option is to contact EAC and learn about them.

Tuition Fee, Admission, and Other Things You Need to Know
At Webster University, it takes four years to complete Bachelor's degree. Each year of undergraduate studies costs about €23.000, divided in installments.
Master's degree Tuition Rates in marketing or International Relations are around €30,000, while the Masters of Arts in Psychology program annual cost is €40,000.
The financial aspect plays a huge role when choosing a university to study abroad. Webster University is aware of that and offers scholarships for full bachelor's or master's degree students. The application process starts in April and is open only for admitted students with exceptional academic achievements and proven financial needs. The approved amount varies based on the following:
Value of the grade point average;
English proficiency;
Financial need;
Excellent essay;
Webster Vienna Legacy Tuition Grant is another financial support offered to students whose core family or extended family members graduated from this university.
Call EAC to find details about possible scholarships, grants, and discounts that can support your budgeting and stay in Austria.
Webster University accepts required documents for admission to be sent by mail. For a start, you'll need transcripts of the first three years that show subjects. Copy of the passport's biographical page, English proficiency test, recommendation letter, and the original essay written for this purpose are some of the other documents needed for the application process.
And yes, once you accept the offer and get admitted, a new chapter opens for you before moving. You'll need a student visa and a permit to stay. This process again requires beginning the process on time and completing all relevant documents.
For more details about the process, the complete list of documents, and all other staff, the best option is to call EAC and schedule an advising session. Then, once you decide to apply at Webster University, you can count on their leadership and two decades of professional experience.
Living in Vienna
The Vienna campus is the closest one to our region. So, by choosing one of the programs at Webster University, you'll probably decide to move on to Vienna.
The first association with this town is the traditional world-famous New Year's concert by Vienna Philharmonic that has existed since the second world war. The following association is the famous St. Stephen's Cathedral, the tallest church in Austria, in the heart of Vienna. And, of course, the world's most famous Sacher-torte, made by Franz Sacher when he was only 16 for the party of Prince Klemens Wenzel von Metternich, the Austrian State Chancellor.
Vienna is a town built on history and tradition, yet attractive for modern living. In 2022, Vienna was ranked as the most liveable city in the world on Global Liveability Index among 173 cities worldwide. This makes Vienna year after year more attractive for studying and living with the ex-pats. The first year of living in Vienna might be more accessible than in other European towns because English is widely spoken.
Vienna is well connected with the rest of Europe, including our region. the town has impressive public transport. With the developed infrastructure, Vienna became a bike-friendly city, so having a bike could be a great option.
Aside from famous historical attractions, Vienna has much more to offer, museums, world-class art, Belvedere Palace, and more.
Keep in mind that German is not easy to learn, and winters are cold and can last longer. However, you can transform cold weather into an opportunity to ski in prestige Austrian resorts.

Final Takeaways
Deciding on your undergraduate education is a challenging job. Yet, it is vital because choosing high-quality education often means taking additional steps for a brighter future. Living abroad is not easy, but it can be a great life experience that will strengthen your character and prepare you for more significant life challenges.
If you have doubts about the program closest to your interest, don't spend much time thinking alone. Educational Advising Center can help you in this decision-making process. Call EAC and schedule an advising session. Advisors at EAC know how to match your interests and needs with the study program. Get relaxed; it is not only you. They have supported hundreds of students in their enrolment process over the past 20 years.
Time gets shortened until the application closing date, so your opportunities might get lower. Therefore, call EAC and prepare for the application as soon as possible.
SCHEDULE AN APPOINTMENT