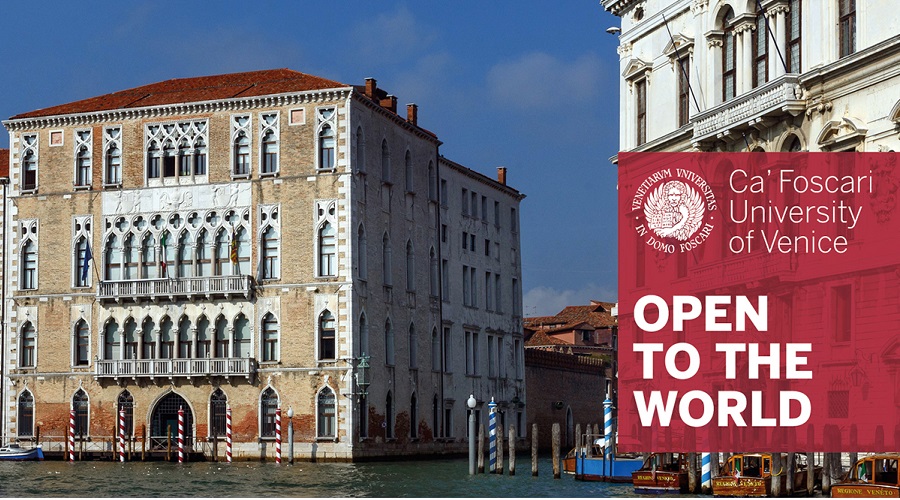 Ca' Foscari University of Venice is the first business school in Italy and the second in Europe, a university where over 30 languages are taught. Just like the city that hosts it, it is a crossroads of cultures, fields of research, ideas and creativity. A modern university that keeps up with the times by realizing within its eight departments advanced research projects and innovative study programs in order to guarantee an excellent educational experience. Through its five interdepartmental schools, Ca' Foscari has made these educational approaches cross-cutting and integrated. In this way, whoever studies in Venice can acquire a wider range of and more articulate skills: economy is put into contact with cultural heritage, languages intersect with economics, restoration meets science just to cite a few examples.
The university offers courses at all levels, both in Italian and in English: 16 Bachelor's degree programmes, 29 Master's degree programmes and 34 Professional Master's programmes in addition to Doctorate studies within its PhD school. This is also sustained by the new School for International Education which organizes courses for credit and extra-curricular activities for both Italian and international students, as well as professionals interested in courses and lessons by both Italian and foreign instructors.
Ca' Foscari University also offers a wide portfolio of international programmes, with Bachelor's degrees, Master's degrees, Professional's Master's programmes and Phd's.
Bachelor's Degree Programs in English
Economics and Business
Digital Management
Business Administration and Management
Philosophy, International Studies and Economics
Hospitality Innovation and e-Tourism
Master's Degree Programs in English
Accounting and Finance
Economics and finance
Business Administration
Marketing and communication
Crossing the Mediterranean: towards Investment and Integration (MIM)
Languages, Economics and Institutions of Asia and North Africa
European, American and Postcolonial language and literature
Comparative International Relations
Language Sciences
Sustainable Chemistry and Technologies
Computer science
Environmental Sciences
IMPORTANT:
For non-EU students applying through EAC Skopje, the FIRST deadline to complete and submit an application is January 12th, 2022. The SECOND deadline for application is 22 February 2022.
To submit a successful enrollment and scholarship application refer to our local representative EAC Skopje. EAC services are free of charge.
Applicants who apply through EAC Skopje will not pay the obligatory application fee.
EAC Skopje; T/M: +38923246304; +38975398349; e-mail: petrusev@oic.org.mk