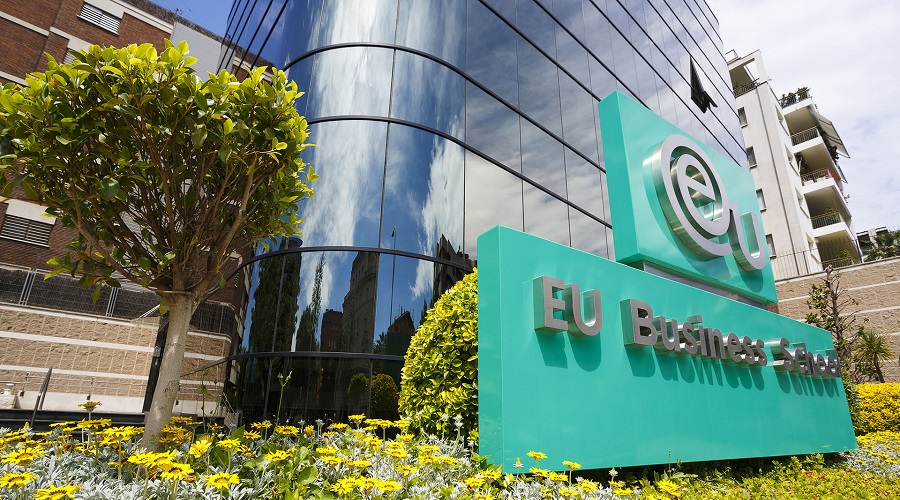 Are you interested in job opportunities in the finance sector, including banking or international finance? Or, you see yourself as a future marketing manager or entrepreneur. For these and many other job opportunities, you can find hundreds of various schools. But, if you want to get your knowledge at school with an international mindset approach, Swiss values, and without boundaries, you are reading the right article.
EU Business School International is the right place for those who want to study business management, have no limitations in living abroad, and if they move from one place to another, find it an advantage.
Having such a brave character will build your expertise, skills, and network more than you can imagine as a high school student. Moreover, learning from industry experts, entrepreneurs, and successful leaders will boost your ambition and prepare you to get your first professional experience in the first six months of graduation.
How can it be possible? Read this article to discover why 93% of graduates get employed in the first six months. EU Business School opens the door to students worldwide, literally. Keep reading and learn how.
Why EU Business School International?
If you are looking for a Swiss value, international mindset, and pragmatic approach to your education, you can find it at EU Business School International. The business society highly values the programs that foster entrepreneurship, leadership, and innovation.
Within its 50 years of academic excellence, EU Business School has built a network of lecturers from academia, business leaders, entrepreneurs, and consultants. It couldn't be better than learning directly from proven professionals coming from the business environment.
And the other way around, active participation in case studies, company visits, internships, or business stimulation, is the best way to put into practice all theoretical knowledge. Can you imagine that you will visit BMW, Siemens, or UEFA as part of your studies?
Grow-up Internationally
EU Business School has campuses in Geneva, Munich, Barcelona, and the digital campus. Yes, Business Administration, Arts in International Relations, and Arts in Sports Management are programs available also digitally.
However, consider that the experience of physically studying abroad on the available campuses brings advantages. You will build up additional skills, develop yourself into a person open to new challenges, learn about different cultures, and strengthen your problem-solving attitude.
You may think the international environment is within Europe, but it isn't. The exchange programs in the fourth semester of bachelor's studies and Master's and MBA broaden students' opportunities in other continents North America, South America, or Asia.
Employability
EU Business School is a gender-balanced international environment with over 100 nationalities present. However, what is highly important is the high employment rate of 93% in the first six months after graduation. This high employability is a result of the school's efforts to make students ready for the challenges of the real-world business environment.
Moreover, the Career Service Department assists students, organizations, and alumni by supporting individual development, evaluating job market needs, and matching best-suited candidates with available opportunities.
No doubt why EU Business School is ranked No.1 in Class & Faculty Diversity by QS Top MBA 2023 and awarded four stars for excellence in business education by QS Stars. MBA programs in Entrepreneurship and Marketing are ranked in the top 100 worldwide for career specialization.
Is any more reason needed for a decision?

Bachelor's English Taught Programs
At EU Business School, the program is a combination of American business education and European learning methods. Its pragmatic approach, focusing on individuals, prepares students for a successful career following today's market needs.
If you are not yet ready with your English language proficiency or academic level, the EU has preparatory programs to help you achieve the required levels before admission.
The 3-year bachelor's programs with 6 or 7 semesters are created so you can transfer from one campus to another in the first four semesters. Despite the transfer, the credits you earn in each course of these programs (título propio) follow the European Credit Transfer and Accumulation System (ECTS), as a European standard established in the Bologna Process.
You can choose one of the programs listed in the table below: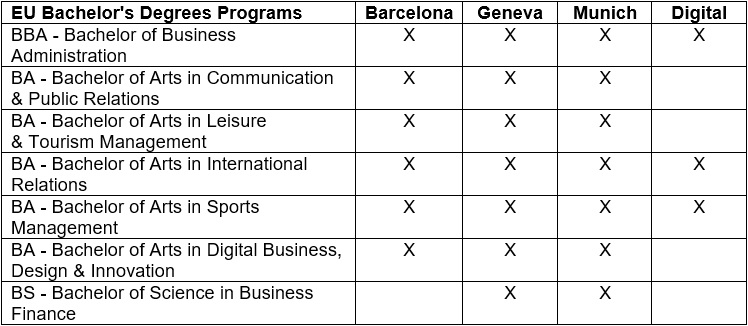 The BA (Hons) in Business Management at Barcelona campus offers seven pathways (180 ECTS) to provide students with deep insight into major business disciplines: international business, marketing, finance, enterprise, human resources management, business technology, supply chain, and logistics. While the first year is for basics in essential business disciplines, from the second year on, you will get in-depth knowledge of the pathway you have chosen.
By completing the program, you will earn a U.K. state-recognized BA (Hons) in Business Management (in your specific pathway) degree awarded by the University of Derby in the U.K.
If you choose Geneva or Munich campus, there are two options to complete a bachelor's degree:
Option 1 – 6 semesters with 210 ECTS. In the first year, you will learn the basics in all fundamental business areas. As of the third semester, the program moves to specialization subjects. In the end, two case studies and a dissertation must be completed.
After this six-semester option, you will earn an internationally accredited bachelor's degree from EU Business School Switzerland and a university bachelor's degree (título propio) awarded by Universidad Católica San Antonio de Murcia (UCAM) in Spain.
Option 2 – 7 semesters with 240 ECTS. The first and second years are identical to option 1. The third-year program focuses on business management modules providing key managerial concepts, theories, and tools necessary for any business. Again, two final cases and a dissertation are waiting for the end.
By completing this option, you will gain the same accredited bachelor's degree as option 1, plus an award of a state-recognized BA (Hons) in Business Management from the University of Derby, U.K.
EU Business School expands its boundaries to other continents. After completing five or six semesters in Switzerland, you have the opportunity to study last semesters in one of the partner universities:
North America – Pace University in New York, University of California, and Fisher College in Boston, USA;
South America – Tecnologico de Monterrey, Mexico
Asia – Stamford International University in Bangkok, Thailand.

Your Career Opportunities After Graduation
After graduation from any of the EU campuses, you will be able to pursue your career in: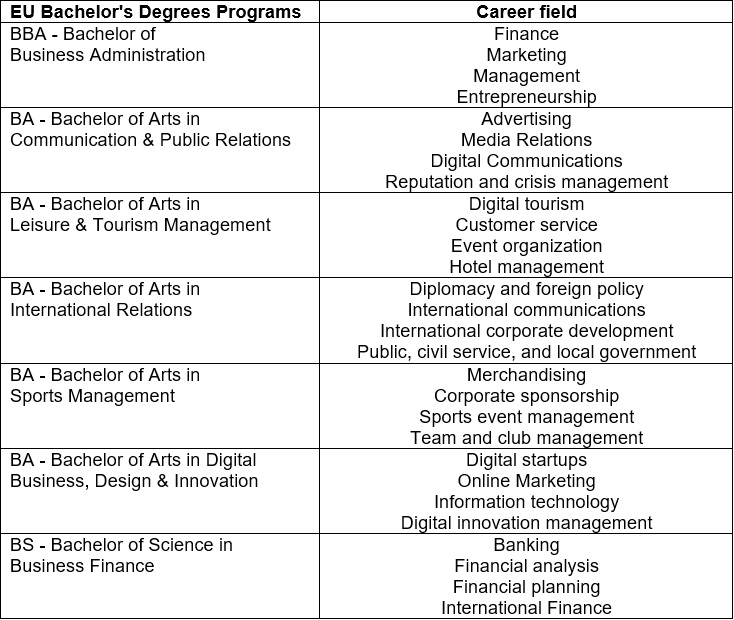 The ultimate goal of EU Business school is to build a business personality in each student and be ready for any of the above professions. Do you want to be one of them?
Tuition fees vary depending on the chosen town, and for the 2023/24 academic year, the annual cost per program is as follows:
| | | |
| --- | --- | --- |
| Program | Munich and Barcelona | Geneva |
| Bachelor's program | €13,500 | CHF 28,980 |
| Master's program | €15,600 | CHF 32,340 |
The application fee of €/CHF 200 is not included and, as usual, is nonrefundable. Yet, you aim to apply based on your eligibility and a strong commitment to getting a high-level business education. If so, don't hesitate to contact Educational Advising Center (EAC) in Skopje and find out the criteria you have to meet to be eligible to apply.
Other Postgraduate Programs
In addition to prestige bachelor's programs, EU Business school offers English-taught Master's programs, MBA, DBA, Executive BBA, International exchange, on-campus hybrid learning, and summer programs.
Master programs offer flexibility in starting days throughout the year, beginning in October, January, or March. Students can update their knowledge, become highly specialized in their chosen field, and boost their careers. You may choose from one of the following nine programs:
Master in Finance
Master in Marketing
Master in Management
Master in Digital Business
Master in Fashion & Luxury Business
Master in Innovation & Entrepreneurship
Master in Business Analytics & Data Science
Master in Tourism & Hospitality Management
Master in Digital Marketing, Transformation & Design Thinking
All campuses are open for interested postgraduate students and can deliver the program in one (full-time) or two (part-time) years. Classes are dynamic, as in the bachelor's program, taught by experienced business professionals and industry experts, but also company visits and motivational guest speaker sessions.
Don't have second thoughts; reputable institutions highly rank EU Business School's Master's and MBA programs, but even more, they are highly valued by the business community.
Call EAC and check if you are eligible to apply.

Geneva, Munich, or Barcelona: Another Topic to Consider
The first year of studies brings many challenges; living abroad and accommodation are among those.
If you choose to live in Geneva, the campus overlooks the Rhône River and is close to the Pont du Mont-Blanc and Geneva's world-famous Jet d'Eau. The modern campus is five minutes walking distance from the financial district and main shopping area, so it seems most you need is within walking distance.
Munich campus is centrally located in the historic and lively Theresienwiese fairground, home to the world-famous Oktoberfest. The surrounding area is full of parks and recreational spaces, plenty of cafés, and traditional Bavarian restaurants with terraces perfect for relaxing after a day of study.
Barcelona campuses are located close to Plaça Catalunya and the famous Rambles, as well as Tibidabo, the highest point in the city. This area hosts major companies and financial organizations and has excellent public transport connections to the historical part of the town. You are lucky if you are a football fan; Camp Nou is nearby, so you can't miss a match.
Student dorms and private and shared apartments are available at each site. While private apartments are for those who prefer to be alone and have their own space, shared apartments and dorms are excellent choices for those who want company. In addition, shared apartments can be budget friendly due to cost sharing, while dorms offer an environment where you can always find someone to talk to.
Costs differ depending on which town you're going to move to. For example, if you move to Geneva, plan a monthly budget (accommodation and other living expenses) of at least CHF 2,500. On the other hand, Germany is less expensive, so for Munich, you might need about €2,000, and the least costly is living in Barcelona with a €1,500-1,700 monthly budget.
Begin Your Business Studies in the Main Economic Capitals of Europe
Usually, studying abroad means choosing a university and the country where it is placed. In the case of EU Business School, you can easily decide if you are business oriented. However, regarding location, more than one option is available for most programs, so you need to make one more assessment. The good thing is that the program allows changing the location within the first two years.
Geneva – Geneva is a world-renowned center of finance and diplomacy, with numerous multinational companies and international organizations placed with their HQs. About 700,000 citizens live in this eco-friendly town set on Lake Geneva. While the water with its power calms down, 600 public parks with green color make it even more pleasant to stay. Having the lake and Swiss Alps close to you, you can ski in winter and swim or sail during winter.
Aside from reliable public transport, Geneva has well-equipped cycling infrastructure, so that you can choose the bike as your primary transport vehicle. In addition, Geneva is famous worldwide for the Montreux Jazz Festival. Living in Geneva and Switzerland is generally expensive. However, it certainly depends on the individual lifestyle.
Munich – is bigger than Geneva, with 1.6 million citizens. This third biggest city in Germany is the economic capital of Germany. However, the size does not confront the city with being safe and clean. Like Geneva, Munich offers plenty of green areas within the town and the Alps for skiing, hiking, or biking.
You will be impressed with the traditional medieval architecture and fairytale-like buildings from Baroque and Rococo. At the same time, Munich will attract with its modern look and the technological development and production of high-tech products, food, cosmetics, etc.
There is no need to explain the public transport infrastructure, despite your accommodation and the size of the city, you can reach any part of the town easily. A bike is also a good option; on a good weather day, take advantage and go on foot.
Barcelona – the capital of Catalonia and the economic capital of Spain, Barcelona is the third largest student community in Spain. With over 200,000 students yearly and over 1,900 startups, Barcelona transfers into a center for young and creative talents.
Unlike Geneva and Munich, you will mainly have warm and sunny weather in Barcelona. On top of it, the town has seven beaches, so if you are not a winter sports lover, Barcelona is the right place to study.
Barcelona is famous for the impressive designs of Antoni Gaudi. Sagrada Familia, Casa Mila, or Parc Guell, are some of the must see places. However, many other attractions together, with relaxed people, make Barcelona unique and different.
In Barcelona lives nearly 5,9 million people, so the town is busy. That gives some positive vibes and makes it cosmopolitan. Young people like Barcelona for being eccentric and for the nightlife offer. Additionally, Barcelona is less expensive than Geneva and Munich, so it is more affordable.

Make the Final Call for Your Future Career
There is so much to say about EU Business School International; some details will remain unsaid. However, you may find the answer to all your questions at EAC, an EU Business School local partner. After 20 years of professional experience, the EAC advisors will help match your preferences with the school opportunities.
Use the possibility for an advising session free of charge and learn more about the opportunities that EU Business school offers. Then, be brave and decide faster because other candidates have already done and will apply.
Get the advantage of the EAC advisor's expertise, call them, and leave them the application process. They will do it the best way, and you can focus on how your career vision makes a reality.
SCHEDULE AN APPOINTMENT