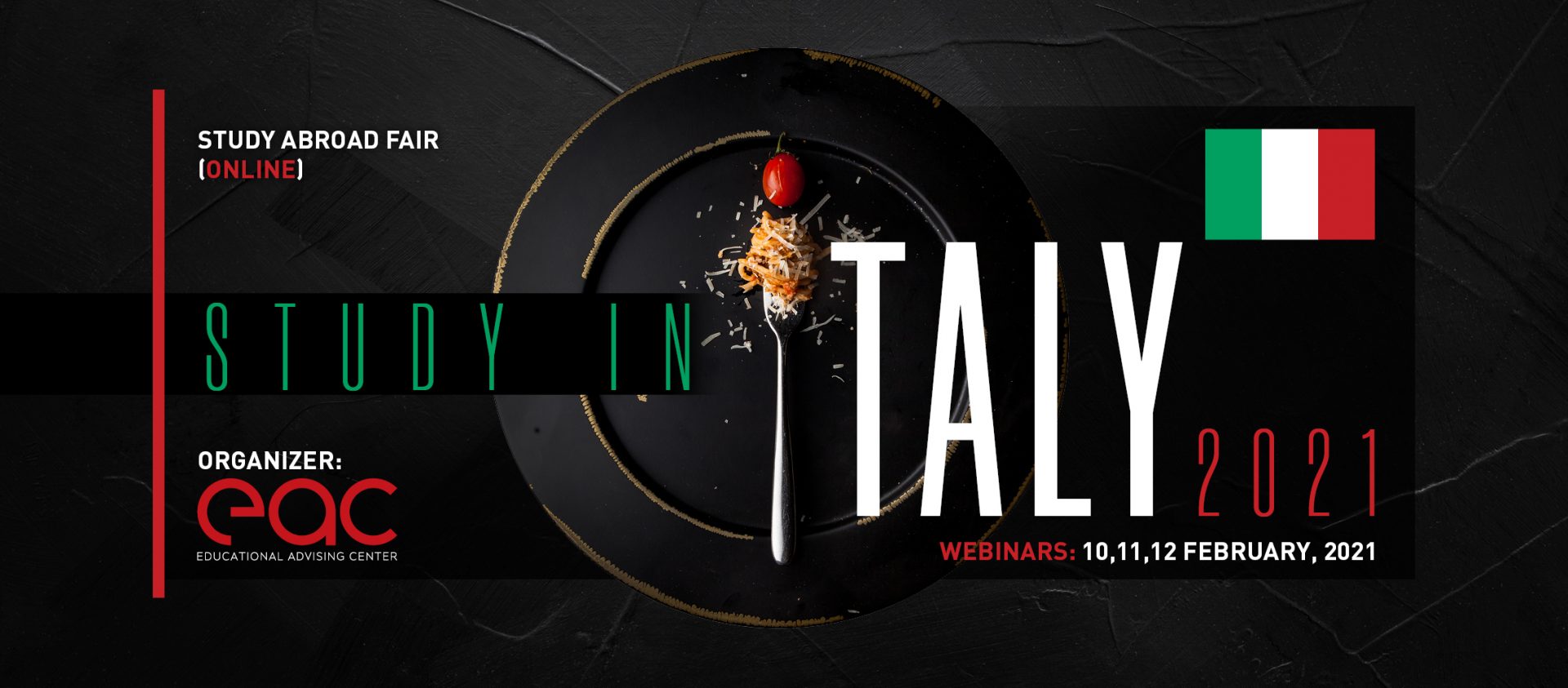 Map Unavailable
Date/Time
Date(s) - 10/02/2021 - 13/02/2021
5:00 pm - 7:00 pm
Location
Online
Categories
Online Event: Study in Italy 2021, 10 – 12 February 2021
Despite the challenge with the pandemic in the world, this year EAC Skopje will organize the 2nd "Study in Italy 2021". We would like to invite everyone who is interested in study opportunities in Italy at our partner Universities. The event will be held on 10 /11/12 February 2021.
Study in Italy is an study abroad fair where universities from Italy will be presented, along with many scholarship opportunities and financial aids available to our students. As a result from the high demands by the students from Macedonia and the region about universities in Italy, this event will provide all information required for all students who choose Italy as a study destination.
The main goal of this event is to promote student mobility and different opportunities aimed to help prospective students and academic society on all levels in the process of finding programs and financial resources for education in Italy.
Participants at Study in Italy are Italian institutions and EAC partners. During the event, university representatives will provide all necessary information about their study programs and scholarship opportunities directly to the students.
All visitors have to make a registration online before the event. Registration will be available online on our web pages or trough EAC social media pages .
Due to the COVID restrictions this year the event will be held online
THIS YEAR PARTICIPANTS ARE FOLLOWING EAC PARTNER UNIVERSITIES FROM ITALY:
UNIVERSITACATTOLICA DELSACROCUORE, MILANO
POLITECNICO DI MILANO
UNIVERSITADEGLISTUDI DI PADOVA, PADOVA
CA' FOSCARI UNIVERSITY OF VENICE, VENICE
IULM UNIVERSITY, MILANO
UNIVERSITÀIUAV DI VENEZIA, VENICE
LUISS University , ROMA
MIP, POLITECNICO DI MILANO GRADUATE SCHOOL OF BUSINESS
*Registration for this event is required.
**The number of participants is limited.
Timetable of webinars
Institution /Topic Date/ Time
---
LUISS University, Rome
---
Universita' Cattolica del Sacro Cuore Universita' Cattolica
Study in English experience Italy 10 February 2021 18:00 Register Here
---
Politecnico di Milano
Study at POLIMI (Master programs) 10 February 2021 19:00 Register Here
---
IULM
Studying Communications and Creative industries in Milan, IULM 11 February 2021 17:00 Register Here
---
Universita Ca'Foscari Venezia
Study programs and Scholarship opportunities at Universita Ca'Foscari Venezia 11 February 2021 18:00 Register Here
---
MIP, Politecnico di Milano Graduate School of Business
Study at MIP, Politecnico di Milano Graduate School of Business 11 February 2021 19:00 Register Here
---
University of Padova
Study programs and Scholarship opportunities at University of Padova 12February 2021 17:00 Register Here
---
Universita Iuav di Venezia Study in Venice
Study Architecture, Design, Fashion, Visual Arts, Urban Planning, at
Universita Iuav di Venezia 12 February 2021 18:00 Register Here