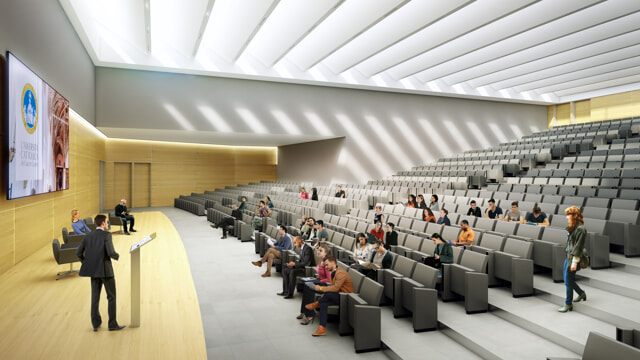 Students who study abroad have a unique opportunity to expand their horizons and to meet new cultures and societies. The country and the lifestyle are important to fit in; however, the study program is the first to look at.
There are hundreds of universities in Europe, and choosing the right university is not easy. If you want to study Banking, Finance, and Data Science, Food Production Management, or Psychology in English, Università Cattolica del Sacro Cuore offers innovative programs built on 100 years of experience and know-how.
Furthermore, students at Università Cattolica maximize their study experience in an international environment with 40.000 students from over 160 nations. Becoming a student at Università Cattolica in charming Italy, the fifth largest economy in Europe, might be your wish to come true.
Keep reading to discover the opportunities this largest European private university offers international students and why life in Italy is beautiful.

Why Università Cattolica del Sacro Cuore?
Università Cattolica offers various programs and is the second-best university in Italy for the student-faculty ratio. The overall 7,600 faculty staff take care of about 40,000 students. This makes Università Cattolica a top university in Italy and among the first ten universities in Europe for employment-student connections.
Università Cattolica is highly rated on different lists. Sixteen subjects are in the top 300 QS World University Rankings (this ranking features 1,300 universities worldwide). Agriculture, Forestry, and Psychology are among the top 150, while Accounting, Finance, and Economics are among the top 200.
If you are interested in Economics or Finance, Università Cattolica has its campus in Milano, the Italian capital of finance, where the 200-year-old stock exchange Borsa Italiana is headquartered.
Another reason to choose Università Cattolica is the advantage of being accommodated on campus. This is especially crucial for studying in big cities, Milano and Rome. Only a few universities offer this for year one students, so you will have less uncertainty and can focus on studying and social life.
Università Cattolica is a private university with an international environment. When we say international, it is not related to students only but also to professors. Its international team of professionals organizes student mobility by sending students abroad for study or work opportunities and supporting students on all campuses.
High-Quality Undergraduate and Graduate Programs at Università Cattolica
Università Cattolica del Sacro Cuore offers various undergraduate, graduate, and doctoral programs for international students organized at 12 schools.
The list of programs is long, thanks to the diversity of faculties that this university has built-in 100 years of existence. So, take your time while going through the programs' lists.

Undergraduate Programs
Università Cattolica has 78 available programs, of which 7 are in English with a duration of 3 years, except Medicine and Surgery, which requires 6 years:
| | |
| --- | --- |
| Program | Faculty – Milan Campus |
| 1 Communication Management | Political and Social Sciences |
| 2 Economics and Management | Economics |
| 3 Finance | Banking, Finance, and Insurance Sciences |
| 4 International Relations and Global Affairs | Political and Social Sciences |
| 5 Psychology | Psychology |
| | |
| --- | --- |
| Program | Faculty – Piacenza Campus |
| 6 Food Production Management | Agricultural, Food, and Environmental Sciences |
| | |
| --- | --- |
| Program | Faculty – Brescia Campus |
| 7 Business and Finance | Banking, Finance, and Insurance Sciences | Economics and Law |
| | |
| --- | --- |
| Program | Faculty – Rome Campus |
| 8 Medicine and Surgery | Medicine and Surgery |
Graduate Programs
Among the list of graduate programs, you may find 2-year M.Sc. degrees and 1-year Specializing Masters at 12 faculties with the differences shown in the table:
The 2-year M.Sc. degrees
The 1-year Specializing of Master
Academic degree of 120 ECTS
Professionalizing diploma of at least 60 ECTS
Requires a similar academic background for access
Welcomes students from different academic backgrounds
Provides advanced academic knowledge in highly specialized areas.

You will write a final dissertation

Focus on specific topics and provide practical skills.

Dedicated time for an internship/project work.

You will not write a final dissertation

The degree enables you to apply for a Ph.D. at any Italian or international university, as well as to internships/job opportunities.
The diploma does not give you direct access to a Ph.D. but leads to internships/ job opportunities
Find below the 2-year English programs:
Program
Faculty – Milan Campus
· Linguistic Computing

· The Art and Industry of Narration

Linguistic Sciences and Foreign Literature
· Banking and Finance

· Statistical and Actuarial Sciences

Banking, Finance, and Insurance Sciences
· Communication for Business, Media and

Culture

· Methods and Topics in Arts Management (MaTAM)

Arts and Philosophy | Economics
· Data Analytics for Business

· Innovation and Technology Management

Economics | Mathematics, Physics and

Natural Sciences

· Economics

· Management

Economics
· European Studies in Investor Relations and Financial Communication
Banking, Finance, and Insurance Sciences | Linguistic Sciences and Foreign Literatures at Università Cattolica – Communication, Culture, and Society at Università Della Svizzera Italiana
Program
Faculty – Piacenza-Cremona Campus
· Agricultural and Food Economics

· Consumer Behavior

· Sustainable Viticulture and Enology

· Food Processing: Innovation and Tradition

Agricultural, Food, and Environmental Sciences

Psychology I Agricultural, Food, and Environmental Sciences

· Global Business Management
Economics and Law
| | |
| --- | --- |
| Program | Faculty – Rome Campus |
| · Healthcare Management | Medicine and surgery | Economics |
Program
Faculty – Brescia Campus
· Applied Data Science for Banking and Finance

· Innovations in Biotechnology Applied to Regenerative medicine

· Physics and Innovation

· Physics for Technologies and Innovation

Mathematics, Physics, and Natural Sciences |

Banking, Finance, and Insurance Sciences

Medicine and Surgery I Mathematics, Physics and Natural Sciences

Mathematics, Physics, and Natural Sciences

Mathematics, Physics, and Natural Sciences
The list of 1-year English programs is shorter, and you should know that some of the programs start in January each year. You may find 18 English programs in the fields of agribusiness, humanities, management, marketing & communication, and political sciences, banking, finance, and data science. Contact the Educational Advising Center (EAC), our local partner of Università Cattolica, for more details on these 1-year programs.
Università Cattolica has made available international short-term programs such as summer, winter, semester, experimental, and online programs.
Have a look at the university website, still, we at EAC are here to give you advice on the most suitable program for you. It has shown that our free 45 minutes saves the time of potential applicants. Have a try and take advantage of our 20 years of professional experience.

Application Process at Università Cattolica
The very first and most important step is to choose the program you want to study. Yet, this step is just the beginning of a long enrollment process with uncertainty. Here is the process overview, however, you know that you can count on the EAC advisor who will support you within this process.
Applications for English-taught undergraduate programs for Medicine and Surgery open in October for 100 seats in total, while the other programs usually open in mid-November. Ask your dedicated EAC advisor for the list of documents that you need to prepare.
As part of the application process, you must fulfill the university requirement with sufficient knowledge of the English language. For this reason, it is best to complete an English test as soon as possible unless you have a valid certificate already.
You can also rely on EAC for this step. If you need preparation for TOEFL IBT or other English exams, schedule a preparatory course. When you get ready, you can register and do the exam at EAC in the first available term when you register.
Be aware that every year, more and more international students enroll at Università Cattolica. In the last 5 years, this interest has increased by 37%. Among the top 20 nationalities of degree-seeking students, Macedonia, Serbia, and Albania are on the list.
So, don't waste your time and enter the process. If you don't know how, EAC is here to guide you.
Tuition Fees and Scholarship
Tuition fees depend on students' residency. For non-EU residents, the Medicine and Surgery tuition fee is €17,100 per year, and for the rest of the undergraduate programs, it costs €8,340 per year.
For all programs but not for Medicine and Surgery, there is an opportunity for an international partial scholarship supported by EDUcatt financial aid. This scholarship will reduce the tuition fee to €5,300 per year. The yearly tuition fee is divided into installments; the first one will be considered a deposit for confirmation.
If you don't know how to get awarded, EAC will help you with this, too.

Your Life at Università Cattolica del Sacro Cuore
Living in Italy can be very exciting. During your studies, you might prefer to find private accommodation. But before doing so, check what life on the Università Cattolica campus looks like. In both cases, on and off campus, MIL Service and EDUCatt are there to assist and provide you with necessary housing services.
Università Cattolica offers accommodation to students close to the teaching location of the faculties. There are five campuses:
Milan,
Rome,
Brescia,
Cremona
Piacenza
Depending on the specific campus, you may be accommodated in a single or double room with or without a private bathroom.
Accommodation prices vary from аbout 3,000EUR to 6,000EUR annual fee and depend on the campus location, double or single bed, and shared or private bathroom. As a Università Cattolica student, you will have a badge that allows you to eat in the cafeteria at discounted prices, which is affordable even compared to our standards.
If you are accommodated on campus, you can use other facilities such as free Wi-Fi, a cleaning service, libraries, shared rooms for watching TV, kitchenware, and washing machines.
Health centers on the campuses offer health assistance by general and specialist doctors, including psychological counseling. You can ask for help in emergency cases, specialty diet advice, and a certificate for sports activities.
For sure you can continue to be active and have sports activities. Campuses in Rome, Piacenza, and Brescia offer various sports spaces suitable for football, tennis, basketball, and volleyball. Sport InCampus Rome organizes tournaments and championships in different sports for women and men.
When you arrive at the campus for the first time, friendly staff will welcome you, show you the campus and building where you will stay, and be at your disposal even after. For one thing, you have to be sure you will feel supported by the staff and your colleagues who arrived there for the same reason.

Study in Italy
Studying abroad means getting familiar with the country, local people, and culture. Most of us think we know much about Italy, but is it real?
The home country of Pinocchio offers plenty of beauty, from the rich history and tradition through tasty food to a healthy lifestyle. It is everywhere, from the crystal clear blue sea surrounding the boot-shaped peninsula to Monte Bianco (Mont Blanc, the highest mountain in the Alps, shared with France).
While the northern part of the country has a more West European way of living, the south enjoys a more leisurely life and takes time to do business. Anyhow, it is worth mentioning that out of 2,000 of the world's largest companies, 26 are in Italy, and Italy is ranked as the 28th worldwide country in the Global Innovation Index for 2022. Moreover, in 2021 and 2022, Italy was ranked as the eighth trading partner country of North Macedonia.
Various types of pasta, tomato sauces, ricotta, mozzarella, parmesan, or the intensive taste of truffles are just a few of the delicious flavors of well-known Italian cuisine you can experience daily. All that is accompanied by a glass of wine and espresso. Moreover, the joy that Italians have during mealtimes is for respect. Remember that it is not polite to dial someone who has lunchtime; be sure you will not get the answer.
Rome, Firenze, Bologna, and other cities are open-space historical museums, so visiting everything in one trip is impossible. Italy has 59 world heritage sites, more than any other country. The best way to explore 2000-year-old Rome, beautiful landscapes and vineyards in Tuscany, small villages, or other heritages is to come again or study in Italy.
Get Ready for Your First Job
By choosing Università Cattolica, you will get a high-quality education and research experience, valuable for your future work or continuity in education. You can integrate your academic experience with professional skills to become a ready candidate for the first job with a valuable balance of your theoretical and practical knowledge.
And all of that in Bella Italia, the fifth European economy, is a wish come true.
Contact EAC
Let EAC be your trustful partner in this process. The advisors have years of experience and will help you when making the decision and lead you through the process.
Plenty of opportunities are there for you. Call us and schedule a free advising session. We will help you to explore and grab the chance.
SCHEDULE AN APPOINTMENT BELOW