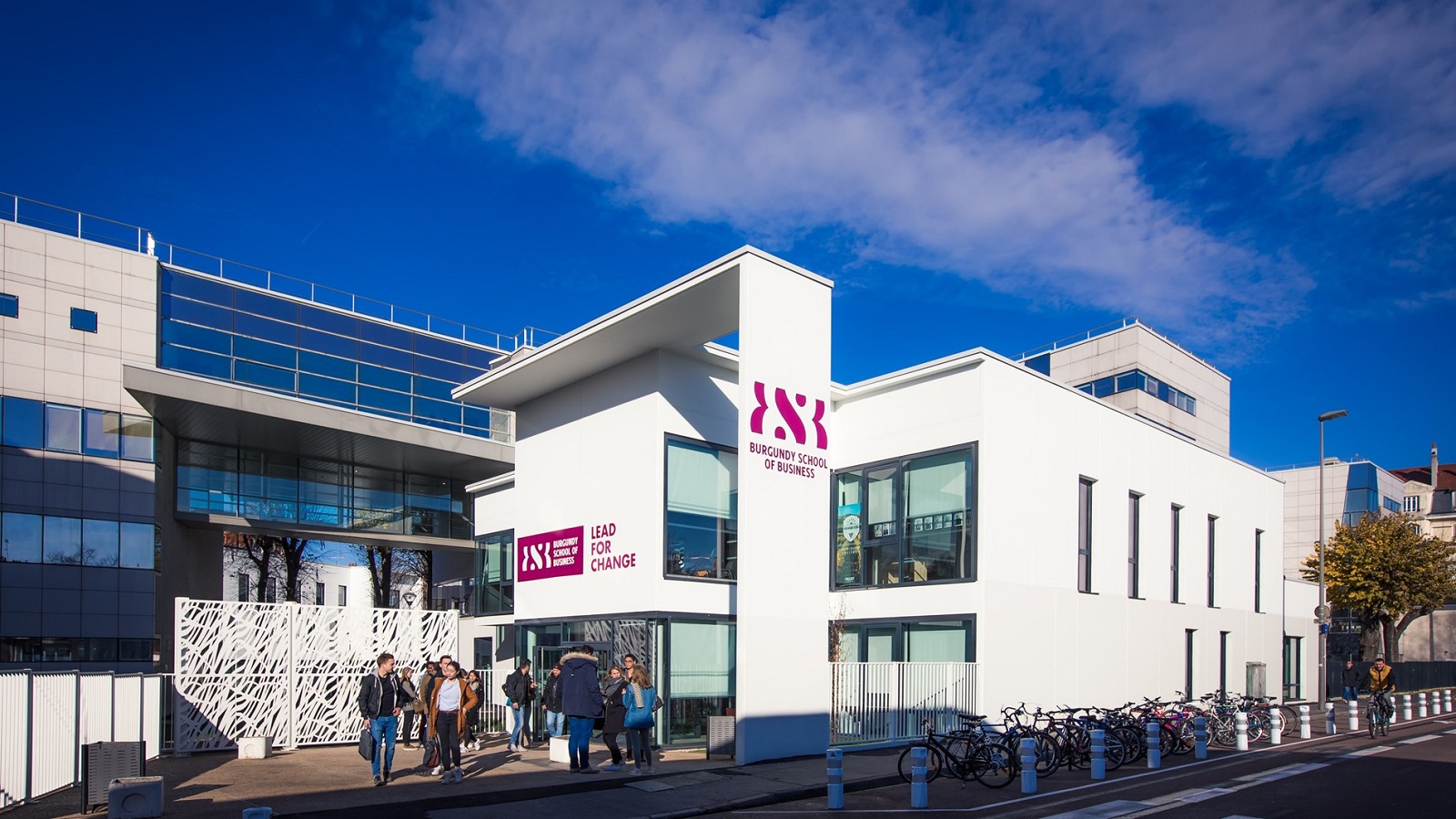 Many students see themselves as having a successful career in the international business world. And, since you are reading this article, you are probably one of them willing to open your horizons and understand international management practices.
If you want to study management, you are on the right page to learn about the Burgundy School of Business in France. This school, ranked in the top 1% of business schools worldwide, prepares students for professional challenges through a high-quality program tailored to students' aspirations, building skills, and self-confidence development.
Studying in the 7th economy in the world, with 54 companies ranked in the top 2.000 companies, says enough about choosing France as your destination for management education. Even more, the Burgundy School of Business is in the most famous wine region in France. Worldwide known as a country of wine, France is among the top three worldwide leading countries of wine production. Therefore, this is an extraordinary opportunity to study wine tourism.
Read this article to find out why Burgundy School of Business is a prestige school and what education you can get there. Living abroad is not easy; however, the school provides maximal support to international students, keep reading and find out.

Why Burgundy School of Business?
Burgundy School of Business (BSB) is part of the Grande Ecole system of highly selective business and engineering schools accredited by the French Ministry of Education. BSB is in the top 14 Grandes Écoles Management degrees in France.
BSB is more than a high-quality educational institution that prepares students for future managers. Over 120 years, BSB constantly developed and improved programs that put the student in the spotlight and stimulate critical thinking.
The study environment is highly international, with 25% of international students from 75 nationalities. In addition, BSB has a network of over 200 partner institutions that contribute to the program quality and make the environment even more international. All this brings a unique experience for students to meet different origins and richen life experiences.
At BSB, you can choose to complete a semester or a year in a second foreign country and gain a double degree and double employment chances.
Burgundy School of Business is among the top 1% of business schools worldwide with triple international accreditations (AACSB, EQUIS, and AMBA). Moreover, according to the Happy at School ranking for 2022, students rank BSB among the top 3 Grandes Écoles.

BSB Bachelor in Management Tailored to Your Interest
The Bachelor's program in management at BSB offers the possibility to tailor toward students' professional goals. During the first two years, all students learn the basics of:
Marketing;
Sales;
Communication;
Management;
Strategy;
Entrepreneurship;
Economics;
Social sciences;
Accounting;
Law;
You will learn about market research, understanding customer behavior, commercial strategy, negotiations, communications and relationships, microeconomics and macroeconomics, procurement, distribution, and many more. In addition, there are dedicated classes for improving English and learning a second foreign language (German, French, Italian, Spanish, or Chinese).
In the first semester of the third year, the program covers digital communication, international marketing and accounting, business model creation, organizational behavior, ethics, and social responsibility. After completing this semester, you can choose any of the following specializations:
Luxury Management;
Digital Management;
Business Management;
International Business Management; or
Wine Tourism.
On top of that, you can get an international experience by attending an international seminar and dual degree diploma recognized in France and other countries worldwide. Moreover, you will get 13 months of professional experience with an internship and humanitarian mission.
The program combines theoretical and practical knowledge from highly qualified 83 professors and 450 entrepreneurs, industry experts, or company leaders as lecturers. Learning directly from the inspiring stories of proven professionals from the business world, you can get practical knowledge and the courage to follow your dreams and take the necessary risks.
You will work in groups with different people to practice project management skills and will build self-confidence during workshops, teamwork, and presentation performance. Throughout the studies, you will have courses, training, business meetings, and mentoring sessions with BSB graduates to learn from their experience, which helps in employability and to continue the academic upgrade.
Becoming a Bachelor in management at BSB will open your career opportunities in many positions, such as business developer, area manager, communication executive, marketing assistant, product manager, export zone manager, purchaser, or customer advisor. If your wish to learn more, you can continue the Grande Ecole program and become a Master of Management.

Master's in Science and other Educational Programs
If you have completed a three or four-year Bachelor's degree in business-related studies with 240 ECTS and want to become a Master in:
Digital Transformation,
Marketing Strategy,
Organizational Management,
Performance Management,
Product & Branding Strategy, or
SME Management & Intrapreneurship,
BSB is probably the right school for you with a 2-year Master's program.
The first year covers the basics of marketing, management, finance, and information systems. In the second semester, you will complete 12 to 14 weeks of internship where you can practice your knowledge. The second-year program is based on your preference from the six elective English thought programs.
Master studies at BSB offer a dual degree opportunity. You can choose to spend a semester in another country and take a dual degree. A dual degree is equal to dual career opportunities, isn't it?
There are 4 pathways to completing a Master's tailored to your ambition. The experienced professionals from EAC can tell you more about and help you find the best one that fits you the most. Call EAC and schedule an advising session.
1-Year Master Program
You can also join 1-year Master's program and get fully qualified for your professional engagement. You may choose one of the following English thought programs:
MSc Luxury Management & Innovation
MSc Artificial Intelligence & Digital Technology Management
MSc Arts & Cultural Management
MSc Corporate Finance & Investment Banking
MSc Data Science & Organizational Behavior
MSc Green Tech & Sustainable Societies
MSc Wine Management
MSc Climate Change & Corporate Finance.
Or, French thought programs:
MS MECIC Paris – Management des Entreprises Culturelles et Industries Creatives
MS Commerce International Des Vins & Spiritueux.
French language at B2-level is mandatory for French 1-year programs. Don't get disappointed; while completing your undergraduate education in France, you will have sufficient time to learn and practice the language. Don't throw away this option to get the wine education as any French guy. Instead, think twice before you choose an English thought program.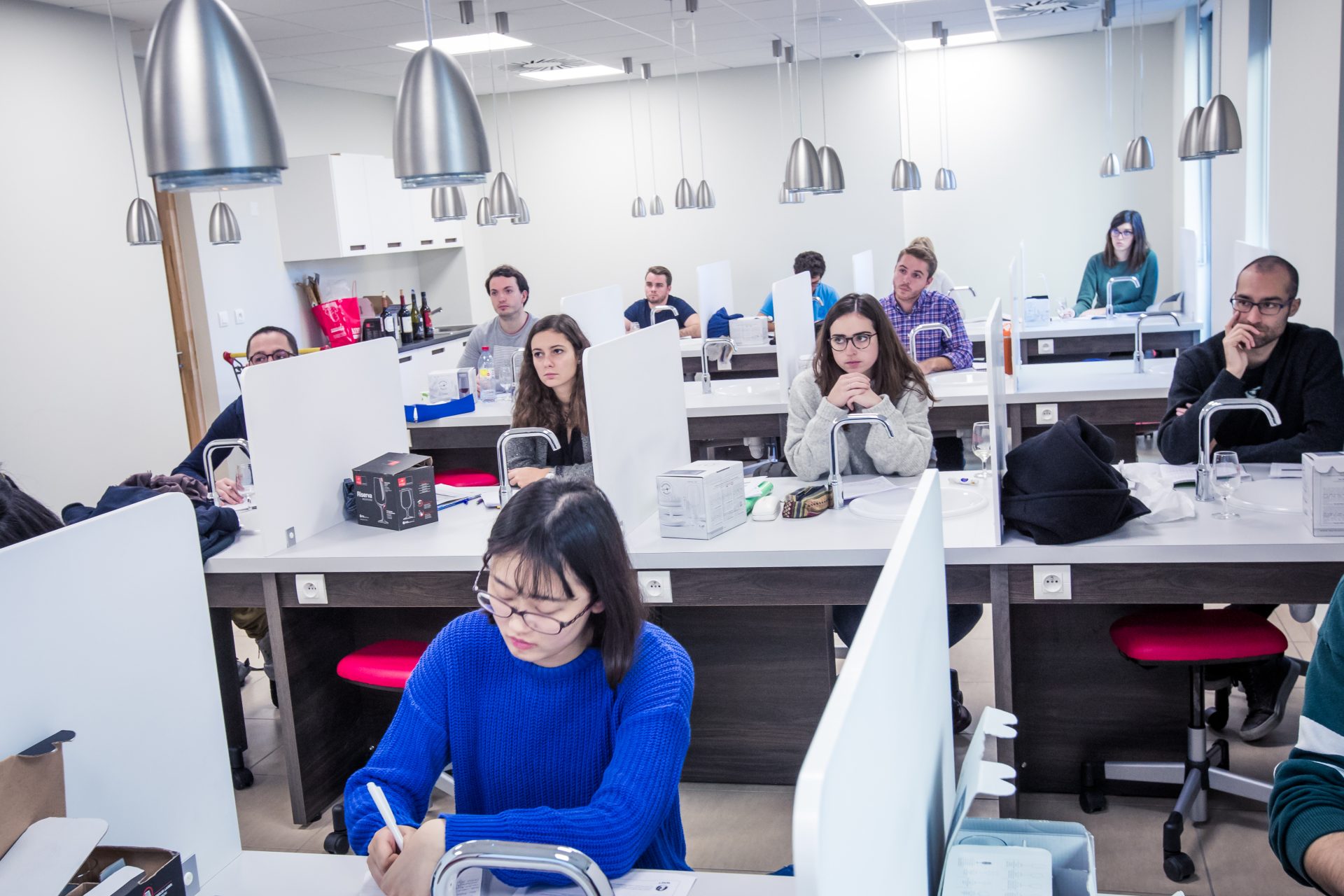 A School of Wine
France is known worldwide as a country of wine. So, if your study field of interest is wine, no doubt, your preference should be BSB, the No.1 ranking program in the heart of the world's most famous wine region.
Imagine that while you learn about production techniques, you can taste wine at classes all from the top business professionals and lecturers from Burgundy University's Jules Guyot Institute.
You can stay in your imagination or take the next step and apply for this program at the first-of-its-kind school in the world.
Tuition Fees and Application Process
Studying abroad means securing an extra budget for 3-5 years. The annual tuition fee for Bachelor in Management costs €8.500 per year, the Master in management costs €12.500 per year, while the rest Master's programs cost €14.000. Fees cover studies, additional programs, academic support, conferences, field trips, tutoring services, Career Booster, and other benefits students can use to set up a career.
BSB offers merit-based scholarships for talented international students and other financial benefits that will reduce annual costs and the burden on the parents' budget. Call EAC to schedule an advising session and learn all the details.
The application process is similar to the other universities. You'll need proof of the last degree level, a transcript of official academic records, a Resume, a Motivation letter, and ID documents. To be eligible to attend English courses for Bachelor's program, you will need to provide test scores of:
IELTS – 5.5,
TOEIC – 700,
TOEFL IBT – 65, or
CES – B2.
Master's programs require a higher level of English language proficiency. If you haven't obtained your English certificate, ask EAC when is the first free place to complete the test.
The application form can be completed online at the BSB school website or with assistance from advisors from EAC. If you have uncertainties and don't want to risk this important process for your career, EAC professional advisors are there for you. Contact them and get the maximum of their 20 years of experience in this field.

Additional Benefits for BSB Students
Being a student abroad where you practically don't know anyone sounds frightening. Many questions come to your mind and make you worry about how you will study and give exams in English, whether you will struggle with lectures, what if you get sick, and many more, like most students.
At BSB, you will not have that worry. Instead, you can rely on individual support specific to you. Student support includes warm welcoming and housing guidance, through workshops for administrative things such as bank accounts and insurance, to social integration and uncovering the beauties of Dijon.
Although your English language certificate is at the required level, you might need help in communication. Luckily, this school thought about this barrier as well. As a result, you have available courses to reinforce the language, one-to-one tutorials, and e-learning modules that will help you to improve your writing, presentation skills, and everyday English. And all that is included in the tuition fee.
And that is not all. You can begin to learn French or another foreign language in organized courses. Studying in France is an excellent opportunity to learn and practice the language at the same time. Don't think twice and use this chance. You will be glad when you can answer "Oui" when someone asks you "Parlez-vous Français?"
BSB will put you on your career track right from the start while studying there. With a precise and operational plan for each student, Career service will organize workshops, individual advising sessions, drop-in days with employers, and presentations of the companies. The opportunities for an internship, placements, and graduate vacancies are over there, it is up to you to grab them.
While studying in France, you can use the Health services of French Health insurance. Upon arrival, you must register for free and obtain reimbursement for all health services you use. If you cannot manage the stress and keep your studies with life in a healthy balance, there are licensed psychologists and psychotherapists available for those who need support.
You can stay in an apartment, single room, student residence, or live with a family during the studies. The platform Studapart is there for all students coming to study in France and even be your guarantor residing. You may get financial support in a monthly amount of €200 to partially cover your expenses. Call EAC and ask for the details.
Living in France
The first and main campus of BSB is located in Dijon and is recently renovated. In addition, two other campuses are available, one in Lyon, the second largest hub in France, and the other in Paris.
Living in the second most famous France can be a privilege. The campus in Dijon is in the center of the city, 10 minutes from the main railway station. Every year over 34.00 students and 1.500 researchers come to Dijon and make the town younger and more vibrant.
Dijon offers a rich cultural program such as concerts, festivals, exhibitions, and nightlife throughout the year at places within walking distance. This is a cycle-friendly town, so you can choose a bike as your primary transportation. In this environmentally friendly town in Europe, you may find a lot of green areas where you can study, relax, or exercise.
Use the opportunity for student discounts to attend cultural events in Dijon and all over France. Explore new destinations, learn French history, culture, and language, and enjoy unique French cuisine.
Can't it be better, do you agree?

Final Thoughts
Plenty of opportunities are over there. At BSB, you can become a manager according to your aspirations. Choose a specialization that fits you the most.
If you have doubts and more questions, get advice from EAC. They will perfectly match your requirements and school opportunities. They helped hundreds of students throughout their 20 years of experience in this field. So, why not meet them?
Schedule a 45 minutes session for free and find all the details. The dedicated advisor will clarify all concerns and help you decide.
Focus your efforts on studying and career pathways; leave the administrative part to experienced professionals.
SCHEDULE AN APPOINTMENT