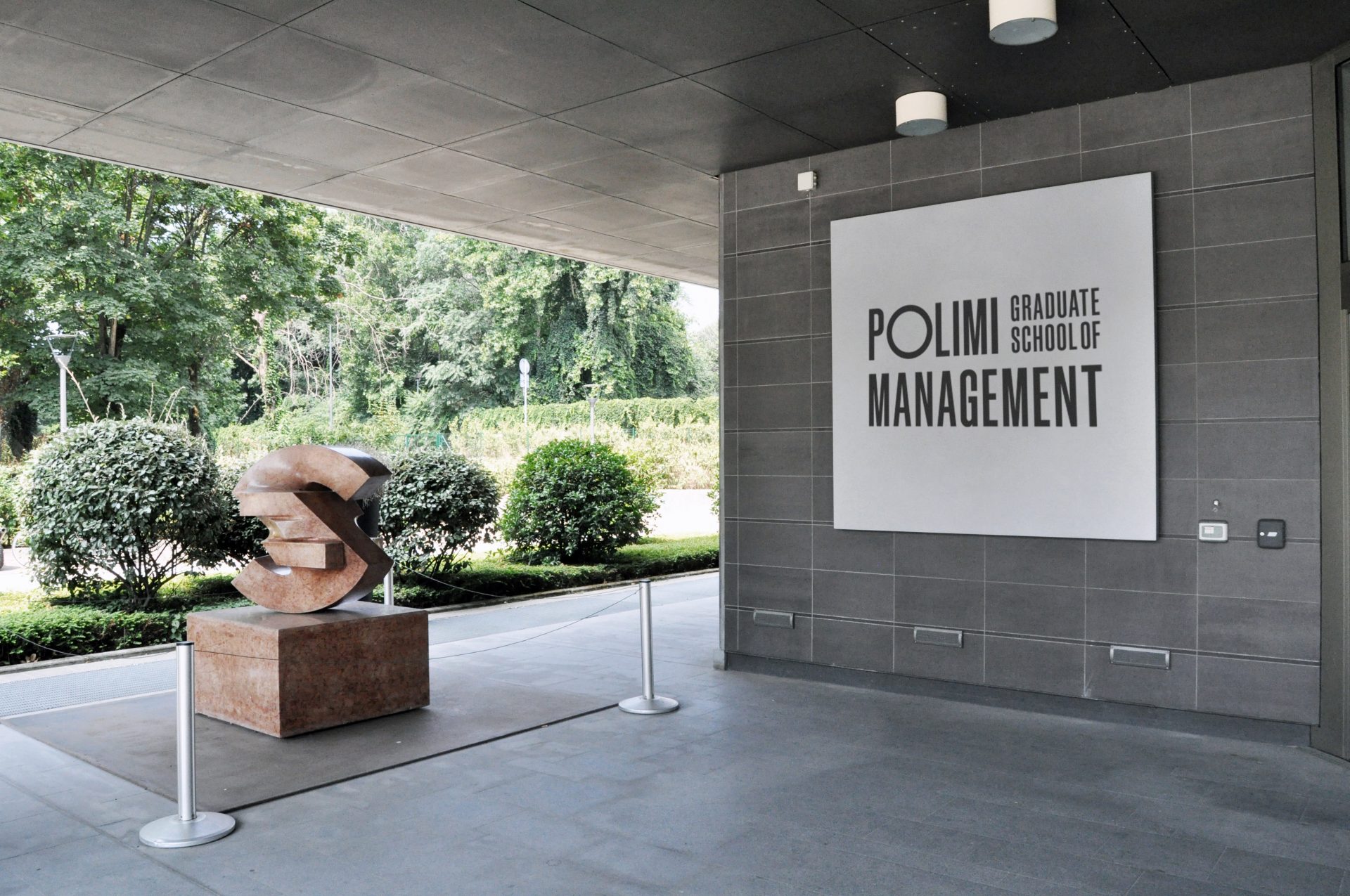 In the era of the new industrial revolution that we live in, we face tremendous changes in traditional business models and supply chains. A company's digital transformation is critical for its future success and existence, as well as identification and risk mitigation, including cybersecurity management.
You might see yourself as an internationally oriented manager brave enough to face new challenges, identify risks and opportunities, and drive intercompany changes in this industrial revolution. If so, you might find POLIMI Graduate School of Management specialized Master's programs suitable for your successful career.
POLIMI Graduate School of Management student benefits from the inspiring and energetic environment and an internationally renowned faculty. By studying there, you will gain an analytical and data-driven approach to problem-solving and communication skills and become capable of implementing digitalization and a leader of tomorrow.
Keep reading to learn more about one of the best European Business schools. Find out all about the redesigned courses that will provide you with a wow experience and make you a manager of the future.
Why the POLIMI Graduate School of Management?
POLIMI Graduate School of Management has existed for over 40 years. Founded in 1979 as a consortium between the Politecnico di Milano and many Italian institutions, and several leading public and private industrial groups, today, the school grew into a not-for-profit consortium limited company.
POLIMI Graduate School of Management continuously develops programs to train the 'manager of the future' who can address today's cross-functional, multi-dimensional, and complex problems. The school's program combines technological know-how and managerial skills, including the analytical approach to Problem Solving, Innovation & Futuristic Technology, hard and soft skills, and collaboration with companies.
This school so far has created more than 40 Master's degree programs, over 200 open programs, as well as customized programs for companies. The programs are delivered in small classes using diversified methodologies of teaching digital learning, interactive lessons, business seminars by companies, outdoor training, group activities, business cases, and business plans.

The five reasons why to choose the POLIMI Graduate School of Management are:
Partnership with over 20 companies offering company sponsorships, project work, and job opportunities;
MBA program of the future offering a fast-track learning path bringing together advanced digital learning, management boot camps, international exchange opportunities, and in-company project work;
Dedicated career service with highly personalized service to prepare the candidate for the recruitment process in partner companies;
Diversity of international candidates and exchange opportunities in European countries, USA, China, Argentina, and other countries;
Building entrepreneur ideas and offering incubators for business ideas development.
Diverse people and partners make the POLIMI Graduate School of Management an innovative and entrepreneurial community with over 3,000 students annually and 15,000 alumni.
In 2009 this School of Management was ranked as the best European Business school by the Financial times. Six years after, it was included in the top 85 customized executive education programs worldwide.
International Master's Programs
The Master's programs that you can find at POLIMI Graduate School of Management are:
International Master in Smart Operations and Industry 4.0
International Master in Cybersecurity Management
International Master in E-Commerce and Sales Management
International Master in Digital Innovation and New Business Design
Master in International Business and Digital Transformation (Dual Degree)
International Master in Financial Risk Management
International Master in Fintech, Finance, and Digital Innovation
International Master in Luxury Management (Dual Degree)
International Master in Media and Communication Management
International Master in Marketing Management, Omnichannel, and Consumer Analytics
International Master in Digital Supply Chain Management – Operations, Procurement, and Logistics
International Master in Environmental Sustainability & Circular Economy
International Master in Sustainability Management and Corporate Social Responsibility
International Master in Business Analytics and Big Data
International Master in Project Management (Dual Degree)
International Master in Innovation and Entrepreneurship
Joint Programme in Entrepreneurship with WHU (an optional year after the IMIE program)
Each 12-month program is structured in a four-phased timeline as follows:
I term
Online distance learning
September – October
Core topics on marketing, finance,

human resource management, supply chain, innovation, and project management, digital

Transformation & business law deliver online to get basic knowledge and understanding of the business concept and management.

II term
On campus learning
November – January
Face-to-face lectures delivered by experts coming from faculty and industry for more profound knowledge as continuity of the essential learning and putting into practice.
III term
On a campus with companies
February – April
Management boot camps – Practical learning organized by the partner companies and in direct contact with experienced managers and top executives to learn to solve complex real-world problems of the companies.
IV term
In companies
May – September
Project work – was developed as an in-company internship, corporate project, academic research, or an entrepreneurial business plan idea.
With these programs, students will develop and strengthen soft skills such as leadership, team dynamics, negotiation, and effective communication.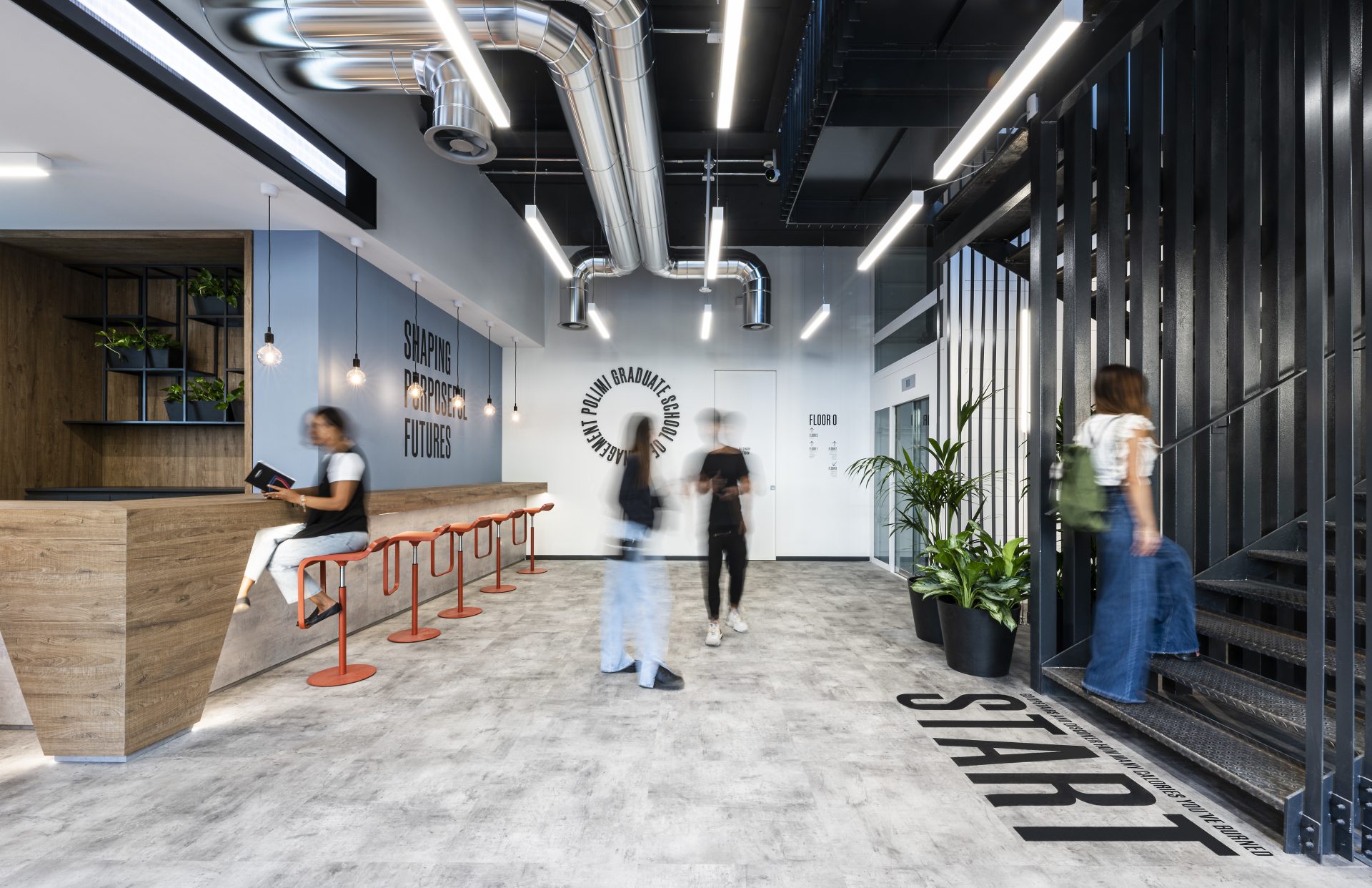 Find below more details on the Master's programs that gained significant interest as career opportunities of the future:
International Master in Smart Operations and Industry 4.0
Industry 4.0 represents a new industrial revolution, disrupting the business models along the supply chains. According to global manufacturing companies, Industry 4.0 technologies kept operations running during Covid-19. Companies that utilize digital solutions move faster and further than others during the crisis.
This program aims to educate students to become successful managers able to manage the challenges of Industry 4.0, combining the process, the product, and the technological viewpoint.
With this program, you will understand the leading technologies and innovative practices in operations and supply chain management, the impact of the digital technologies of Industry 4.0 on the products and services of the future, and innovative practices in Operations Management processes.
You will be able to apply principles and methods for time-to-market reduction, an increase in design quality, and process efficiency and make plans for implementing Industry 4.0 and Digital Manufacturing and related change management projects.
International Master in Financial Risk Management
Today, banks, insurance companies, and other businesses operate in a complex environment that, in parallel to strategic corporate choices, requires risk management associated with those choices.
Risk Manager today is a vital role in the company, a highly qualified professional figure that identifies all risks and their interconnections. Moreover, the Chief Risk Officer combines deep business knowledge with the ability to govern risk management techniques and tools.
The International Master in Financial Risk Management has been ranked as one of the best Masters in Finance in the world, according to the QS World University Rankings (2020). Thanks to this program, you will learn about financial risk management in the following eight areas:
Construction and management of FRM Systems for complex organizations,
Financial instruments,
Architecture and big data,
Mathematical, statistical, and econometric models,
Accountability and reporting of Financial Risks,
Governance systems,
Regulatory framework,
Compliance and Internal Audit.
Furthermore, during the six months of the internship, you can practice the knowledge learned from the Master's sponsoring and partner companies. It is an excellent start for your career in one of the largest companies in the sector.
International Master in Cybersecurity Management
While the cybersecurity market grew about 35 times over 13 years, it has become a priority managerial field for risk mitigation for all managers and policymakers. Therefore, specific skills and competencies are more than required. But, unfortunately, there is a shortage of educated and capable professionals in the cybersecurity area in the marketplace.
This Master's program offers a highly customized and specialized learning experience. It will prepare you for a leadership role with an understanding of cybersecurity risks, the possible impacts on business, and countermeasures. In addition, you will get important insights into the governance, compliance, and regulatory issues and will develop key management skills for a corporate cybersecurity plan realization.
International Master in Digital Innovation and New Business Design
Digital transformation has shown that it creates value for every industry and every function. Unfortunately, today, only 20% of companies have a Digital Transformation Strategy, although the annual growth rate of Data & AI is 41%. In addition, most companies identified that their digital transformation involves multiple business units.
The Master in Digital Innovation and New Business Design program will teach you strategic, entrepreneurial, and organizational approaches and methods. This program's core courses focus on the digitalization of Business Strategy, Business models, transformation governance, infrastructure, and information systems.
With the tailored "toolbox," you can navigate across the main digital trends, e.g. Artificial Intelligence and Machine Learning, Blockchain, Big Data & Analytics, Cloud Computing, eCommerce, and many more.
By completing this program, you'll be able to lead Digital Innovation in public and private organizations.
International Master in Fintech, Finance, and Digital Innovation
Traditional banks and insurance companies are changing their business model due to new technologies and methods that reshape the finance environment. As a result, new players and services became available, tailored, and focused on customer needs.
This program offers you the following skills:
Financial knowledge (corporate finance, financial intermediation, capital markets);
Application of big data and innovative methodologies such as machine learning to business activity;
Information technology skills such as big data management, cybersecurity, blockchain technology, or data visualization;
Ability to build innovative business models from scratch;
Ability to incorporate new technologies in traditional intermediation/business activity.
In the end, you will be able to understand the Fintech and Insurtech revolution, investigating the business models, the tools, and the techniques.
Master in International Business and Digital Transformation (Dual Degree)
Digital transformation is a must-have for the future international success of companies. Thanks to the combination of internationalism and digital technologies implementation, Digital Multinational Enterprises increase their assets, employees, and revenues compared to traditional multinational companies.
This dual-degree master's program is unique for internationally oriented managers who want to upgrade their theoretical and practical knowledge of international business and digital technologies. At the same time, this program develops the required skills to design and manage the company's global growth successfully.
The Master in International Business and Digital Transformation is a pathway for young professionals to "upskill" and become the innovators and digital transformers that 60% of the companies are working on, and an additional 20% of the companies don't have one.
International Master in Project Management (Dual Degree)
The phenomenon projectification of society reflects the business evolution where large and small projects are continuously implemented inside and outside the organizations. The organization can be any non-profit, profitable company, industry, or project implementation as a society-wide regeneration program.
Therefore, there is a growing need for professionals who can efficiently validate, test and execute long- and short-term strategies through projects. All this requires an ability to react to the rapid evolution of the business environment.
This 18-month program will allow you to gain detailed knowledge of issues in strategic project management and develop principal and specialist skills, techniques, and practices in the domains of strategy and project management. In addition, you will be able to work effectively in multicultural teams and manage diversity and multiculturalism.
After completing this program, you will learn how to contribute to creating and implementing an organization's competitive strategy within the public and private sectors. The program is implemented at two locations, Italy and UK, so you'll receive two-degree awards First Level University Specializing in a Master in Project Management and a Master of Science in Project Management.
International Master in Luxury Management (Dual Degree)
The International Master in Luxury Management is ranked in the Eduniversal Best Masters Rankings 2021. This joint program with Neoma Business School from Paris and supported by the Faculty of Design of Politecnico di Milano, the largest in Europe, aims to prepare future managers capable of dealing with the challenges that the luxury industry faces.
Although facing economic decline, Luxury Goods routinely perform better than others. This is a result of meeting the demand for the 'exceptional' expressed by an increasingly growing number of customers. Luxury companies require cutting-edge design skills and outstanding craftsmanship from the new era managers.
With this program, students will be able to deliver a unique customer experience and the ability to create a strong link through brand recognition. By studying this program, you will get into direct contact with prestigious companies such as Prada group.
By completing this dual degree program, you can begin your career as a Product or Merchandising Manager, Project Development Manager, Packaging and Development Manager, and many more in marketing, communication, customer service, and operations & supply chain management.

Application, Tuition Fee, and Scholarships
To be able to apply at this highly-ranked school in the QS World University Rankings by Program 2019, you need to meet the following requirements:
3-year Bachelor's degree (minimum 180 ECTS);
University transcripts;
English certificate;
CV or resume in English;
Motivation letter.
After the evaluation process, and if selected, you will be invited for a motivational online interview.
The annual tuition fee for accepted candidates for all the above programs is €18,500, except for the Luxury management program, which is €20,000. Some programs have €2,000 discount thanks to partners' contribution. In addition, early-bird and merit-based scholarships are available for some programs.
For more details on application requirements, processes, and deadlines, contact EAC, the POLIMI Graduate School of Management's official local partner in Skopje. The advising session for free will shorten your time for research and give you the right direction.
Study in Milan, the Economic Heart of Italy
POLIMI Graduate School of Management is located in Milan, the main business center in Italy. The campus includes several locations in Milan, including Bovisa and the new campus in Navigli, at the heart of Milan's creative, cultural, and scholarly center. Becoming a student at POLIMI Graduate School of Management, you can enjoy an innovative and entrepreneurial atmosphere with other colleagues and integrate with the city at the same time.
Worldwide known as an international center for fashion and a world leader in the design, Milan is the "Locomotive of Italy." As a home town of 400 banks and major international companies, Milan offers a great opportunity for entrance and networking in the business world. Its significant impact is beneficial for Italy, making the Lombardy region at the same time the 6th region GDP per capita among European countries.
Aside from Milan's unique business opportunities, it's a priceless experience to live while studying there. You can experience Italian life and lifestyle in Milan to the maximum. Great food, numerous cultural events, rich heritage of architecture and design you cannot find in one place in any other city but only in Milan.
Moreover, Milan has its unique location, close to the mountains and sea at the same time. You may find as many attractions as you want to and make your study stay a lifetime experience.
Conclusion
With constant changes and everyday innovations, today's business requires managers who can anticipate and interpret external environment changes. The new successful managers of tomorrow should develop business through innovations that will make and keep the company competitive in the market.
POLIMI Graduate School of Management offers plenty of Master's programs that can fit your field of interest. However, if you are unsure what program to choose or need more details about a specific program, call EAC, the local partner, and schedule an advising session. Professional advisors with over 20 years of experience will help you to identify the program that matches your capabilities and ambition.
All details about the application process, fulfilling requirements including English language testing, and everything about the permit to stay in Italy, you can get at first hand. So, don't do it alone; call us and let us support you in your career.