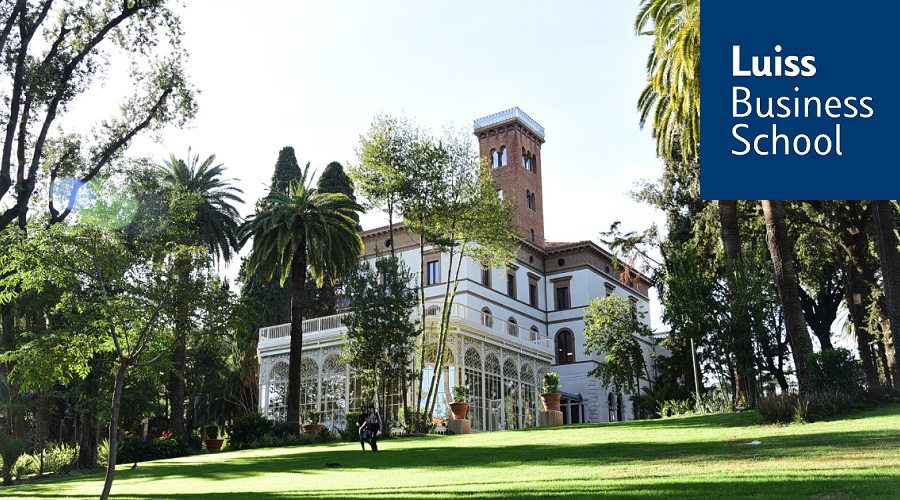 LUISS Business School is the School of Business and Management of LUISS Guido Carli University, it is based in Rome (Italy) and represents the excellence in managerial education. The School leads the development and the growth of individuals and companies. It trains talents that will be able to promote social and business growth within small and large institutions, combining entrepreneurial spirit to unconventional qualities: creativity, with the ability to challenge all difficulties.
Its recognized accreditations (along with the EQUIS – EFMD Quality Improvement System) represent a validation of quality and rigor if the School that certifies the excellence of the quality standards of the business schools involved in management training.
LUISS Business School Learning-centric methodology is tailored to improve students' mindset. The approach raises profound awareness, greater conceptual understanding, and the development of critical skills. All programs curricula offer laboratories, workshops and cross-activities to challenge students to explore broadly, whilst gaining deep knowledge in a chosen field, the development of practical skills is promoted to enhance students' ability to adapt to a fast-moving world.
LUISS Business School is a bridge between the academic and business worlds through its long-term partnership with Confindustria, where key partners from the corporate, no profit and public sectors are directly engaged in the co-creation of specific programs that aim to advance knowledge on management practices. LUISS Business School experience is strongly international to guarantee a global approach and the possibility of creating a network with no boundaries.
Highlights
Luiss is the FIRST PRIVATE UNIVERSITY IN ITALY according to Sole 24 Ore ranking 2018
Many Luiss graduates have reached important positions at national and international levels
Students are involved in EXCLUSIVE EVENTS such as parties, speech and lecture with companies well-known worldwide
The School has a strong knowledge of the territory in terms of both economic opportunities and relations with companies and institutions
Luiss Business School has recently opened 2 OTHER LOCATIONS: MILAN & BELLUNO, which are markets particularly active in the fields of FINANCE, LUXURY, FASHION & TOURISM
Thanks to the collaboration with well-known companies such as Fendi, Bulgari, Valentino, Gambero Rosso and many others, the School has a significant experience in LUXURY, FASHION & TOURISM
Postgraduate programs:
–        Master in International Management:
Major in International Management
Major in Global Energy Management (Milan)
–        Master in Financial Management:
Major in Risk and Insurance Management
Major in Corporate Finance
–        Master in Management and Technology:
Major in Business Transformation
–        Master of Luxury, Fashion and Tourism:
Major in Fashion Management
Major in Luxury Management
Major in Tourism Management
–        Master in Big Data and Management
–        Master in Business Administration (MBA)
Important:
For more information about the deadlines, application process and successful scholarship application please contact our local representative EAC Skopje. Our services are free of charge.