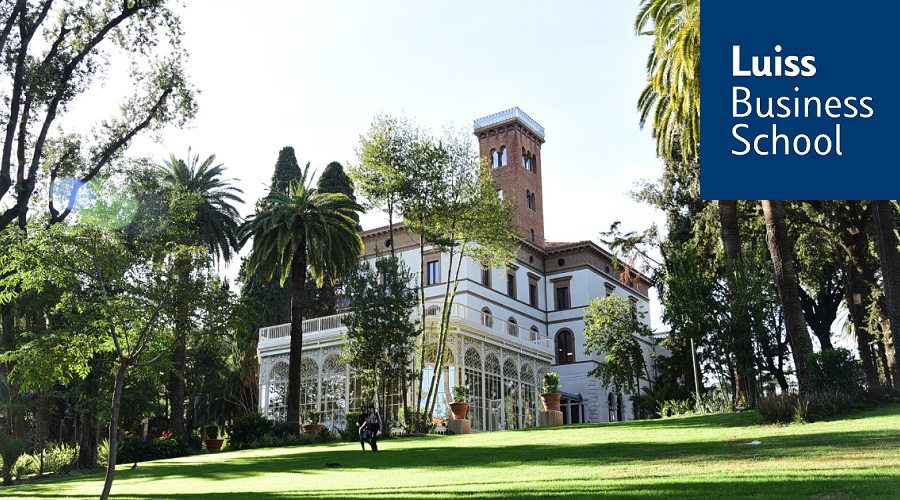 LUISS Business School is the School of Business and Management of LUISS Guido Carli University, it is based in Rome (Italy) and represents the excellence in managerial education. The School leads the development and the growth of individuals and companies. It trains talents that will be able to promote social and business growth within small and large institutions, combining entrepreneurial spirit to unconventional qualities: creativity, with the ability to challenge all difficulties.
Its recognized accreditations (along with the EQUIS – EFMD Quality Improvement System) represent a validation of quality and rigor if the School that certifies the excellence of the quality standards of the business schools involved in management training.
Luiss Business School develops and promotes research in different academic fields with a focus on Strategy and Corporate Renewal, Corporate Governance and Performance Measurement, as well as Innovation and Organization Design. The research is grounded in knowledge of business processes and corporate environments and covers emergent key areas, such as Ethics, Responsibility and Sustainability. The experiential activities and the personal leadership are a bridge between the needs of the corporate and public organizations, and academic world.
Highlights
Luiss is the FIRST PRIVATE UNIVERSITY IN ITALY according to Sole 24 Ore ranking 2018
Many Luiss graduates have reached important positions at national and international levels
Students are involved in EXCLUSIVE EVENTS such as parties, speech and lecture with companies well-known worldwide
The School has a strong knowledge of the territory in terms of both economic opportunities and relations with companies and institutions
Luiss Business School has recently opened 2 OTHER LOCATIONS: MILAN & BELLUNO, which are markets particularly active in the fields of FINANCE, LUXURY, FASHION & TOURISM
Thanks to the collaboration with well-known companies such as Fendi, Bulgari, Valentino, Gambero Rosso and many others, the School has a significant experience in LUXURY, FASHION & TOURISM
Postgraduate programs:
Big Data and Management
Business Transformation
Corporate Finance
Customer Experience
Fashion and Luxury Business
Fashion Management
Five Stars Hotel Management
Global Health Management
Global Supply Chain Management
International Cooperation for Local Development
Luxury Management
Master in International Management
Tourism Management
MBA
Executive programs:
Management & Family Business
SPECIALISATION
To acquire in-depth knowledge, consolidate one's training, and develop the specific skills needed to transfer a company's strategic objectives into concrete actions and measurable results:
Accounting, Finance & Control
Communication & Lobbying
Governance, Risk & Compliance
Marketing & Sales
People, Organisation Development & Leadership
Project Management
INDUSTRY
To become an expert in the field, get to know in depth the dynamics and emerging trends and implement alternative solutions by grasping the key opportunities and challenges:
Healthcare, Public Sector & No Profit
Innovation, Big Data & Digital Transformation
Real Estate & Infrastructure
Sport, Tourism, Leisure & Culture
DEADLINE FOR APPLICATION: DECEMBER 30 2022
Important:
For more information about the application process and successful scholarship application please contact our local representative EAC Skopje. Our services are free of charge. Schedule your appointment below.