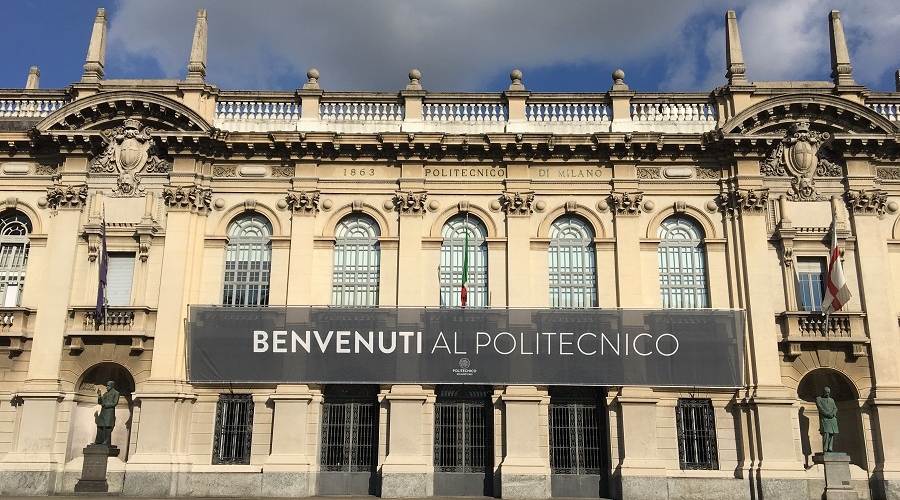 Students wondering which University to choose may find a useful source of information by taking a look at the QS World University Rankings 2020.
This is one of the most quoted and reliable rankings of international Universities worldwide, that considers more than 1,200 Institutions and the opinion of thousands of employers and researchers.
Politecnico di Milano is the 1st Italian University and among the 150 best Universities worldwide, providing excellent education in Architecture, Design and Engineering
Founded in 1863 in Milano, in the Lombardy region in Northern Italy, in the heart of Italy's most productive region, Politecnico di Milano is ranked by QS University Rankings by Subject 16th University worldwide in the Engineering & Technology area, thus stepping up a place compared to last year. But this is an excellent University also in Architecture (11th position in the world) and in Design (6th position worldwide).
The remarkable performance can be furtherly analyzed in detail. In particular, in Civil, Mechanical and Aeronautical Engineering, Politecnico di Milano is ranked 7th in the world.
As regards the employability of its graduates, Politecnico di Milano is 36th in the general University ranking, which proves that studying at this University is a well-rewarded investment in the medium and long term.
The excellent results in the international rankings are the outcome of the long-lasting commitment of Politecnico di Milano, which has been able to attract talented students, researchers and qualified Professors coming from all over the world. So, Politecnico di Milano is increasingly bridging the gap with the most outstanding international institutions.
Yet, preferring Italy, the city of Milan and Politecnico in particular, means to choose a high quality institution in a pleasant-to live country, with an attractive cultural offer and an important architectural heritage, with a mild climate and delicious food, with a great variety in landscapes and built environments, combining history with modernity. This variety offers the possibility of nurturing multidisciplinary skills and of making an all-round cultural experience, at more affordable prices in comparison to other high-ranked Universities based in other countries.
An international atmosphere marks Politecnico di Milano but on the other hand, it is deeply rooted in the Italian territory, with fruitful links to the business and research world. Its reputation on the job market is so high because employers know they can rely on this institution to recruit highly qualified professionals: an attractive opportunity for many talented international students, who may now profit from a very wide educational offer.
More than 40 programmes at MSc level are taught in English, including the brand new:
Food Engineering
Geoinformatics Engineering
Mobility Engineering
Bioinformatics for Computational Genomics (jointly with Università degli Studi di Milano)
Cyber Risk Strategy and Governance (jointly with Bocconi University)
PhD seekers may choose from 19 Doctoral programmes in English and carry out their research work in advanced, well-equipped labs, thus developing their know-how in an institution that has been able to produce more than 1600 patents and over 16,200 peer-reviewed publications since 2012.
Scholarships EXPO – Study Abroad 2019
Event date: 26/10/2019
Event venue: Hotel Holiday Inn – 09:00AM – 17:00PM
Registration for this event is obligatory. To avoid waiting in lines at the entrance of the event please register here and receive your free visitor badge.