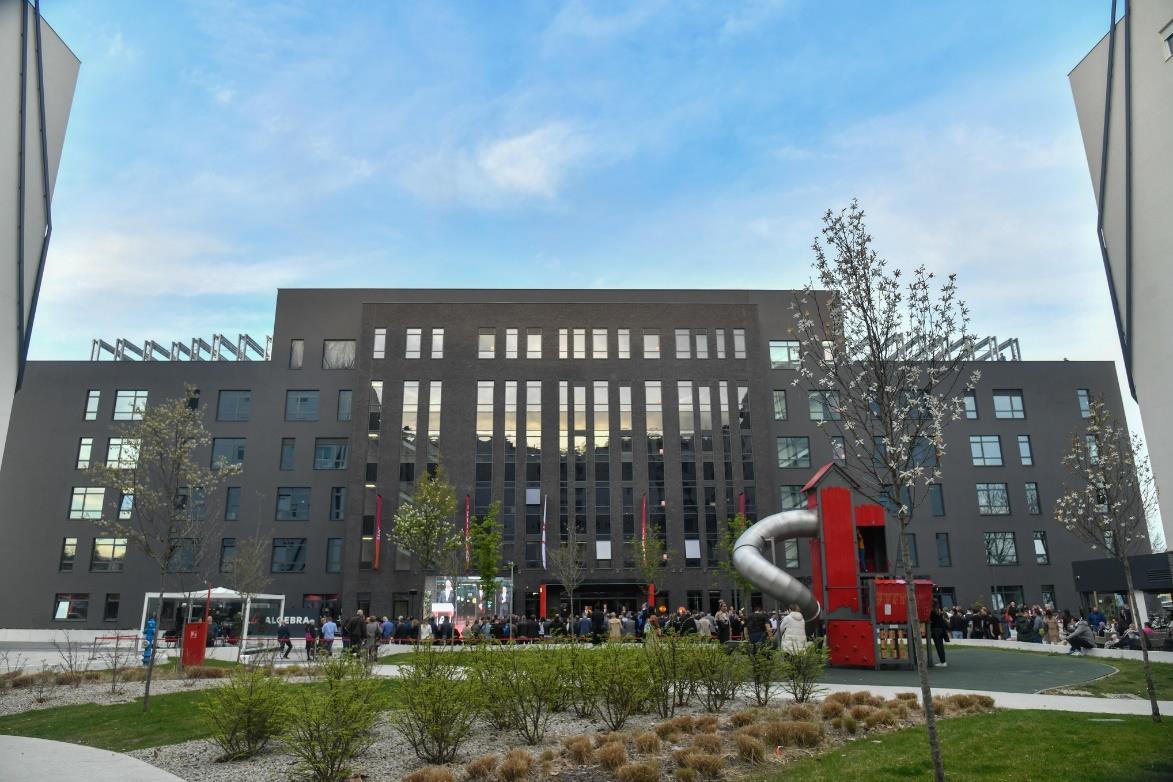 The digital revolution has completely transformed the media and communications industry over the past few decades. It has also changed the way organizations approach their core business, from creating products and services, and managing customers, to sales and marketing. Digital platforms have introduced new ways of communication with end customers allowing companies to tailor products and services to customers' needs in a more agile manner.
Universities today need to constantly keep abreast of technological developments and what employers are looking for, which means their academic programs are continually being refined.
To follow these trends and cultivate the tech-geeks of the future, Algebra University College – the region's leading private education provider in Computer Science, Arts, and Economy prides itself in providing top-quality professional programs while creating opportunities for both Croatian and international students to acquire excellent skills and knowledge to build their globally competitive careers in digital technologies.
Croatia, Adriatic's jewel with more than 1 200 islands and a coastline of 6.000 kilometers, provides the perfect home for Algebra and its future students. Located in the country's capital, Zagreb, students studying at Algebra University have access to the leading Croatian and global companies while enjoying the cultural and leisure activities the capital provides. It also helps that Croatia is one of the safest countries in the world, named 15th in the Global Peace Index (out of 163 countries), scored an index rating of 0 when it comes to the global terrorism index meaning Croatia never encountered a terrorist attack and a recent survey places Croatia right after Slovenia to be the safest country in Europe when it comes to walking safely alone at night. Did we mention that the closest beach is an hour and a half drive from the campus?
Why study in Croatia?
Great central location in Europe – connected to most European cities
Safety and security – 15th in the world by the 2022 Global Peace Index
Welcoming, friendly, and multi-lingual environment – most of the young population speak English
Job opportunities – full-time and exchange students able to work through student contracts
Low every day and living costs – compared to other European destinations
Innovation and research hub – most famous Croatian unicorns Rimac & Infobip
Why study at Algebra University College?
Biggest private education provider in Croatia
Professional study programs – perfect theoretical to practical classes ratio
Best Microsoft-recognized education institution in 2014 and 2020
Chance to earn an EU and a UK degree
Value for money – affordable tuition fees
Mobility opportunities – comprehensive Erasmus and international mobility network

What can you study at Algebra?
Bachelor studies
Software Engineering – this program is tailored and suited to absolutely the latest industry trends and internationally recognized standards. Upon completing your studies, you'll know everything there is to know about software engineering, you'll master the dominant object-oriented .NET and JAVA languages, and learn how to program, develop and manage complex apps and IT systems.
System Engineering – the program is a perfect choice if you love to think outside the box, come up with solutions to complex problems, or simply create order out of chaos. Upon completing your studies, you'll know everything there is to know about the design and maintenance of computer systems and complex computer networks. You're bound to become an expert on computer security as well as learn all about optimization methods and risk management.
3D Design – this program equips you with the knowledge needed to become a contemporary artist ready to work in the film, television, and computer games industries. You will acquire fundamental skills in drawing and visual thinking and gain an understanding of composition, visual space, color, and lighting. On top of this traditional knowledge base, you will acquire knowledge of digital sculpture, 3D visualization, animation, and digital design. During your studies, you will unlock your creative potential in modern technology by creating realistic and imaginary characters and objects in line with emerging trends in real business environments.
Digital Marketing – unique bachelor program which will open many doors, in Croatia and abroad. Digital Marketing is fast becoming one of the most sought-after fields of Information Technology, meaning that this degree is likely to shorten your job search significantly. In essence, digital marketing is the future of marketing, the most fun and creative work in the field of business today. Upon completing your studies, you're bound to be a true guru of digital marketing on an operational and tactical level. You'll master all the ins and outs of the immensely popular digital channels and discover all the known and hidden tricks of the trade from leading experts.
Master studies
Software Engineering – one of the four sub-specializations in the Applied Computer Programming professional master program. Its employability ratings today are excellent. Algebra has ensured a work placement internship for our students with well-known industry players in Croatia and the EU. Students can use that experience as part of their graduation thesis and also maximize the opportunity to meet and network with industry professionals. By the time you graduate, you'll be a specialist in some of the most in-demand segments in software engineering. They range from internet programming, app development for mobile devices, advanced programming techniques, and the development of business intelligence. Furthermore, you'll be acquainted with computer cryptography, e-commerce, and computer game development.
System Engineering – one of the four professional master programs in the field of Applied Computer Engineering. Systems Engineers are the second most sought-after group of IT experts in Croatia. Should you choose to embark on this career, there is a demanding and challenging multidisciplinary profession waiting for you. The course program is a perfect choice if you love to think outside the box, come up with solutions to complex problems, or simply create order out of chaos (or is it the other way around). By the time you graduate, you'll know everything there is to know about your favorite field of systems engineering. You'll be able to plan and implement IT solutions and systems that ensure business continuity, manage complex computer networks, and manage identity and privacy protection.
Game Development – the program was tailored from inputs received from the global labor market. The academic staff proposed an initial version of the program, which was presented to local and international game development companies, and their feedback helped shape our program to its current form. Students can acquire skills and knowledge in all key areas related to game development: programming, 3D modeling, game planning, design, monetization, and entrepreneurship. Special emphasis is put on programming so students will join the global labor market with strong skills in game-related mathematics, programming 2D, 3D, VR/AR, and multiplayer games. Algebra has ensured a work placement internship for you with one of the well-known industry players in Croatia or the EU. Use that experience as part of your final thesis and also maximize the opportunity to meet and network with industry professionals.
Data Science – one of the four professional master programs in the field of Applied Computer Engineering. When you delve into the curriculum of this course, you will see that it encompasses the area of data analysis, social network analysis, affective computing, machine learning of statistical analysis, quantitative analytical methods, data visualization, and also fundamental business concepts suitable for master level. Apart from the fundamentals, you will learn how to use those skills to create a "story" based on data ("data-driven business". Contextualizing based on data, also called "storytelling" is considered to be one of the most important skills today. It is recommended as a universal skill each of us should strive to perfect.
Digital Marketing – continue to hone your skills in the field of digital marketing. The two-year master's study program will focus on the 'broader picture' and will prepare you to think strategically and outside the box in the context of marketing. There is a carefully selected compilation of courses and applied knowledge outcomes waiting for you, which means you'll be able to quickly find your feet in a future role. Algebra has ensured a work placement internship for you with one of the well-known industry players in Croatia or the EU. Use that experience as part of your final thesis and also maximize the opportunity to meet and network with industry professionals.
Creative Market Communications Management – design and communications management is a complex process that requires interdisciplinary knowledge and various skills that you can fully master, understand and develop in this study program. We live in a time inspired by technology which faces us with new challenges and requires new ways of dealing with increasingly complex problems. Of course, these challenges need to be understood and adopted on a daily basis. A professional master's study program in Design & Communications Management prepares you exactly for this kind of situation. The knowledge you will acquire will help you to become a part of a digitally transformed world, where only constant commitment to innovation ensures success.
Computer Science – Internet of Things and Artificial Intelligence – the joint graduate study program in Computer Science – Internet of Things and Artificial Intelligence is designed for students who wish to acquire skills necessary to work with advanced technological systems in areas pertaining to the Internet of Things (hereinafter: IoT) and Artificial Intelligence (hereinafter: AI), such as home automation, environment, healthcare, smart city, smart agriculture, data-empowered products, and services, AI-enabled assistant services and similar. The 1st year of the program is delivered by Algebra University College while the 2nd year is delivered by EPITECH, France.
For more details about the Bachelor's and Master's programs, you can visit the Algebra University College website or contact Educational Advising Center (EAC) in Skopje, Algebra's local partner. EAC professional advisors will answer all the questions the candidate might have related to programs or application criteria. The advising session that is available for all interested candidates is free and can help in making the final decision for the career pathway.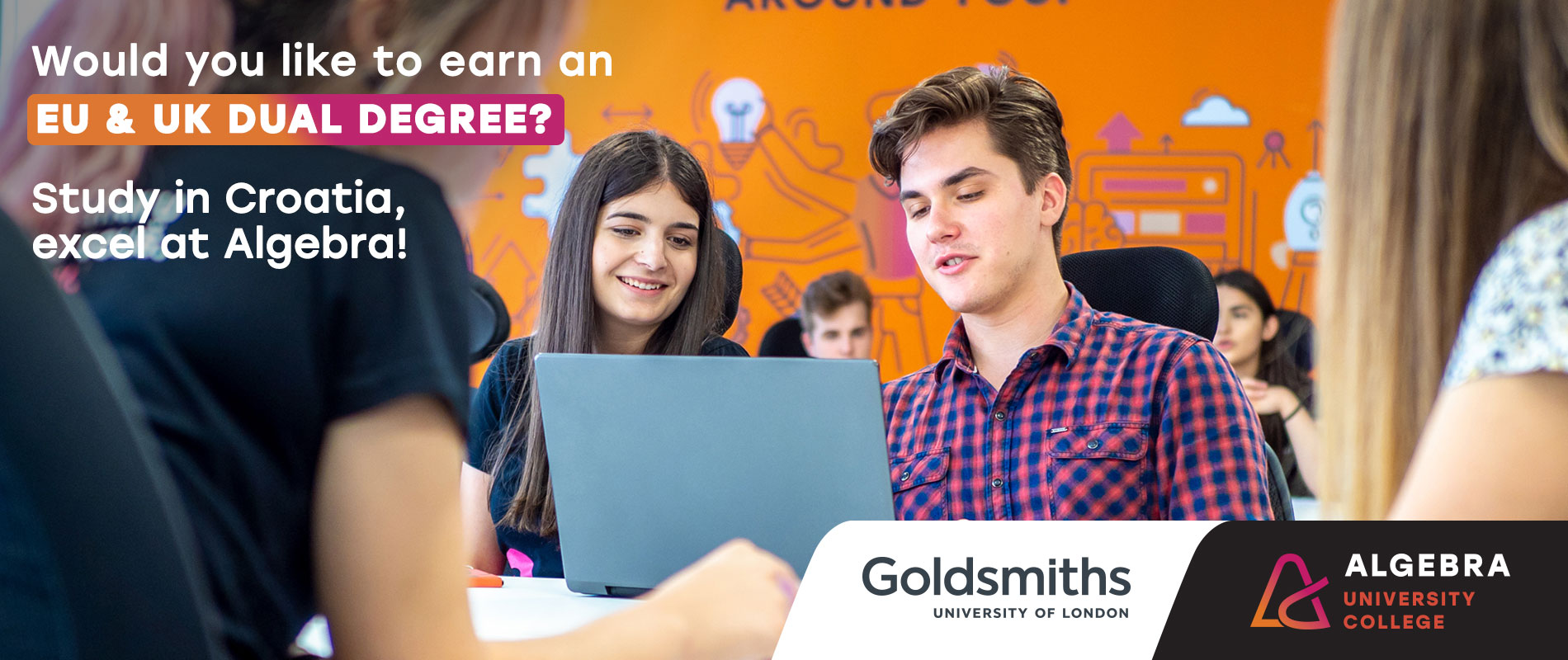 Dual degree with Goldsmiths, University of London
Additional benefit to new students studying at Algebra University College is the opportunity to obtain both an EU & UK degree. All Algebra University College programs are validated by Goldsmiths, University of London which means students can choose to study for a dual degree.
Students who successfully complete their bachelor's and/or master's studies will receive dual degrees awarded by Algebra University College and Goldsmiths, University of London if they opted for this opportunity during the admission and enrolment stage.
If a student does not wish to study for a dual degree, after successfully completing their studies, the student will receive a degree issued by Algebra University College. All our study programs are accredited by the Ministry of Science and Education and are thus linked to European Qualifications Framework (EQF).
Algebra International School
Winter and Summer School program
Algebra International School is a three-week program taking place each winter and summer in Croatia.
Algebra International Winter School takes place each January on Algebra's campus in Zagreb. Students can choose one of three innovative modules plus the free Croatian Language and Culture course and spend three weeks acquiring knowledge and skills while experiencing the winter wonderland in Croatia's capital city of Zagreb.
Algebra International Summer School takes place each July on Algebra's campus in Zagreb and another summer location in Croatia.
International can enroll in one of six courses in the areas of hardcore computer science future-oriented data science, cutting-edge IT economy, or 3D environment art. International students can take the additional Croatian Language and Culture for free! Upon successfully completing the Winter and Summer School programs, students can earn 6 ECTS points for the main course + an extra 4 ECTS points for the free additional Croatian Language and Culture course. Students also receive the official certificate issued by Algebra University College, an accredited higher education institution.
International Winter and Summer School students also have a chance to connect with employers during Company Visits. Company Visits are exclusive guest lectures hosted by leading global industry players. Our guest lecturers are top business professionals who provide exclusive insight into corporate management and business culture as well as offer priceless business advice that the International School alumni can later apply in forging their own careers. The International Winter/Summer School study experience is enhanced by field trips to locations of cultural or historical significance in Croatia. Students from all over the world are immersed in a multicultural experience of discovering Croatia together.
New campus 2022
Algebra University College moved to a brand-new campus in March 2022. While the old campus built in 1903 has its charm and historical value, students benefit from a new modern campus that offers more space both for its students and staff and accommodates all the digital necessities to ensure Algebras students are following the latest industry trends. To ensure creativity in design teaching, Algebra has a modern Art Studio and a 3D production room with 3D printers for larger formats. Our Video and Audio Studios, as well as the Podcast Room, are readily available to Multimedia and Digital Marketing students to further hone their production and post-production skills. Our unique Innovation Centre is open to all students during university working hours as a maker space for collaborative work.
For more information about the available facilities on the campus and criteria that the candidate has to meet for accommodation, you may contact EAC, Monday to Friday 9 a.m. to 3 p.m.
What do students say about Algebra?
When I was choosing a direction for my master's degree the 2 winning points for Croatia were: location and international programs. This country is well-known among students in the western world and not only for great parties and beautiful views. I was impressed by the range of international connections and experiences that local universities are offering. It works both ways and the diversity is growing every new year. I thought it would be a great opportunity to study the same subjects from different perspectives, creating a diverse network while having a chance to discover the most beautiful country in the Balkan region. – Elizabeth Borysiuk, Ukraine
I was very happy when I realized the high quality of education in the study program that I chose. Most of the teachers in my program are very knowledgeable and I personally believe that some of them are rock stars in their fields. They are also very approachable and some of them go the extra mile and are so readily available to you that I will honestly ask them for advice on time management skills. That is probably the most remarkable feature that I can highlight from my experience as a student, but I was also surprised by the large number of areas covered in my program. It also motivates me a lot to know that my classmates are very committed to their studies, although it makes sense to find a higher level of commitment in master studies. – Luis Vasquez, Venezuela
I am from India. We don't have any university that offers game development master's studies. I was looking for universities across Europe, and I found out that the course I am looking for is offered at Zagreb, Algebra university. The main factors I chose for education in Croatia are the curriculum is what I got attracted to most and the tuition fee is very affordable. The reason why Europe – is rich in culture & people. I feel like I am on another planet, which I don't want to leave. – Nirupam Kumar Mundra, India
I didn't really have any sort of perception prior to starting the experience and going to Croatia, I just connected with Algebra and I felt it is the place that suits me, given that it is a very technical and modern school. Even so, I was surprised by how welcoming, supportive, and friendly the people here are. – Mohamed Hafez, Egypt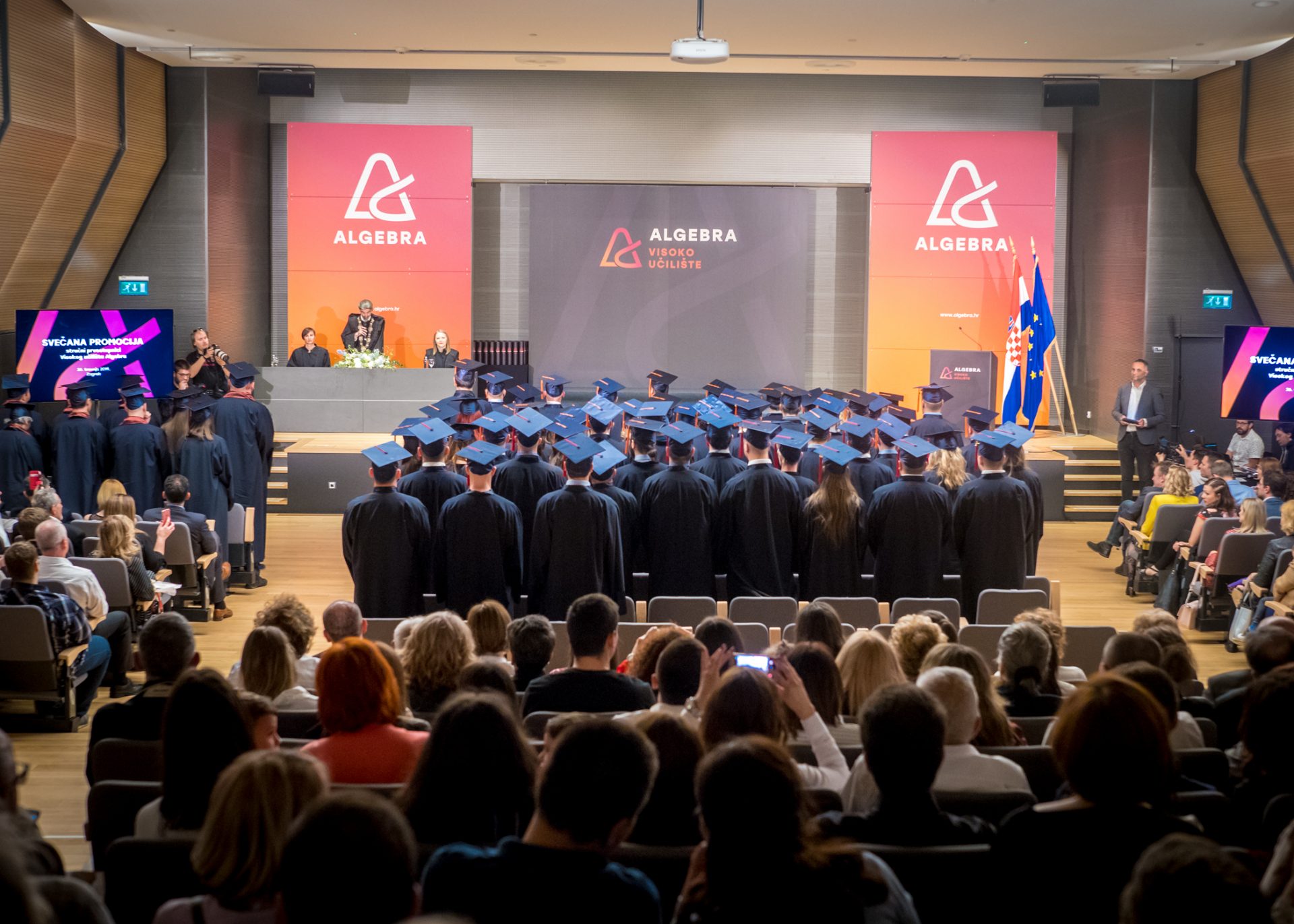 Start your application today and spark tomorrow!
Algebra University College has rolling admissions but secures your place as soon as possible, especially if you need a visa to study in Croatia. The official deadline is July 3rd, 2023.
Algebra University College tries to make your application and admission as simple as possible. You don't need to bother with a formal motivational statement, you'll have an interview that will determine your motivation and ambition as well as your eligibility for the chosen program. Some of the documents you will need to prepare are a passport and a photo, a CV (in English), an English language proficiency certificate, previous education certificates/diplomas, and an application form. Students wanting to study Arts will need to submit a portfolio of their work.
For those and other application and logistics issues, EAC as the local partner of Algebra University College will support you throughout the process. First, contact EAC and schedule a free personal advising session. The experienced EAC advisor will provide you with all the details about the application process divided into steps.
About EAC
The Educational Advising Center (EAC) was established in 1999. Since then, EAC has provided all interested students and professionals free access to information about the opportunities for education abroad.
EAC provides professional advising and recruitment to candidates interested in studying abroad. During the 45 minutes advising session, the candidate can get all the details related to enrolment criteria, the application process, scholarship opportunities, student visa, and many more for the interested university. Even more, based on the field interest, the candidate can get an opportunity assessment and several proposals.
The dedicated EAC advisor has over 20 years of professional experience in this field and leads each candidate throughout the whole application process for free.
The application deadline for Algebra University College is in July. However, preparing your application to secure a place at this leading regional Computer Science, Arts, and Economy college is never too early. Contact EAC, and the advisor will instruct you on every step you need to take.
Schedule a meeting now to get support from experienced professionals and have a relaxed spring.