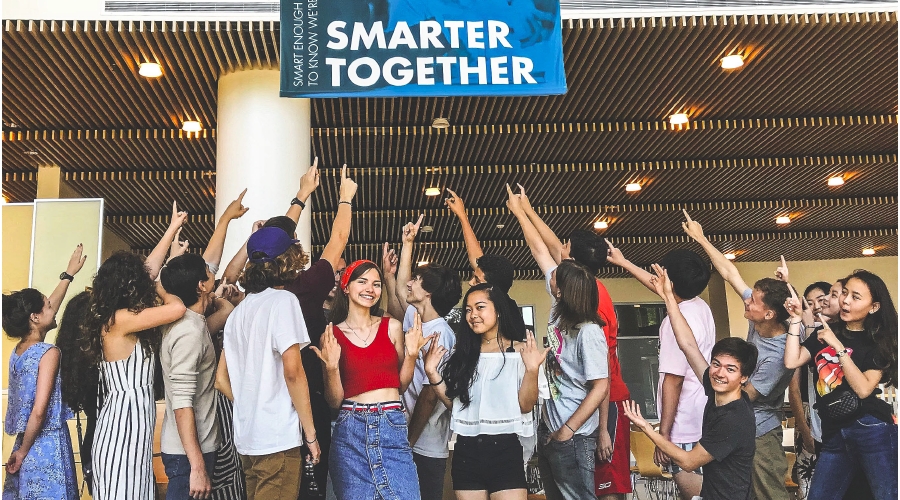 SUMMER ENGLISH LANGUAGE PROGRAM
Students aged 14-17
3-WEEK SUMMER PROGRAM
JUNE 29 – JULY 19
Choose among our program levels: lower intermediate or higher intermediate.
OUR PROGRAM INCLUDES:
15 HOURS OF ENGLISH INSTRUCTION by Harvard alumni on the university campus
LECTURES BY HARVARD and MIT researchers and alumni
LUNCH WITH GOOGLE engineers and visit to Microsoft and other local companies
TRIPS IN BOSTON: whale watching, museums, movie theaters, etc.
AFTERNOON PROJECTS
On top of mastering general English during the morning, we offer group projects twice a week that will help students develop specific vocabulary in the chosen area of interest.
SAT SUMMER PROGRAM 2019
New York (COLUMBIA) and Boston (HARVARD sq.)
JUNE 29 – JULY 23
Cogito SAT Summer Prep is a residential academic program designed to prepare international high school students for admission to top American Universities.
Our 4-week program is split between New York and Boston: the first week is held at Columbia
University and the next three weeks are held in Harvard sq.
COGITO SUMMER PROGRAM INCLUDES:
SAT Classes
Students attend SAT classes 5 days a week. On Saturdays, we offer college essay workshops.
All our faculty are Harvard, MIT and Boston University graduates. We administer two SAT diagnostic tests during the program.
Lectures and Workshops
Our students attend:
• Lectures by Harvard and MIT professors
• Workshops at top companies such as Google and Microsoft
• Entrepreneurship + Innovation events with Boston-area start-ups.
Individual Social Impact Projects
Cogito pairs students with Boston start-ups and research labs to work on a project according to student
interests. Every project addresses a different global challenge.
Campus Visits
Students attend admission info sessions and tour campuses at Brown University, Harvard University, Boston College, MIT, Tufts University and Boston University.
Requirements
• Current high school student entering years 10-12
• Age 15-18 on the first day of the camp
• English proficiency: TOEFL 80, IELTS 6.5 or interview
• 500-word essay
• High school cumulative GPA at least 3.0 out of 4
Both programs include:
3 meals a day
Health Insurance
Airport transfer + local transportation
Tickets for scheduled activities and recreation
On campus accommodation. Double room accommodation + bed linens and towel
Supervision and study support by Harvard and MIT students
Price: $6950
For more information please contact EAC Skopje:
Educational Advising Center, EAC
Str. Dame Gruev 14 A
1000 Skopje, R. Macedonia
T/ F: +3892 32 46 304
M: +38975 39 02 18
E-mail: oicsk@oic.org.mk
web: www.eac.org.mk