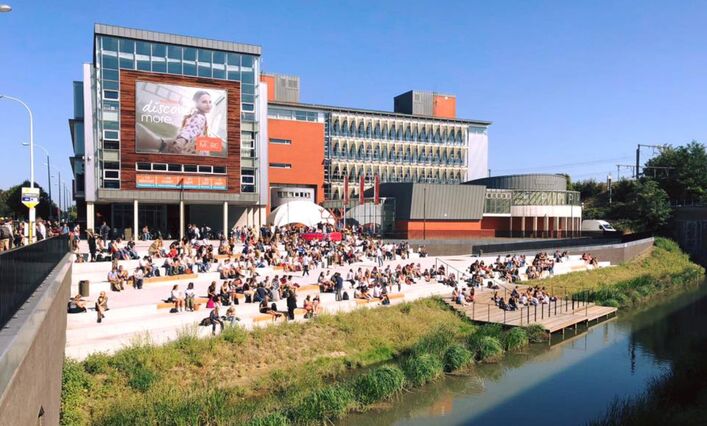 The final year of high school, and discussing what next became a daily topic. You may be one of those rare high-school students who know from childhood what exactly they want to be. If your dream was to be an expert in the automotive industry, that's great. Stay on this page.
But what if you are inspired by artificial intelligence and believe that you are that good to make a difference in the world with your programming? And yes, some adolescents feel that their passion and lifestyle can change people's lives.
These and many other ambitions can become reality at Thomas More University. This Belgian university attracts students from all over the world and educates them to become NET or Web developers, Automotive specialists, Great communicators, and other professionals that today's employers seek.
Keep reading to explore English-thought programs that Thomas More has developed for international students. Find out the reasons why this largest University of Applied Sciences in Flanders is so attractive.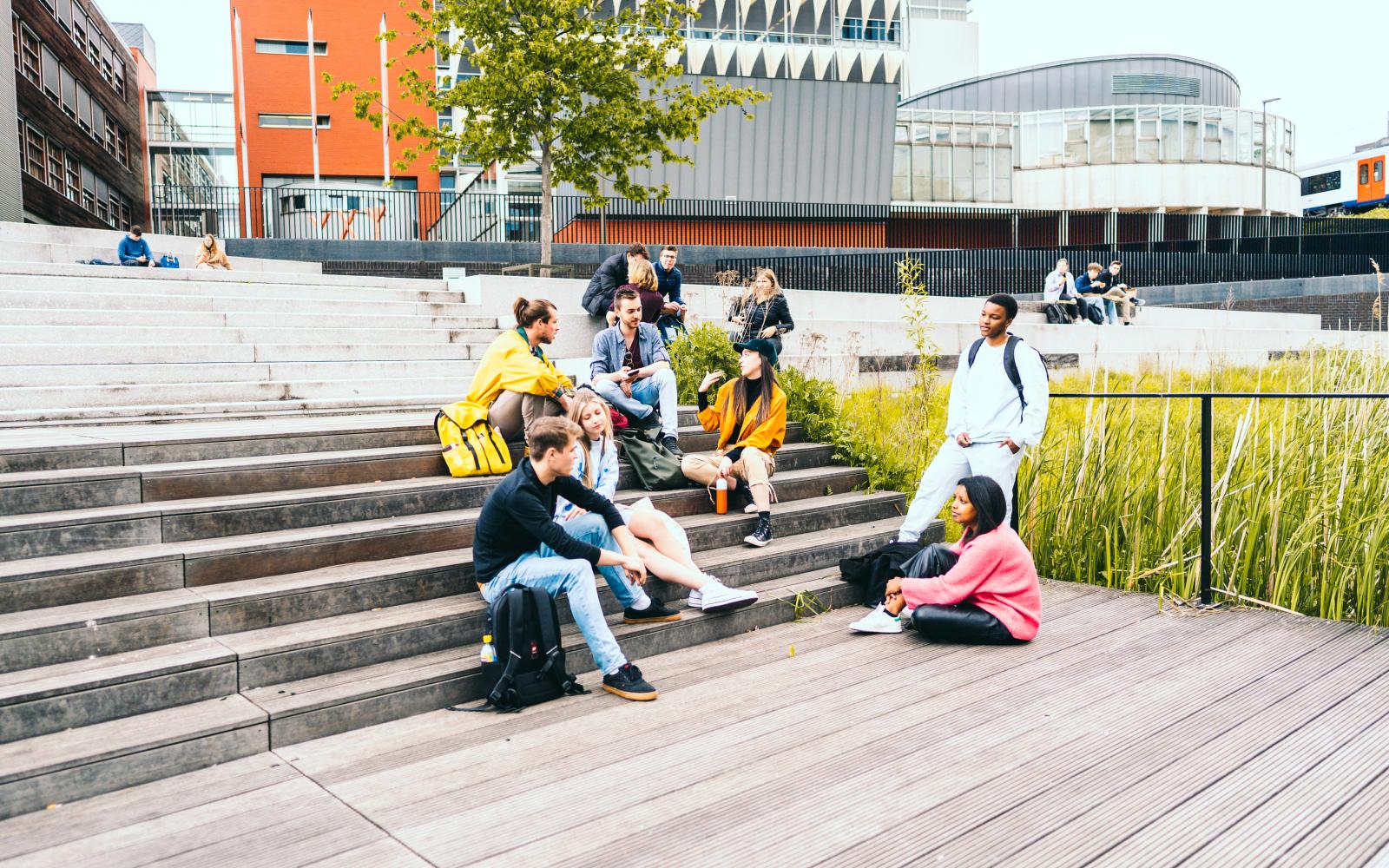 Why Thomas More?
When you search for a university to continue your education, university ranking is probably the first criterion you look for. And that is not an irrelevant criterion at all. However, does it only matter? We will give you four other reasons to think about:
Get skills for a 21st-century career – Thomas More graduates acquire outstanding degrees, practical know-how, and the right attitude for employers. The fact that 99% of the students get employed in the first three months of graduating is self-explanatory.
Practical and innovative educational program – Learning by doing has shown to be an effective educational method. At Thomas More, the digital studio, international newsroom, and Automotive Technology Center give exact meaning to how the practical program is run. Stay tuned and read about it in this article.
World expertise with committed, experienced educators at your disposal – Contemporary education is much more than teaching students. At Thomas More, educators are open for questions and consultation, mentoring, and coaching for your future career. The Thomas More international partnership network allows you to extend your internship to countries other than Belgium.
A warm community to express yourself fully – Studying in the heart of Europe with students from different parts of the world is incredible. This environment encourages students to develop their full potential. You can enjoy activities the International Student Network organizes for students, explore historic Belgium, or travel to neighboring countries.
You will undoubtedly agree that the reasons above matter too, some even more than general ranking. However, to decide to study abroad, let's first look at the Bachelors programs that Thomas More has developed in English for international students.
English Thought Bachelor's Degree Programs: Choose Your Preference!
Thomas More offers a variety of Bachelor's programs at several campuses in the following disciplines:
Business, Organization, and Tourism;
Media & Communication;
Tech & IT;
Health & Care.
Bachelor's programs are 3-years of studying, beginning in September. Yet, some programs are flexible and can adapt to your needs. So, they may start in February or be available online.
Keep reading to learn about some attractive programs that might interest you.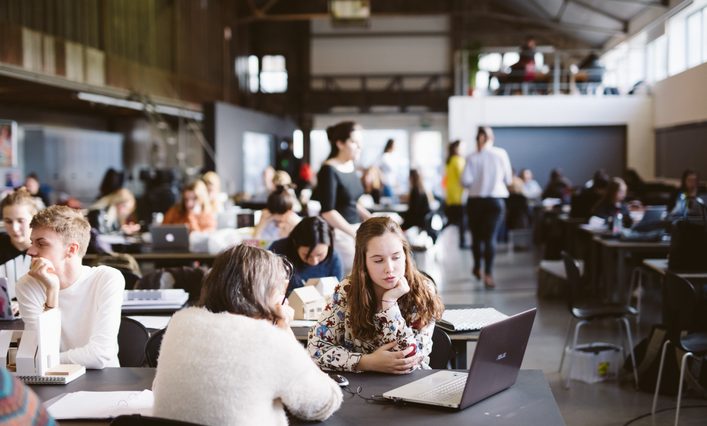 Applied Computer Science
Application Development is the right decision for those who imagine they will change the world with a professional life with a computer. By joining this program, you will dive deeper into cutting-edge fields. You will learn about artificial intelligence, cloud computing, the internet, and other areas. You will become capable of finding digital solutions to real-life problems.
By learning essential programming languages such as:
Python;
PHP;
Java;
React, etc.,
you will maximize your potential. Furthermore, you will boost your soft skills during your internship and international studies. Canada, the Czech Republic, Portugal, Ireland, Brazil, and Thailand are some destinations you can choose for an internship.
With Thomas More, you can build a professional network, exchange ideas, and work on personal and professional development. After graduation, you can work as a NET developer, Software analyst, Java consultant, Web or Android developer, or Project manager. Attractive, isn't it?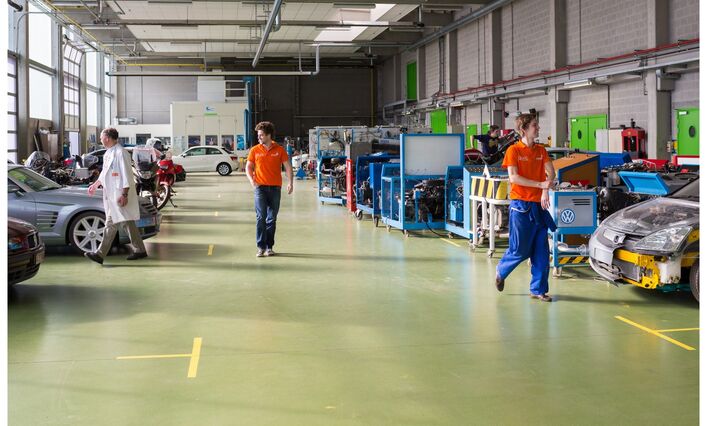 Automotive Technology
If you still have your cars, trucks, or motorcycle toys and dream of being an automotive doctor, choose the Automotive technology program at Thomas More. With this program, your dream of diagnosis and car management can come true.
This program will teach you to:
Diagnose electronic and mechanical faults;
Technological innovations;
Management skills;
and many more. In the Automotive Technology Center, you will practically learn diagnostic and measurement tools to become a specialist in future-proof automotive.
You can develop your specialization for trucks, motorcycles, or motorsports. Last but not least, you will have a unique opportunity to complete your final year by gaining experience in BMW, Mercedes, Ferrari, Lamborghini, and Alfa Romeo. Wow!
International Communication and Media
If you are digital-savvy and want to shape your strategic mind and creativity, choose Branding and Activation. Through interactive classes, you explore all aspects of communication and media, including intercultural, psychological, and technological aspects of the media.
This program will teach you strategic planning, digital creation, copywriting, photography, art direction, and more. You will learn through practice about:
Graphic design;
Video editing;
Web content; and
other popular jobs.
By the end of this 3-year English thought program, you will complete a specialization in Branding and Activation. As such, you can find a job in communication agencies, international institutions, multinational companies, international diplomacy, culture, media, fashion-related industries, and more.
Global Supply Chain Management
In today's fast-paced world, having the goods at the right place, on time, and with maintained quality became urgently necessary. For this purpose, it is essential to understand the:
Global goods and logistics flows;
Cultural differences; and
World of global business, economics & trade.
Global Supply and Management program is created especially for those who see no limits in transportation.
This program focuses on various transport modes and logistic trends in healthcare, vaccines, and e-commerce. You will get skills in supply chain, green logistics, urban, and waste logistics. Furthermore, you will understand how innovation, technology, automation, and supply chain management are related.
With Global supply chain management Bachelor's degree, you can become a Supply chain manager or consultant, Production planner or supervisor, Operations manager, Implementation and Project Manager, and many more jobs related to this program.
International Business and Trade
If you are a born entrepreneur and recognize the opportunity once you see it, you are on the right university page. With the International Business and Trade program, you will discover the cultural differences and how they impact foreign trade.
This program will teach you theoretical knowledge of global trade, intercultural communication, and international business practices. Adding practical skills and pragmatic models will strengthen your inner drive and prepare you to make a real-world impact.
For a bright international career, another foreign language is a must. At Thomas More, you can choose and learn Chinese, German, Spanish, or French. With the international internship programs, you will get ready for an impressive international career.
Build your business skills and practical experience with international projects and exchange abroad and cross the pathway of your success.
International Tourism and Leisure
This English program for Tourism and Hospitality Management is a good choice for those who want to make a living from their lifestyle. Passion for travel can be transformed into a well-paid profession, yet you need to learn how.
At Thomas More, you can gain the required knowledge and skills and learn how to apply innovative business models and marketing in new commercial opportunities. You will also learn about solutions for reducing tourism's social and environmental impact.
While studying, you will build your network in tourism and hospitality, which is a competitive advantage. With the multilingual, multicultural, and multidisciplinary skills that you will get, you will be fully ready for a remarkable international career and life journey.
For more details about the above or other English-thought programs, contact EAC and schedule a free personal advising session. Discuss with the advisor all concerns you have and get support to find the most suitable program for you.
Tuition Fees, Scholarships, and Other Costs
The academic year at Thomas More starts in September, and the total annual tuition cost for non-EEA students is 9.000 EUR. Yearly cost is divided into:
Fixed costs – 4.500 EUR;
Fall semester costs – 2.250 EUR;
Spring semester costs 2.250 EUR.
The good thing is that Thomas More allows some of the costs to be paid in installments. Moreover, you can earn a discount on tuition fees via a merit-based scholarship or based on your studying efficiency. If you reach 60% study efficiency in the fall semester, you can get a 600 EUR discount per credit in the spring semester. Such discount methodology is applied for the following year of your graduate studies.
What does it practically mean? Call EAC and ask for detailed calculations.
As for any studying abroad, you will need books, a laptop, a student visa, international travel, etc., which should be calculated in your total costs. No one says studying is free; the wisdom is how to get the best of the investment.
The application process is not highly demanding. As for any other foreign university, you must provide your ID, diploma for higher education, and English at level B2. For more details on the application procedure, EAC can support you to meet all the requirements on time.
Student Life, Housing, and Support
The very first thing after your enrollment is to find accommodation. You might be very excited about your next step, moving out from your parent's home and starting to live with a roommate. However, finding accommodation takes reasonable time and effort, depending on the study campus and availability. So, once you get the confirmation, start looking for accommodation.
For those studying in Antwerp, the city and the universities have a unique student accommodation initiative. The STAN portal offers over 5.000 rooms where you can search and compare to choose the one that suits you best. For the students enrolled in other campuses, again, Thomas More has built a database where you can look for rooms or studios.
Be aware that the estimation for living costs for a whole academic year is between 10,000 and 13,500 EUR. Monthly costs only for accommodation with utilities included vary from 380 EUR in Sint-Katelijne-Waver to 600 EUR in Antwerp.
Guess what? Thomas More offers accommodation in two residences in Antwerp and Mechelen. Unlike standard campus accommodation, the condition to be accommodated here is contributing to the local community or fellow students with impairment. If you are wondering how to get involved, call EAC and find out. Be sure that you are not left on your own.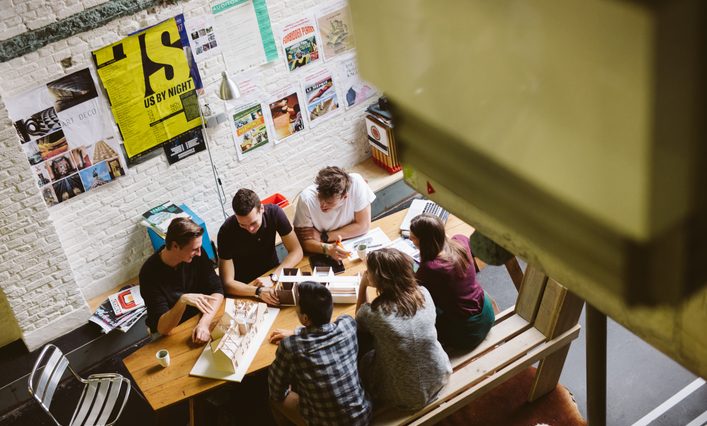 Living in Belgium
While Brussels is the main destination and first attraction to be visited in Belgium, the real masterpieces and world heritage are placed inside the country. And studying in one of those lovely cities is something that will enrich your stay abroad.
Antwerp is undoubtedly on the bucket list to visit in your life, known as New York from the 16th century. The central station is the world's most beautiful train station, while the Zoo, placed next to the station, is one of the oldest ones.
If you love paintings, then Rubens's masterpieces are waiting for you. Antwerp inspires with its diversity of more than 170 nationalities that live there, a considerable part of the world in one place.
Bruges amazes with the canals that link the city with the sea for centuries. The city center is recognized as a UNESCO World Heritage, thanks to architectural homogeneity and famous brick Gothic buildings. Aside from unique historical monuments, you can enjoy your stay in Bruges by tasting Belgian beers or joining summer festivals.
If you thought Bruges is the only UNESCO-recognized world heritage, you are wrong. Mechelen is another Belgian town with the same acknowledgment. Town hall on the Grote Markt, Burgundian city, eight historic churches, and many other historic buildings will make your stay like moving around specific houses you played with as a child. You will sensitize all your sensations thanks to delicious food and beer.
There is much more to say about these cities and life; however, we will leave to get your impressions when you arrive. Three years are sufficient to explore the town and other nearby towns, get used to life, and even fall in love with Belgium.
If that happens, you will have an extra 12 months to stay after graduation to find a job there. You cannot imagine what it means to start your career in the heart of Europe, an international crossroad of businesses, corporations, and institutions.
Final Thoughts
Instead of a conclusion, we encourage you to make your first step. Meet an advisor from EAC and tell your preferences for studying. They will offer possibilities that meet your ambitions and advise you on other important considerations.
It is never too early to talk with professionals for your future. Call EAC and get their support in this crucial decision. Be the one who will not regret missing a life opportunity.
SCHEDULE AN APPOINTMENT BELOW