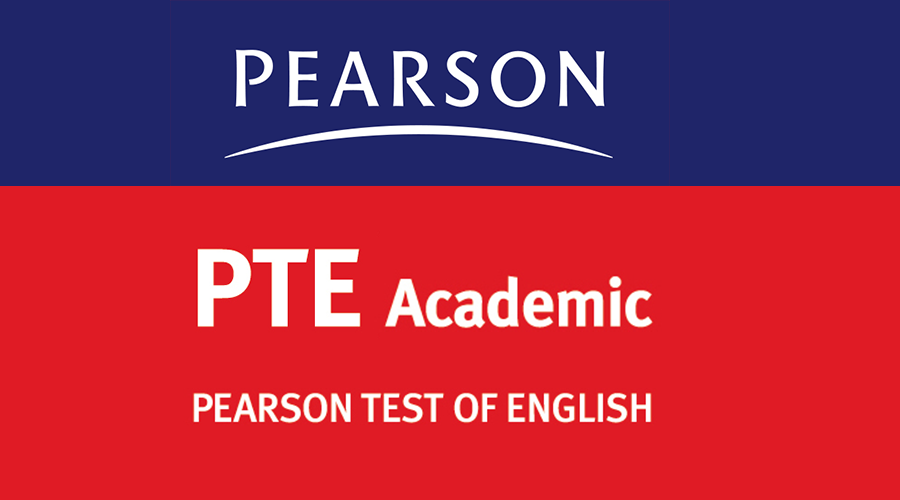 PTE Academic is accepted for student and migration applications across the world. In addition to its unbiased approach to testing, the test has many unique advantages:
Fastest score report in less than 5 days;
Testing is available once a week;
Shorter writing section than the other similar tests since you are only required to write one long-form response;
PTE can be completed within a single day and is shorter than TOEFL and IELTS;
There is no examiner present physically during the test, and the test is completely automated;
Unlimited acceptance for study & migration applications;
Freedom to send your score unlimited times to many organizations for free;
Artificial Intelligence – AI scoring (instead of human assessing your English language skills, there is a very clever algorithm that scores your response)
Unbiased scoring – since you are scored by AI you're graded only on what you say, not your accent or anything else.
PTE Academic offers global testing in more than 250 test centers in over 50 countries.
About the Test
To complete a PTE Academic test, you will need to attend a secure Pearson test center. You will use a computer and headset to listen to, read and respond to questions.
During the three-hour test session, there are three main parts to the test: speaking and writing (together), listening and reading. There is also an optional 10-minute break between the reading and listening parts. During the test, you will find twenty different question formats, ranging from multiple choice through to essay writing and interpreting information.
PTE Academic assesses real-life, academic English, so you will hear excerpts from lectures and view graphs and charts. You will hear a range of accents in the test, from British and American to non-native speakers, so you will be exposed to the type of accents you will encounter in everyday life.
Test Format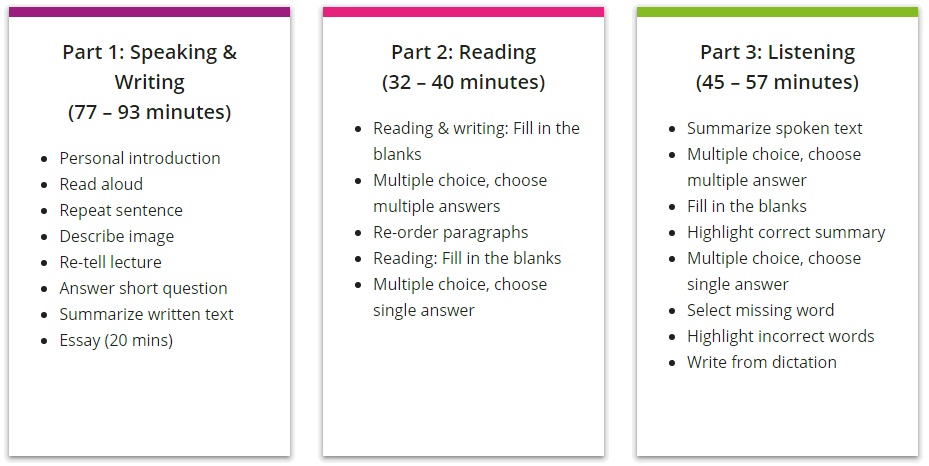 Scoring
Overall score
The overall score is based on performance on all test items (tasks in the test consisting of instructions, questions or prompts, answer opportunities and scoring rules). Each test taker will answer between 71 and 83 items in any given test and there are 20 different item types. For each item, the score given contributes to the overall score. The score range is 10–90 points.
Note: the overall score is not an average calculation of the communicative scores.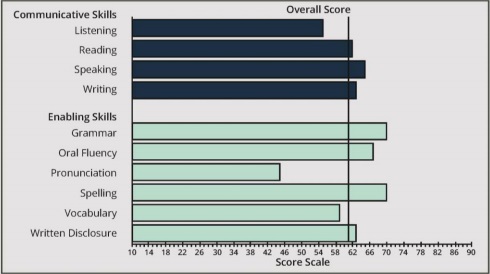 Communicative skills scores
The communicative skills measured are listening, reading, speaking and writing. These are the scores you will be judged on for visa/HEI entry. Items testing these communicative skills also test specific subskills. For items requiring integrated skills (those assessing reading and speaking, listening and speaking, reading and writing, listening and writing, or listening and reading) the item score contributes to the score for the communicative skills that the item assesses. The score range for each skill is 10–90 points.
PTE Academic scores are accessed via an online account. You will receive an email notifying you once your scores are available. After you receive this, you will need to log in to the Pearson VUE account that you created to book your test.
For more information download the official PTE Handbook. 
From now PTE Academic test available at EAC Skopje 
Since May 2020 PTE will be delivered in the EAC Skopje test center, and testing will be available every Tuesday now and twice a week in the near future (Tuesday and Thursday) more frequent than other language tests like TOEFL and IELTS (once to 3 times a month). EAC facilities are fully equipped in accordance with the standards of Pearson VUE, with monitoring equipment and solid soundproof separators between each candidate. The maximum number of seats in the testing room is 6.
Taking the PTE exam in EAC Skopje will benefit our students who are planning to study abroad with much faster scores and more frequent options to take a university language test in order to successfully meet their application deadline.