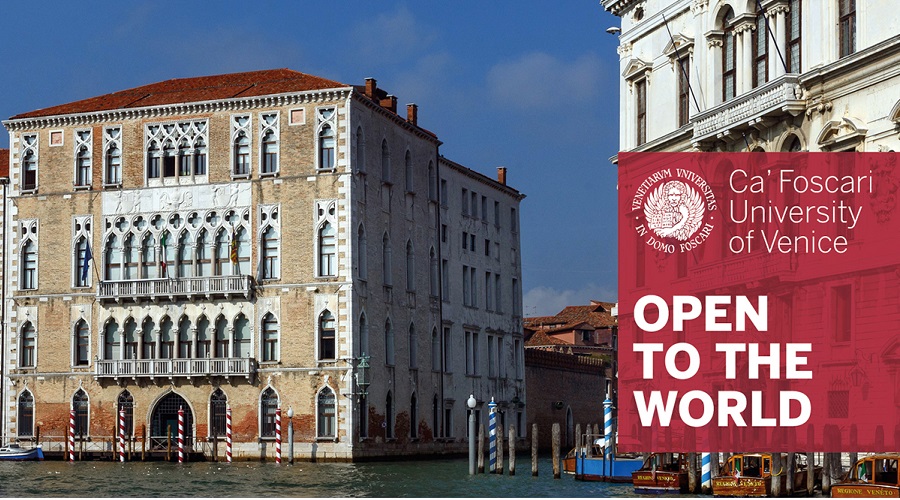 Imagine that you study business economics or philosophy abroad. Imagine living in the fourth economy in Europe, exploring 58 UNESCO heritage properties in historic Italy, and experiencing delicious food daily. Finally, imagine that you are celebrating your graduation at St. Mark's Square in Venice.
Would you only keep imagining or do something to make it real? If you choose your favorite Bachelor's program at Ca' Foscari University of Venice, you can make it a reality. Studying at Ca' Foscari will be your first step in your career pathway, bringing contemporary education and the opportunity to research in prestigious research centers.
Ca' Foscari University offers plenty of opportunities, so keep reading to learn more about it. Find out the university's English programs, financial aid, and how your student life can be extraordinary in Venice.

Why Choose Ca' Foscari University of Venice?
Ca' Foscari University is based in the heart of Venice, one of the 58 properties in Italy inscribed on the UNESCO heritage list. Living in Venice means having a vibrant and cosmopolitan lifestyle in a city where the Venice film festival, Biennale for contemporary art and architecture exhibition, and the world-famous carnival are held yearly.
However, the main reason to live in Venice is your education. Although Venice is over 1,600 years old historically city, there, you can get high-quality modern, forward-looking education. The Ca' Foscari University is ranked in the world's top 2% higher education institutions.
Even though Ca' Foscari is a public university, it offers English programs attractive to international students. This makes Ca' Foscari Italy's top university for internationalization; every year, 1,500 new international students from over 75 countries begin their studies. You can get a high-quality education at an affordable tuition fee of about 1,200EUR per year.
While you are focused on graduation as your primary goal, Ca' Foscari University will take care of your career during your studies. The Career Service offers students opportunities and services to start building their futures as early as possible. Have you thought the university you study at could arrange interviews with employers? Ca' Foscari could do it for you with Italian and international employers.
Ca' Foscari University is aware of students' preferences outside their studies. The amazing university community, events, and initiatives enable students to contribute to and benefit from sports or cultural activities. You can volunteer at a film festival, learn how to dragon boat, and do other activities that will make your stay complete and an extraordinary life experience.
Bachelor's and Master's Degree Programs at Ca' Foscari University of Venice
Ca' Foscari University offers several Bachelor's degree programs taught in English:
Business Administration and Management
Digital Management
Economics, Markets, and Finance
Hospitality Innovation and e-Tourism
Philosophy, International, and Economic Studies
This university is ranked first in Italy and top 100 in the world in the field of Hospitality and Leisure Management, fifth in Italy for Philosophy subject, and sixth in Italy in the field of studies in Business and Management.
English programs have limited admission, so if you know your field of interest, don't waste your time.There are seven admission rounds, and the first opportunity to apply is in December. Each year, 1,500 international students begin their studies at Ca' Foscari; start your admission process on time and be one of them this year.
Another reason to apply soon is the entry test that some programs require. Therefore, you must prepare sufficiently and take the exam to be admitted. If you don't know how to apply, ask EAC for advice.
Master's programs
If you want to continue your education after graduation, you can find many opportunities in one of the following English-taught programs:
Comparative International Relations;
Computer Science and Information Technology;
Conservation Science and Technology for Cultural Heritage;
Data Analytics for Business and Society;
Digital and Public Humanities;
Economics, Finance, and Sustainability;
Economics and Management of Arts and Cultural Activities;
Engineering Physics;
Environmental Humanities;
European, American, and Postcolonial Language and Literature;
Global Development and Entrepreneurship;
Language Sciences;
Management;
Science and Technology of Bio and Nanomaterials;
Sustainable Chemistry and Technologies.
To enroll in one of the Bachelor's or Master's degree programs taught in English, level B2 English language proficiency is sufficient. If you don't have an English certificate yet, you can obtain one at the EAC test center. Visit the EAC webpage to check when is the first free place and make the booking.

Other Opportunities at Ca' Foscari University
The Ca' Foscari University is continuously dedicated to research in 20 centers in different fields. It is the fifth in Europe for the number of European Commission-founded Marie Sklodowska-Curie attracted researchers from abroad.Some of those incredible centers are:
European center of living technology – The research activities of this center are based in the field of living technology with nano-bio-technologies, self-organizing and evolving information and production technologies, and adaptive complex systems areas;
ESA Lab – This center collaborates with the European space agency and contributes to research projects on space, collection, and use of satellite data and telecommunications;
Center for Environmental Humanities – This center for advanced studies is focused on societal, economic, and environmental challenges to ensure synergies, resource optimization, and increased research impact;
Venice Center in Economic and Risk Analytics for Public Policies– this new center is focused on big data, aiming to provide scientific data to policymakers and support in making decisions related to welfare and health, migration, aging, climate change, environmental impact, and policy and financial instability.
Aside from the program that works for you, Ca' Foscari Competency Center might be another reason to choose this university. This is the first center of a kind in Italy with a mission to improve the performance and employability of people by developing their soft skills.
Competency Center developed a digital platform and innovative teaching methods with the best centers in Europe and the U.S. you can consult and be trained by this center to build your behavior competencies and get different performance.
And is worth to be mentioned the dozens of courses in English in different areas, such as advanced corporate finance and sustainable corporate strategy, behavioral finance, business model innovation, advanced digital technologies for e-tourism, and many more.
You can learn much at Ca' Foscari beyond the study program, and it's worth trying.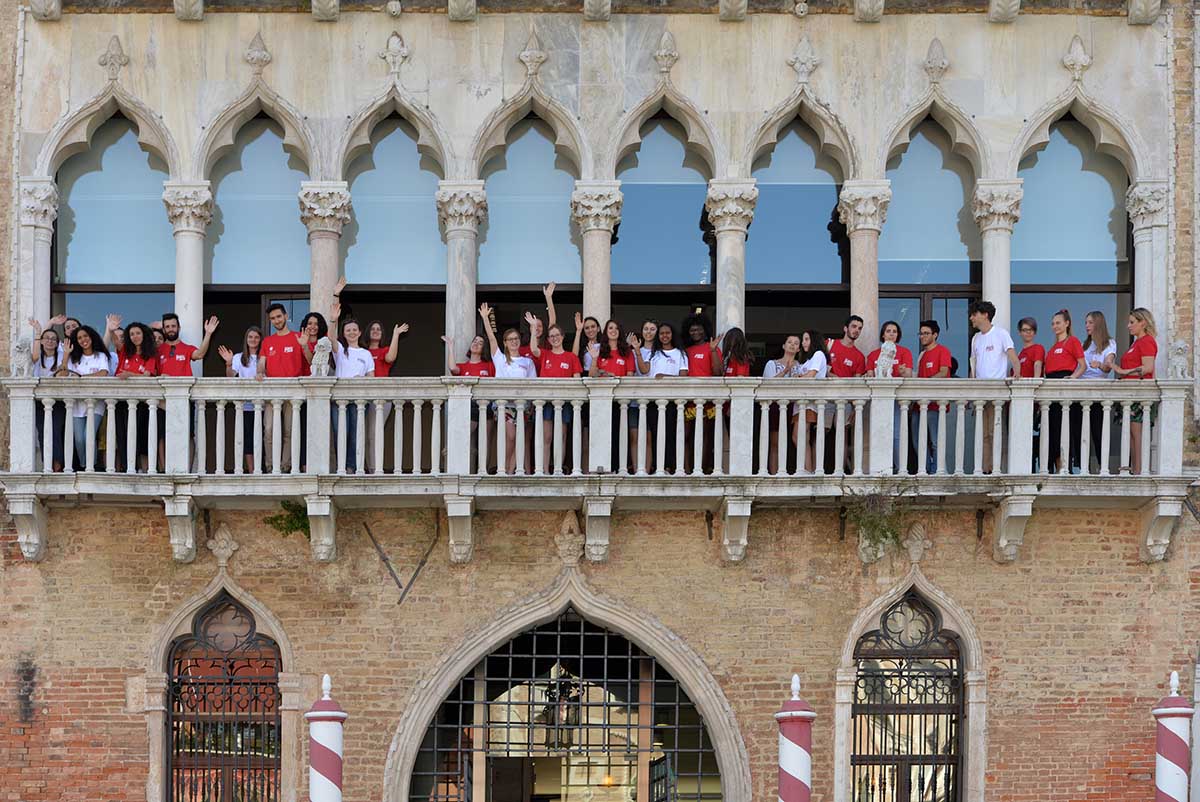 Tuition Fees and Financial Aids
The annual tuition fee for Bachelor's and Master's degree students from non-EU OECD countries is 1,200EUR.
The university makes efforts to make studying more affordable. Therefore, entrance scholarships of 6,500 – 8,500 EUR per year for three years bachelor's or two years master's students are available for the best candidates.
If you want to find out whether you are eligible for these scholarship packages and when and how to apply, contact EAC, advisors.
What does it look like to Be an International Student in Venice?
After your application is accepted, the second important thing is to obtain a place to live.
The Housing office is the University service that can help you to find accommodation in a residence hall, private flats, or accommodation in religious institutions, affordable for you. In Venice, there are six halls of residence with a total capacity of 530 places where ESU Venezia is the regional body that provides this service to internationals.
You can ask the housing office or ESU Venezia for help in this search, or you can ask the EAC advisor and get clear instructions.
The living cost in Venice will depend on your lifestyle. The approximate monthly budget you would need is about 750 EUR, including accommodation (from 250EUR for a shared room on mainland Venice), food, and a 25EUR monthly student pass.
If you think that with accommodation, all is completed, you're wrong. You will also need a residence permit, healthcare insurance, and Tax Code (Codicefiscale). EAC will instruct you on all the issues you might face in the first year of your stay, so you don't have to worry about it.
What the Life in Venice Looks Like?
Venice is one of the top Italian tourist destinations to be visited. The Grand Canal with a gondola ride, St. Mark Basilica, and the worldwide famous Murano glass is a must-see. But is living in Venice possible?
The year before the Covid-19 pandemic, Venice was visited by 4.78 million tourists. Tourists want to explore every single corner, hidden streets with lots of shops and historical places. Still, local people live there too- and have their own lives. If you can stand living in a crowded town occupied by tourists, Venice has a lot to offer its citizens.
Venice is not only St. Mark Square and all around. This municipality is located in the lagoon area (the historical one) and mainland area, connected with a 4km long bridge, the only car access entry to the historical site.
Venice is built on 117 small islands, and numerous canals surround them. Therefore, boats are the main transport, and the city is the largest urban car-free destination in Europe. Water taxis and water buses are also available, yet, many destinations are within walking distance, so you can enjoy the city by walking every day.
Although it sounds unusual, once you get used to rich your destination by walking, you will find it as an opportunity. Moving through the city on foot allows you to meet people easily and make new friends. Campo Santa Margherita or the FondamentadegliOrmesini or Misericordia are places where people meet to chat and hang out with a drink and tasty snacks Cicchetti.
Venice today is an attractive destination for music, fashion, and shopping. The 79 years old Venice film festival (La Biennale di Venezia) and the Venice Carnival, which has existed since 1162 to celebrate the Venice Republic's victory, are some of the attractive events. A lot more history is placed in this magic city, waiting to be uncovered by you.
Conclusion
Studying in Venice could be a unique experience, exceptional for Italy too. Choosing Philosophy, Hospitality and Leisure, or Business Management at Ca' Foscari University means getting an education at a top 10-ranked university in Italy. Moreover, at this public university, you can join research centers or some courses to boost your education.
If you know your field of study interest, it's time to prepare for the application process. To do it as the university require and on time, ask for free advice at EAC. The experienced advisors will introduce you to the whole process and lead you through it.
Your successful career is just around the corner. Choose EAC as your trusted partner to help your imagination become your life.