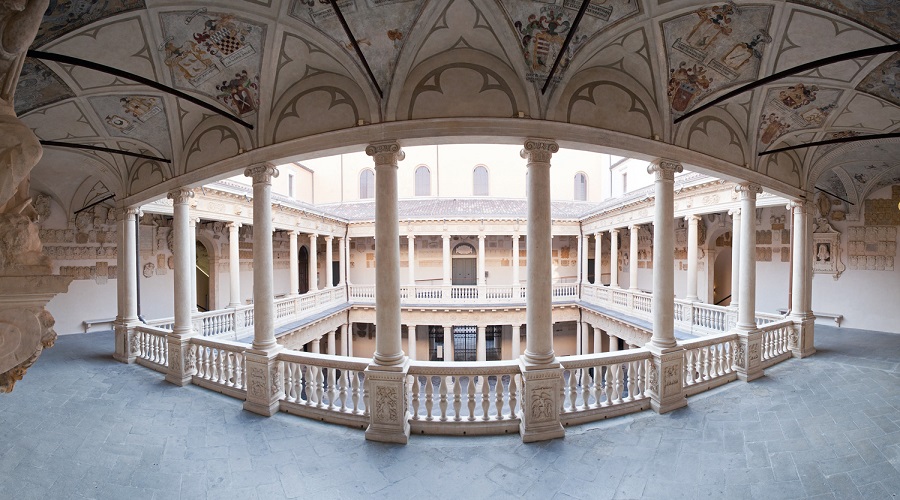 The University of Padova is one of Europe's oldest and most prestigious seats of learning; it is a multi-disciplinary university that aims to provide its students with both professional training and a solid cultural background. A qualification from the University of Padova is a symbol of having achieved an ambitious objective, one that is recognized and coveted by both students and employers alike.
Courses at the University of Padova are constantly updated in order to meet the ever-changing needs of the labor market. Its Healthcare degrees, for instance, cover a wide range of new courses such as Pediatric Nursing (Medical School), or Neuroscience and Neuropsychological Rehabilitation (Psychology). Engineering degree programmes are available in the fields of Civil, Architectural, Environmental, Industrial and Information Engineering.
University of Padova degrees also reflect today's needs to safeguard both the environment with courses in Environmental Sciences and Technology (Agriculture Sciences), and consumers with Safety and Hygiene of Food Products (Veterinary Medicine). Research into pharmaceuticals is also covered with Pharmaceutical Biotechnologies (Pharmacy), as is research into hi-tech products with a course in Materials Science (Sciences). Great emphasis is also placed on Humanities, such as History and Conservation of Artistic and Cultural Heritage (Arts and Philosophy), and on teacher training with a course in Primary Education (Education).The University's traditional courses for professionals in Law, Economics, and Business Management are run alongside courses that analyze complex social systems such as Sociological Sciences (Political Sciences) and Statistics, Population and Society (Statistical Sciences).
Bachelor's degrees
First-cycle studies lead to a Bachelor's degree qualification.
School of Agricultural Sciences and Veterinary Medicine
School of Psychology
Master's degrees
Second-cycle and single-cycle studies lead to Master's degree qualifications.
School of Agricultural Sciences and Veterinary Medicine
Forest science
Italian food and wine
Sustainable agriculture
Biotecnologie per l'alimentazione, including the degree course track held in English "Biotechnologies for food science"
School of Economics and Political Sciences
Business administration
Economics and finance
Entrepreneurship and Innovation
European and Global Studies
Human rights and multi-level governance
School of Engineering
Environmental engineering
ICT for Internet and multimedia
Mathematical Engineering
School of Human and Social Sciences and Cultural Heritage
School of Medicine
Medicine and Surgery (single-cycle): to be formally approved by the Italian Ministry of Education, University and Research
Medical biotechnologies
Pharmaceutical biotechnologies
School of Psychology
Cognitive neuroscience and clinical neuropsychology
School of Science
Astrophysics and Cosmology: to be formally approved by the Italian Ministry of Education, University and Research
Data science
Molecular Biology
Physics
Physics of Data
Scholarships EXPO – Study Abroad 2019
Event date: 26/10/2019
Event venue: Hotel Holiday Inn – 09:00AM – 17:00PM
Registration for this event is obligatory. To avoid waiting in lines at the entrance of the event please register here and receive your free visitor badge.