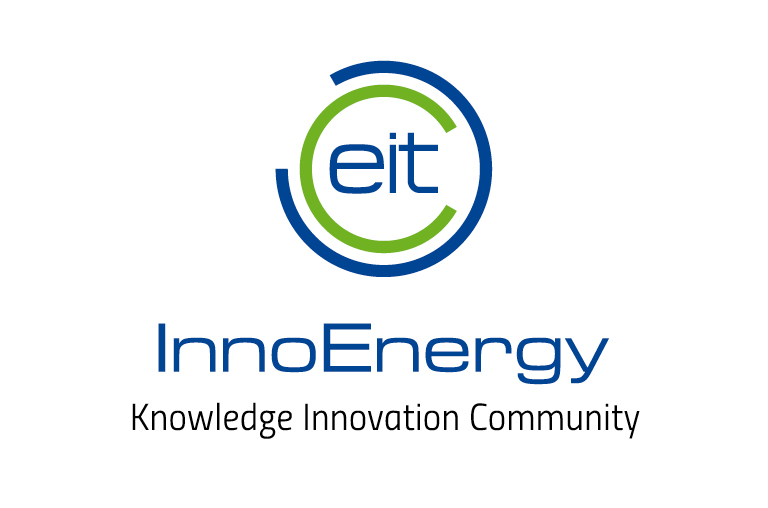 About EIT InnoEnergy
EIT InnoEnergy is the innovation engine for sustainable energy across Europe. In 2010, the European Institute of Innovation and Technology (EIT) (a body of the European Union) established EIT InnoEnergy as a Knowledge and Innovation Community (KIC).
EIT InnoEnergy aims to create a more sustainable energy sector for Europe and beyond and to build an informed, engaged, and ambitious workforce. EIT InnoEnergy brings together innovators and industry, entrepreneurs and investors, graduates and employers with new ideas, products, and solutions that would make a real difference in the energy transition.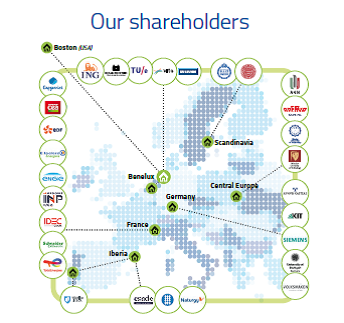 European Union (EU) is one of the co-founders of EIT InnoEnergy, as well as the shareholders and income from sold products to the companies.
So far, EIT InnoEnergy has built a network of more than 1.200 partners across Europe, supported 500 innovations, and launched 300 products.
First-class Master's Programs
EIT InnoEnergy provides first-class Master's programs and bespoke corporate learning solutions covering the most in-demand, relevant topics within the sustainable energy sector. This school prepares talents with a breadth of skills, technical know-how, business acumen, and agility to drive the energy transition, ready for a smooth and empowered transition to the labor market.
Top-ranked technical universities and business schools contribute to delivering this first-class Master's program: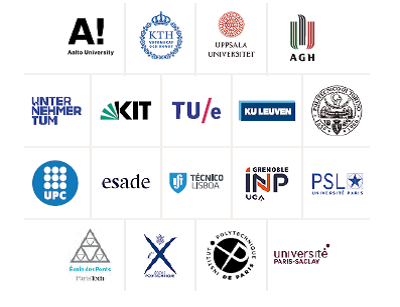 Students will study for two years at two universities and obtain a double degree and complimentary certificates.
Keep reading to learn about each Master's program created to respond to the EU challenges. Yet, for more details, you may contact Educational Advising Center (EAC) in Skopje, the local EIT InnoEnergy.
Master's Energy for Smart Cities
As per the European Commission (EC), smart cities are "…cities using technological solutions to improve the management and efficiency of the urban environment."
Expectations for efficiency improvement of traditional networks and services come from digital solutions development, resource efficiency, and emissions reduction. Moreover, the focus in smart cities is on the transport network, water supply, light, heat buildings, and waste disposal.
The aim of the Master's Energy for Smart Cities program is to skill students to develop innovative ideas and transform them into start-up proposals. Ideas should come from real-life challenges that companies, cities, and municipalities face. The advantage of this program is that, aside from engineering technical skills, students can build entrepreneurial skills.
This Master's program enables students to specialize in the area of their highest interest by joining general, broadening, and option-specific elective courses. The universities that join this program are:
KTH Royal Institute of Technology – Sweden
KU Leuven – Belgium
Grenoble INP Institute of Technology – France
Universitat Politècnica de Catalunya – Spain
For the first year, you may choose between KTH and KU Leuven, while in the second year, you can continue your education at another university from those listed above.
By completing the program, students will be specialized in different areas such as:
power electronics;
energy efficiency in buildings;
electrical machines;
strategies;
city networks;
automation for energy efficiency;
lighting systems;
aerodynamics;
electromobility, and more.
These specializations enable students to combine in-depth energy engineering skills, urban planning, data science, and innovation management techniques. After completing this two-year Master's program successfully, they receive an EIT label certificate.
If you have obtained Bachelor's degree in mechanical, civil, electronic, electrical engineering, and similar fields – or science, then you are eligible to apply for this Master's program.
Master's in Sustainable Energy Systems
Aside from a high level of dependence, fossil fuels have limited capacities and are harmful to the planet and environment. For these reasons, enormous efforts are focused on sustainable energy, such as wind, solar, and water. Sustainable energy cannot be depleted and remains viable forever, does not harm the environment, have no negative impact on climate change, and is affordable.
The Master's in Environomical Pathways for Sustainable Energy Systems (SELECT) is a top-ranked program in the Energy and Natural Resources in Western Europe category (EdUniversal Best Masters Ranking 2022). This program educates students on making a real contribution to minimizing the environmental impact of current and future energy solutions.
With this program, students can build their capacities to identify and address societal challenges and offer technical solutions in fields such as renewable energy, solar systems, biomass processing, or offshore energy. In addition, they learn about innovation, economics, and commerce, as well as the role and responsibility of a future engineer in a sustainable energy industry.
The first year of this Master's program is run at the Royal Institute of Technology in Stockholm – Sweden, and Universitat Politècnica de Catalunya · BarcelonaTech – Spain. Both universities contribute to the content of the courses on the following topics: sustainable energy conversion, renewable energy, and ways of ensuring minimal human impact on the environment. The courses run by the other university are virtually performed.
The second year continues at one of the following universities and specializations fields: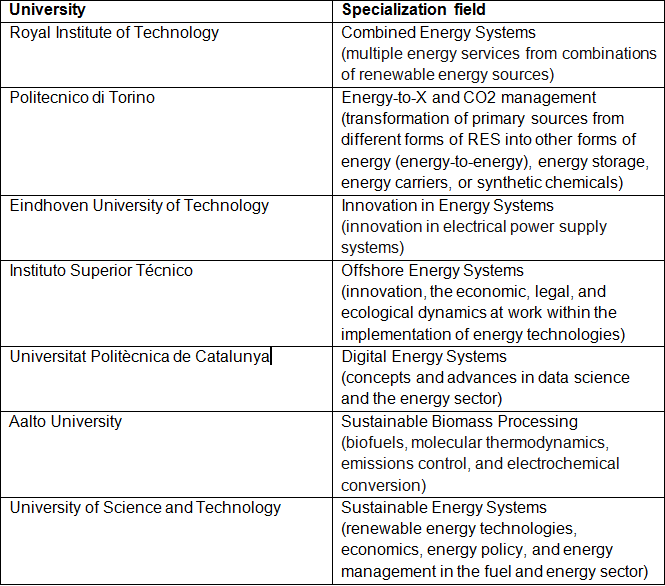 Moreover, at the highly-ranked ESADE Business School in Spain, students can learn about design thinking, intellectual property, digital marketing, project management, entrepreneurship, and prototyping, split into two semesters.
After completing this prestige program, the student will receive a diploma from ESADE Business School and the EIT Label Certificate.
Graduated students with Bachelor's in physics, chemistry, mechanical, chemical, electrical engineering, or similar fields can apply for this unique program.
If you wish to contribute to minimizing the impact of the current energy system on the environment, apply to this program and earn this high-quality education.
Master's Renewable Energy
Unlike sustainable energy, which is theoretically inexhaustible, renewable energy uses resources from the earth that are naturally replenished. Some examples of renewable products are agricultural bioproducts (straw, manure) or ethanol (made from sugarcane and corn).
With the Renewable Energy Directive, the EU sets rules and targets 32% renewables to be achieved by 2030.
This Master's Renewable Energy program provides students with in-depth knowledge of the major renewable technologies and exposes them to EIR InnoEnergy's most comprehensive training at ESADE Business School. This program aims to create an energy engineer, entrepreneur, or innovator of the future.
This program is run by the following four universities that offer both years of study:
Instituto Superior Técnico, Lisbon – Portugal
Royal Institute of Technology, Stockholm – Sweden
École Polytechnique, Paris – France
Universitat Politècnica de Catalunya · BarcelonaTech, Barcelona – Spain
In addition, the business and entrepreneurial elements of the Management program are delivered by the ESADE Business School.
Advanced technology concepts and methods, production, and utilization of sustainable energy are covered in the first year. This program covers four fields: wind, solar photovoltaic, solar thermal, and ocean energies. It will make you understand where the impact of renewables on costs, market volumes, CO2 emissions, and network integration are most significant. Students will also learn energy economy, markets, and environments.
During the second year, students can choose from the following areas of specialization:
Solar photovoltaics;
Solar thermal electricity;
Wind energy;
Hydropower;
Ocean and offshore energy;
Biomass and biofuels;
Integration of renewable systems with the energy system.
Aside from a double-degree diploma, students will receive a diploma from ESADE Business School and the EIT Label Certificate.

Master's Nuclear Energy
Nuclear energy has great potential in the fight against climate change. United Nations Intergovernmental Panel on Climate Change addresses the need for nuclear energy for rapid decarburization and is one of the four pathways to limit global warming.
At the same time, the EU promotes the highest standards of nuclear energy safety, establishes requirements for the safe long-term management of radioactive waste, and decommissioning of nuclear installations.
These set-up goals and safety requirements need a new generation of engineers that EIT InnoEnergy is educating and developing through its Master's program for Nuclear Energy. This unique program makes students become leaders with a big-picture understanding, world-class technical skills, obtaining entrepreneurial tools, and an innovative mindset to fully leverage this opportunity.
The following universities, with their program, contribute to the education of new world-class career engineers:
Royal Institute of Technology – Sweden
Universitat Politècnica de Catalunya · BarcelonaTech, Barcelona – Spain
Grenoble INP Institute of Technology – France
Université Paris Saclay – France
Université Paris Sciences et Lettres – France
École des Ponts ParisTech – France
Institut Polytechnique de Paris – France
ESADE Business School, Spain (Innovation & Entrepreneurship Journey)
The first year begins at universities in Sweden or Spain, while the second is spent at one of the universities in Paris. As a country with 50 nuclear reactors, France is the best place to be educated. Students appreciate study concepts the most: the subject they study, such as physics, they see after its application.
It is of high prestige to complete the Master's thesis in cooperation with an industry partner, as 75% of the students did, and to have a mentor that is an expert and practitioner in this field.
This is No.1 program for employment in France; therefore, to enroll in this program, you should have a Bachelor's degree in physics, mechanical, nuclear, chemical, electrical, and energy engineering.
Master's Energy Technologies
EU is aiming to reduce its 80% dependence on fossil fuels. Therefore, EC addresses the "urgent need for energy technology innovation with high-performing, innovative, low-carbon, and cost-effective technologies." As such, the energy system is supposed to become sustainable, competitive, and secure.
The amount of innovation and investment in the clean energy sector is enormous to support the EC switch strategy. According to Forbes, solar, wind, digitization, artificial intelligence, and hydrogen are among the top 10 energy-transforming technologies that have driven the energy market transformation in 2021. Energy technologies research and development is a substantial part of the European Strategic Energy Technology Plan.
The Master's Energy Technologies program offers a high level of expertise in the latest energy technologies, from renewable energy (wind, hydropower, bioenergy) to centralized power supply. It also provides an in-depth understanding of the renewable energy market and the role of innovation and entrepreneurship in the future of this industry. From innovative ideas, students will learn about prototyping and investor pitching and make connections with start-ups.
The first year begins at Instituto Superior Técnico in Portugal or Uppsala University in Sweden, while the second year can be continued at any of the following universities:
Uppsala University – Sweden
Instituto Superior Técnico – Portugal
Grenoble INP Institute of Technology – France
This 2-year Program contains Courses and Specializations in the following fields: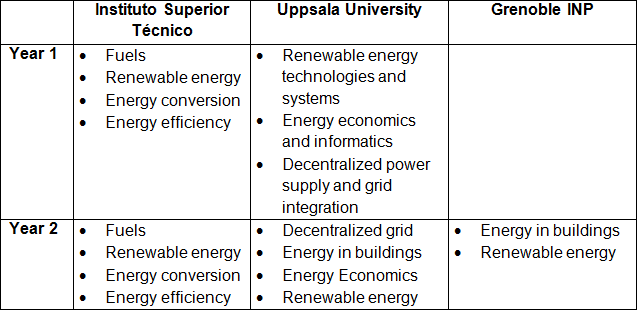 If you have obtained Bachelor's degree in mechanical, chemical, process, electrical, energy, electronic, or related specialization, then you are eligible to apply for this master's program.
All students in this program are satisfied with the industry interaction. Join this program and find out why.
Master's Energy Storage
In the past decades, Europe has been dedicated to shifting from an energy system dominated by centralized fossil fuel generation to a system with renewable energy sources. The essential support to this European Commission's aim in this transition is energy storage.
The current challenge we face is the misbalance between energy production and consumption. Storing the produced energy from renewable sources is the key to increasing its production and ensuring energy security. The stored energy will be available at anytime and anywhere when needed so that the required balance will be achieved.
The Master's in Energy Storage program equips students with tools to meet challenges in energy storage nowadays. By choosing this program, you could build a world-class career in this fast-evolving space. About 100.000 new jobs are opened every year in Europe. If you want to apply for one of those jobs, now is the time to acquire the required knowledge and skills.
You can choose any of the following universities in Europe for year 1 and year 2:
Aalto University – Finland
Politecnico di Torino – Italy
Instituto Superior Técnico – Portugal
The program covers electrochemical (battery), thermal, thermochemical, hydropower, and thermomechanical courses.
Any graduated student with Bachelor's degree in electrical, mechanical, chemical, energy engineering, or similar is eligible to apply for this Master's program.
Master's Smart Electrical Networks and Systems
For the creation of a more sustainable energy supply, electric power engineering plays a critical role. The Master's program for smart electrical networks and systems enables students to develop the technical and entrepreneurial skills to design smart grids.
With the skills that students will build, they can integrate different renewable energy sources, manage and control power quality, use data-driven applications to enhance electrical solutions, and lead the development of innovations such as battery applications, electric mobility, and more.
The following prestige European universities offer the first year English-taught program:
Royal Institute of Technology, Stockholm – Sweden
Universitat Politècnica de Catalunya · BarcelonaTech, Barcelona – Spain
The second year is delivered by one of the universities listed in the table below, as well as the specific program modules: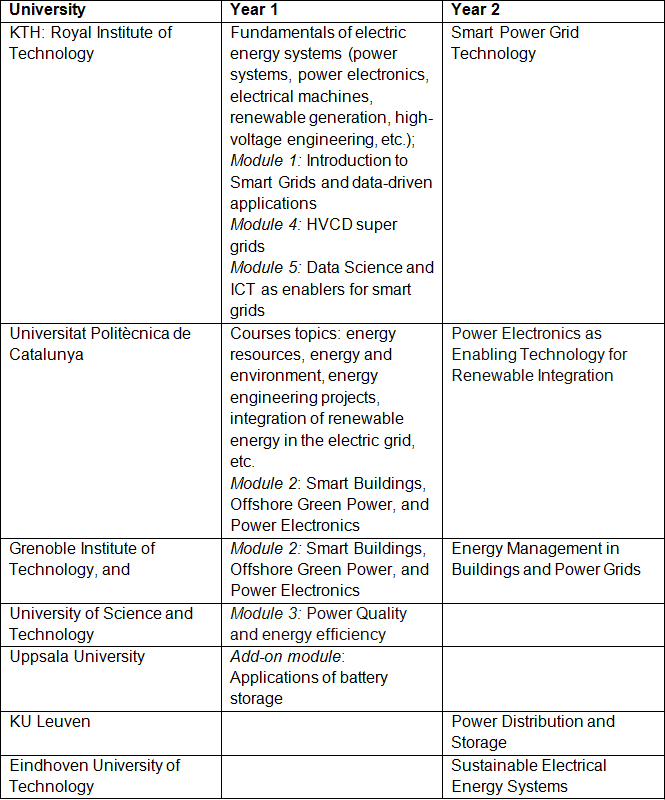 In parallel, the business and entrepreneurial elements are delivered by the highly-ranked international business school ESADE Business School in Spain.
This program gives a unique opportunity to undertake a Master's thesis at one of the industrial or research partners such as Tesla, ABB, Schneider Electric, Fortum, Scania, and more.
By completing two-year studies and a master's thesis, students will gain double-degree education and receive a diploma from ESADE Business School and the EIT Label Certificate.
Graduated students with Bachelor's in electrical, physical, mechanical, and electronic engineering or any energy-related engineering subject can apply for this master's program, No. 1, for overall student satisfaction.
Double-degree Education
After completing a two-year Master's program successfully and a master's thesis, students receive a double degree based on the chosen universities: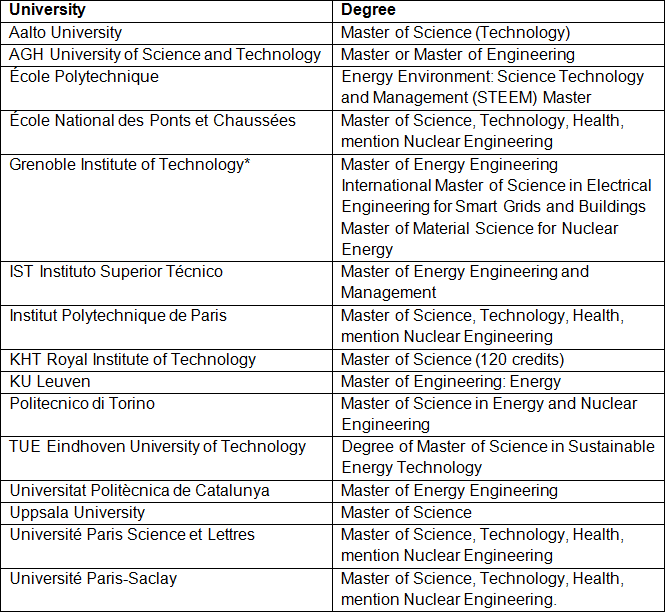 *Degree depends on the chosen master's program
Participation Fees, Requirements, and Application Process
The participation fee for one year of any Master's program is €18,000 per year. Registration fee in the amount of €295 is non-refundable and required from students that have accepted the offer.
This annual participation fee includes all tuition, participation in activities, costs related to EIT InnoEnergy events, support by the Career center, and access to industry challenges.
Living expenses such as accommodation, books, food, health insurance, local transportation costs, etc., are not included and vary from country to country and the student's lifestyle.
The students can get support offered by EIT InnoEnergy in the following ways:
Participation fee payment in up to five annual installments;
Partnership with financial institutions for students to access loans, scholarships, or income-sharing agreements.
EIT InnoEnergy supports top talents with a limited number of (partial) waivers and scholarships. Call EAC and find out more details.

Requirements
To be eligible, the applicant must have completed a Bachelor's degree worth a minimum of 180 ECTS credits OR an equivalent academic qualification from an internationally recognized university. The content of the undergraduate program should be relevant to the particular Master's program. You may find specific study fields under each program or contact us for clarification and further directions.
All master's programs are English taught; therefore, students should have a high level of English proficiency. If you don't have IELTS Academic test, Cambridge certificate, or TOEFL IBT certificate, you can schedule testing at EAC and obtain the required certification.
Application process
There are five rounds for application:
Round 1: 05 September 2022 – 06 November 2022 (closed)
Round 2: 14 November 2022 – 22 January 2023 (opened)
Round 3: 25 January 2023 – 08 March 2023
Round 4: 11 March 2023 – 16 April 2023
Round 5: 19 April 2023 – 11 June 2023
EIT InnoEnergy encourages non-EU candidates to apply during the earlier round to ensure sufficient time for a student visa and other logistics matters.
EAC offers candidates full advising support free of charge for the application process. If you are interested, contact EAC and schedule an advising session to learn all the detail of the process.
EAC Advising Center
Educational Advising Center, EAC, was established in 1999 in Skopje, and since 2004, it has been a fully sustainable and independent professional study abroad agency. EAC is an official representative and a partner to many universities in Europe, the USA, Canada, and Asia.
Our goal is to provide professional counseling and recruitment services to students interested in continuing their undergraduate and postgraduate education abroad. We create a perfect match between University and Student, considering the University's interests and requirements and Student's professional orientation, needs, and budget.
We provide study-abroad advising services that are free of charge. EAC is a Test center for the English Language, Academic and Professional exams. We organize group and mentoring classes for prospective international students for Language and University Entrance exams.
If you feel excited about the EIT InnoEnergy Master's programs and want to learn more, do not hesitate. Contact us and schedule an advising session.
We are waiting for you and happy to assist your dream-come-true journey!